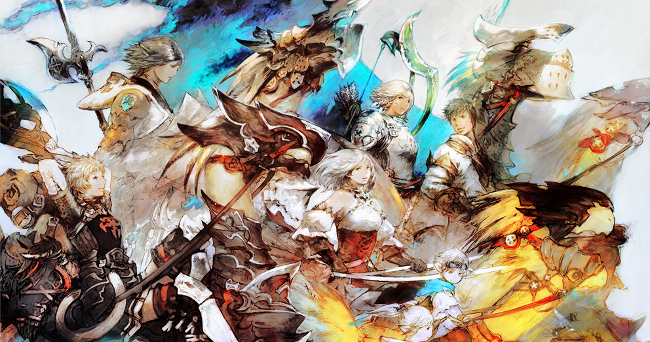 It has been five years since the Calamity, an apocalyptic event that left the realm known as Eorzea in shambles. Many people died in the devastation, but those who survived were determined to rebuild their homes and reconstruct what was decimated by the beast known as Bahamut. Eorzea will probably never be the same after the Calamity, but its people strive to make it a better place for themselves and the generations to come.
However, not is all what it seems. Danger once again brews in the horizon, and most are blind to signs of a new conflict. Shadows in the Garlean Empire peer at Eorzeans from over the border with dark intentions. The future is uncertain... but the noble-hearted will strive to keep their country safe. Whether or not they succeed is up to them.
Hello everyone! Ambra is back...
again.
I got the urge to GM a Final Fantasy 14 RP, and I have had it for the longest while. Since my RPs are kind of slowing down, I have the time to run one more! Here is some information about what to expect:
1)
You don't need to have played the game to join.
You don't even have to have played
any type
of Final Fantasy game to have fun with us! The OP will be a super post about information, so a person will probably not have to search up much, if not any information at all.
2)
There will be a Warrior of Light(s).
I'm still considering whether or not it's just going to be one WoL, or several, but they won't start out special or knowing of their powers.
3)
This will be an authentic Final Fantasy RP game.
This means the RP will be heavily lore driven and players will have to make sensible characters.
4)
There will be more than one playable race.
Hyur, Miqo'te, Lalafell, Elezen, Roegadyn, and their sub-races will be playable. As for Au Ra, I may allow just one into our numbers.
5)
This will be an interactive experience.
I have the basic gist of the plot, but that's all I have-- a slight idea. Players will be able to embellish the plot further, along with creating new plots and subplots, with approval of the GM and co-GMs.
6)
All players will start off with classes, not jobs.
Jobs will be available later on in the story.
7)
This will be an intimate experience between both the characters and the players.
We will try our best to have fun both IC
and
OOC. I will make a Discord channel for the roleplay as well.
8)
There will be no canon characters.
Leaders of Grand Companies and other rulers/important characters will be made from scratch.
- Do I really have to go over RPG rules?
- Please, please, please be active in the RP: this means be active in IC, OOC, Discord, or whatever else comes along your way.
- Again, this is high-casual. We're not asking for huge posts. We're asking for quality characters and posts (which are at least two to three paragraphs long.
- I prefer to play with 18+ year olds.
- If you don't wanna follow these set rules, then there's no point in joining; it'll just cause conflict.
- I'm going to definitely need co-GMs that can be trusted.
- You can make as many characters as you'd like, as long as you can handle them. I'd also like to ask that you take your time making the sheets instead of rushing through them.
- Please follow the format in the character skeleton.
- I will not accept faceclaims or extremely realistic art (so much so that it looks like a photograph) for the appearance section of your character. Anything else is fine, including anime.