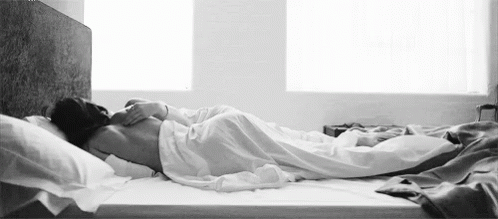 ▃▃▃▃▃▃▃▃▃▃▃▃▃▃▃▃▃▃▃▃▃▃▃▃▃▃▃▃▃▃▃▃▃▃▃▃▃▃▃▃▃▃▃▃▃▃▃▃▃▃▃▃
Nate stood a safe distance away from the group with his hands in his pockets, sneakers kicking at the dark gravel under his feet as he waited for Valeria to come back. He looked on as the small girl whispered something to Jules, with the slim, black-haired boy retracting back in response and exclaiming something ending in
"...doms!?"
. Following this, they had some weird cat and mouse game with a string of silver packets, consisting of Jules egging on the visibly embarrassed Val and ultimately ending with the girl snatching the packets off his hands and hiding them in her back pocket.
As he watched it all go down from a distance, Nathan raised his eyebrows in surprise. "Bold of her…" he whispered and laughed softly to himself as Valeria made her way over to him.
"Alright, Nate: I'm ready to go now. Should we say goodbye before we head to the cabin?"
"Nah, I think they can figure out we went to bed." Nate answered with a smile before they turned away from the group and walked towards the small cluster of cabins stretching out in front of them. Without warning, the young man spun around towards Val with a mischievous expression in his face. "Just to clarify… those are condoms in your backpocket?" he asked with a grin.
If there was ever a time that Valeria wished that something tragic happened to her, it was right now: at this very moment, with Nate looking her right in the eyes and asking her if she had condoms in her pocket. A strike of lightning on top of her head, a tornado sucking her small figure into the air, a giant wave pulling her down to the bottom of the ocean, an earthquake that opened up the ground beneath her and swallowed her whole… Anything would have been better than the embarrassment she was facing right now.
She wasn't about to let it show, though. "Pffft,
no
," the short girl lied, keeping her eyes fixed on the cabins they were approaching and face as impassive as possible. "It's some Asian candy that Jules gets me whenever his family brings him stuff from Korea. They come in a few different flavors. My favorite's cherry, but they all taste fucking amazing."
"Oh… Sure," Nate played along. He admitted that he was slow at most social cues, but did Val really think he was that stupid? He had seen and used condoms before, and no one in their right mind would package candy like that-- Korean or not. "Hope they've got cherry, then-" he commented with a flick of his eyebrows as they continued towards cabin 4B, which the key indicated was the one they were going to share.
In swift motions, Nathan unlocked the door to the cabin with the help of his key, swung it open just enough for the two of them to walk in, closed and locked it behind them. It took a second for their eyes to adjust to the sudden brightness inside the cabin once the nightstand lamps were turned on, but it didn't stop Val from dropping her things on top of the dingy desk in the corner of the surprisingly ample room. Yet the more she looked around the cabin, the more her brows furrowed together in confusion. There was something missing inside this room, but she couldn't quite put her finger on it. It was only after a few more looks around the cabin that the reason behind the amount of space inside the room suddenly dawned on her.
Eyes wide with realization, Val turned to Nate. "Um… Nate? I don't see a couch anywhere in this cabin..." she said in barely more than a whisper, afraid that if she spoke any louder the item would materialize out of thin air.
"Huh?" he exclaimed, looking around the room and realizing that the girl was right. There was certainly no couch anywhere inside the cabin: just a dusty old armchair where he had dumped all his stuff. "I could have sworn that was a couch..." he murmured as he walked further into the room. His low hum was back as he tried to figure out what to do or say. "I guess I can just sleep on the floor. Unless..." he paused as his eyes shifted from the bed, to Val, and back again.
Her heart did a somersault in her chest. She knew
exactly
what he was thinking. "I mean… I don't mind sharing…" she said in a small voice, looking down at the floor to hide the excitement and nervousness that was surely painted all over her face. "Do you?"
He shrugged and fell backwards onto the bed, putting his arms behind his head and making himself right at home. "I don't mind," he grinned up at her.
Val breathed out a sigh of relief she didn't even realize she was holding back and looked back at Nate. "Okay then," she squeaked, shifting in place. "Now that that's settled, let me get a quick shower before we call it a night," she told the boy before busying herself with picking out the things she would need. With a bundle of fabric and personal care items in her arms, the brunette gave Nate a shaky half-smile before disappearing behind the bathroom door.
As the bathroom door closed, Nate sat up and leaned back on the headboard, staring up at the ceiling and trying to figure out how exactly they had gotten into this situation. To say that his relationship with Valeria Drake had always been somewhat tense is to put it lightly. She had always treated him like she was just an annoying bystander whenever the misfits hung out together. Insults were also frequently thrown around. But as she had said, it had been because she'd harbored a crush on him- like she was a little boy in kindergarten pulling the hair of the girl he liked.
The boy just shrugged at his thoughts and stood up to strip down to his boxers, making sure to fold his clothing carefully after each item was removed. As he put away his stuff he grabbed his notebook and got back onto the bed, cracking the book open and proceeding to scribble away.
On the opposite side of the door, Val was nothing short of a nervous wreck. She paced back and forth around the small space inside the bathroom, anxiously chewing her bottom lip. Her thumbs flew across her phone screen as she walked, typing and looking up on Google a plethora of questions such as "What To Do When You're About To Hook Up With Your Crush", "How To Please A Guy In Bed" and even "How To Be The Best He's Ever Had In Bed". What was highly likely to go down tonight was the climax of five long years of secretly wanting and not-so-patiently waiting for the right time to strike. There was so much at stake with her performance of the night: the weight on her shoulders never felt so heavy with the need to impress Nate in every way that mattered.
After a good twenty minutes of reading Cosmopolitan articles, showering and making sure her body was presentable, Valeria finally emerged from the bathroom, filling the room with steam and the scent of pineapple and coconut. She wore nothing but an oversized black Roxy T-shirt and (of all things) cherry-patterned PINK underwear, her feet in black flip-flops while her damp hair flowed freely down her back. Humming along to a Glass Animals song, Val made a beeline to where her belongings were, dumped the items on top of the suitcase, turned around… And heard herself gasp out loud at the sight of Nate in nothing but his underwear.
"What?" Nathan asked, looking up from his writing and at the brunette with a surprised face.
"N-nothing!" Val stammered in shock, her cheeks red as she shook her head and walked to the bed. "It's just… Holy shit, you look so good..." she heard herself blurt out like the idiot she was while taking a seat on the mattress. Jesus Christ… Saying stupid shit like that, she didn't know how the hell she would make it through this night alive.
Never one to blush, Nate could feel some heat rising in his face for the first time in a long while. "Oh. Uhm… Thanks." he mumbled, closing his notebook, putting it aside on his bedside table and resting his hands in his lap. The silence in the room soon became palpable, with a strangely mute Val seemingly frozen on the spot and making Nate bite his lip out of sheer awkwardness. "So… Good night, I guess?" he said more as a question than anything else.
That seemed to bring Val back to reality. She shook her head as if to clear her head of distractions and gave Nate a small smile. "Good night," she said softly, shutting off her bedside table's lamp and crawling under the bed covers, lying face-up next to Nate on her side of the full-sized bed. The young man followed suit, turning off the lamp on his side of the bed and rolling over to his back again, facing right up as the girl beside him did.
There was a solid five minutes in which the only sounds in the cabin were the humming of the AC unit underneath the window, the chirping crickets outside, and the heavy breathing of the two young adults trying to fool themselves into thinking that nothing would happen between them. The air became thick with the rising tension, the electricity between them so heavy you could almost touch it. It all seemed to go on for hours: a battle to test the strength and duration of their self-restraint.
Finally, it was Valeria who broke the silence, deciding that enough was enough and taking the plunge once again. If it happened, then she'd do her best and enjoy the hell out of it all. If it didn't, then she'd silently cry herself to sleep and cut her losses the next morning.
"Nate?" she called out in the dark, shifting her body to the side so she could properly face him.
"Mmmh?" the boy responded, turning his own body around so that he too laid on his side, facing her. "What?" he questioned again as he inched slightly closer to her.
She didn't know if he was doing it on purpose or not, but his voice had suddenly taken on a husky edge- in the way that she'd never realized could drive her this crazy. Goosebumps covering her skin as she felt Nate's warm breath on her lips, her body slightly shaking with the anticipation of what she would say next.
Val took in a deep breath, elevated a silent prayer to whatever deity would listen, and nervously uttered the words:
"Do you want to-?"
Impulsively, Nate cut her off by leaning in and pressing his lips to hers. Maybe it was to get rid of the weird tension, or maybe he had secretly been wanting to do this for some time now. But now that he was lying in bed with Val and kissing her none of that mattered. At some point, the young man had shifted his body so that he was on top of her, with one arm on either side of the girl's body. He reached up and pushed her hair out of her face, and eventually their bodies wrapped together in the now-passionate kiss.
It was only when they were both breathless that Nate finally pulled back, taking a moment to gaze into her eyes and survey her face while a small smile spread across his own.
"So… Do you still have those Korean candies?"
Val's giggles filled the room, lacing together with Nate's for a moment before fading into another deep kiss. And eventually, the sounds of the rest of the world were drowned out by Valeria and Nathan coming together as one.