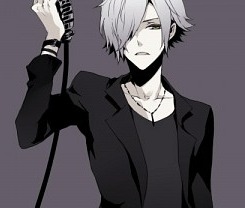 ---
Tristan glared at Robbie as he spouted crap of a man who practically already gave up. He had indeed been naive to not notice this beforehand or he would have known any attempts to help such a person to be wasted effort. But a part of him still thought that Robbie wasn't a bad person, just an idiot who made a particularly stupid decision, so he didn't regret the peaceful approach he chose to go about this.
That is until he had the absolute audacity to insult and insinuate his family to be the same as him on top of spitting in the face of his olive branch." How dare you! Don't go tossing bullshit at my family who has nothing to do with your fucking moronic mistakes." He spat out vehemently at the man; any dwindling kindness or pity he had for the man was gone as he thought nothing of making him suffer and handing him over. For a moment he even thought to just let the mob have and do as they will with him; nearly losing himself in such dark thoughts and anger born from and directed at Robbie. Until he heard Princess's pained cry from getting knocked back from the clashing quick attack.
An encounter that proved one thing; this ditto was slightly stronger if it was able to knock Princess back as he witnessed the way the ditto kicked up a cloud of dust to jump its way back to its trainer. The rich teen was still very much angry but seeing Princess shaking off the blow reminded him of his abysmal battle with Freya having him glance to King who was glaring at the transformed mon waiting for the next order.
He couldn't go at this recklessly if this ditto was indeed stronger though it didn't seem to be all that much stronger. And he was battling with two; so long as he went at this smart and had the two work together with teamwork then victory was possible as he simply could not allow Robbie win for a multitude of reasons. Having already suffered a painful defeat not too long ago and to lose to this thief even after using both his pokemon... would be crushingly humiliating.
Seeing that Robbie ordered the ditto to transform, Tristan took this chance to take a deep breath to soothe his anger. Not completely, mind as he wanted to keep some of it as motivation as he observed what his opponent ordered the dit-krow to do.
Now that his head had cooled down from Robbie's horrid insults, Tristan was able to think clearly, and an idea came to mind." Princess! Use quick attack to grab King out of the way of the feather dance! Once safe, King wait till the ditto draws close and hit it with a feather dance of your own. Once its distracted or thrown off by the feathers I want both of you to attack with a peck and feint from both sides!"