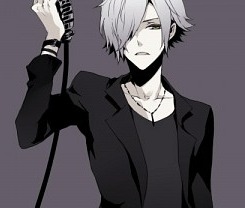 ---
Just thankful for it all to be over and done with. Now he could put this whole unpleasant ordeal behind him and look forward to a meal and a torchic, but for now he had to deal with a massive headache which did little to help with all the thoughts of what he went through for the day buzzing in his head.
As he thought it couldn't get any worse though this day refused to ease up on him as he found himself having to watch the little kid." Wait..I am not a babys-" His attempt to refuse but the two girls left the room without even giving him a chance or even a glance in his direction.
He slumped back in the chair with a scowling huff while draping his left leg over his right and arms folded across his chest. The rich teen was starting to wonder if this whole thing was actually worth the humiliation and backstabbing that this ranch saw fit to lay onto him at nearly every turn.
And now found himself stuck having to watch some brat. One that was staring at him all creepy like as he averted his gaze trying to look at anything but the girl and those unsettling unblinking eyes that sent a shiver down his spine.
He began rocking his foot and tapping his finger against his arm in an impatient manner thinking the girls rude for forcing babysitting duties on his hands. Tristan had half a mind to get up and give them a piece of his mind if they left him with this staring child of which he wanted nothing to do with. Or perhaps he could have Princess get her to leave him be but as he saw she was chatting with Sage and King seemed to have followed after Tillia who flew off with its trainer.
Trying to distract himself with a family picture on a nearby wall when the girl suddenly spoke up out of nowhere for the first time. His body flinching was his first reaction to the child's question as it took the uncomfortable teen off-guard." Um...pardon? Magazine?" He inquired; uncertain of her meaning at first due to being thrown off still and the headache though it clicked shortly after." A-ah right, yes magazines. And to answer it is because I am esteemed handsome individual who has done a fair share of modeling for such magazines. You seem to have a good eye for noticing and I would not be surprised if you or your sister have seen this stunning face before. " Doing a small pose with a grand twinkling smile feeling his mood uplifted a bit for having his handsomeness recognized, a first today and a much-needed boost to his morale.