[CENTER]
Name
: Riku Orochi
Nickname/Alias
:
Gender
: Male
Age and date of birth
: 13
Age Appearance
: 13
Sexuality:
Straight
Parents: Yamata & Kushinada Orochi

Favorite weather and season
: Likes the summer
Village
: Hidden Mist
Birthplace
: Hidden Mist
Organization
:
Clan/Bloodline
: Orochi- Eyes of the Gorgon
Rank
: Genin
Chakra Nature
: N/A
Appearance
:
[spoiler]
Personality
: Riku is snarky and witty, always having some comment on hand on situation. He seems to always be enjoying himself, no matter what situation he's in, often laughing and throwing out jokes. He dislikes how bitter his clan is about their potential, and can't stand whining. When annoyed, Riku's humor turns nasty on whoever managed to annoy him. It's earned him several punishments from his clan.
His constant good mood, and dislike of whining often make him look apathetic and uncaring of other people, seeming very 'fake'.
Riku's also a very big flirt, he comments that his goal in life is "I just want to look at a beautiful woman." The phrase 'you sound pretty' is used often, in part to humously compliment someone, and in part pointing out his own blindness.
History
:
Born into the Orochi Clan, Riku was raised with high expectations, and the thinking of overcoming difficulties. The entire clan being blind made being raised as such an easier thing, and he was never wanting of people to relate to. Blindness wasn't even seen as a disability. His parents trained him from a young age not to use it as a crutch, and taught him the echolocation technique. In many ways, that let him around his clan as well as anyone else. His mother, Kushinada, in particular encouraged him to keep pushing his limits. That he shouldn't be happy with an excuse of 'it's too far' or 'I can't see', but to try harder, and listen better. She was particularly talented, it was said if a man dropped a coin in the harbor, Kushinada could hear it from the gates. While she would say that was far too exagerated, her skill was undeniably high, and she kept pushing Riku to get better.
The only thing Riku could not stand growing up in his clan was the constant whining about the potential in the Mist the Orochi clan could have had. He felt like saying that made him being blind a weakness, and felt it was insulting.
After one particular night, as the Orochi clan entertained guest, upon hearing the 'potentai', Riku remarked. "So seeing makes me some kind of god? Let's try that."
He disrupted the seal on his eyes, and for the first time felt the chakra drop that his eyes caused, within seconds he collapsed. His mother rushed over to him to undo the disruption of the seal, and his father yelled at him being a fool.
In that moment though, he'd seen a beautiful woman, daughter of a noble in the house. He from then on wanted to see, not for some potential, but to see something beautiful. He still hated the complaining however, and refused to do it himself. He was going to work at it instead, become strong enough that it wasn't a problem.
[/spoiler]
[spoiler]
Weapons/Items
[spoiler=Weapons/items]
Name of Weapon or Item:
Nylea's Bow
Description:
This bow has the unique property in that by adding more chakra through it, Riku can change it's poundage. It is kept at very high tension, taking effort to pull back, but well worth the effort. It takes a alot of strength to wield.
Appearance: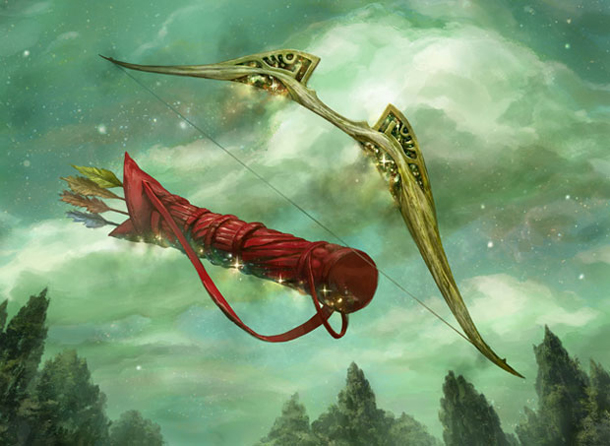 Name of Weapon or Item:
Specialized arrows
Description:
The arrows Riku carries have different functions in them, and Riku is able to make more. Each arrow is identified by smell, looking all similiar.
Lotus Arrows- Arrows whose tips have an explosive tag rolled up inside the shaft. They smell of candles. Riku is hesistant to use them, as they mess with his hearing.
Sun Arrows- Arrows coated in magnesium that burn brightly for 3 minutes, with a blinding light. Activated similarly to an explosive tag. They smell like grass.
Snake Fang Arows- Arrows with heads coated in snake venom, with neurotoxins of a particular seasnake found just out the harbor. It slowly paralyzes the victim if they don't recieve help. They smell of snakes. Riku only has 3 arrows on him at a time, as they are very hard to get the venom for.
Enclosing Arrows- Arrows with heads infused with a sealing jutsu, later in the jutsu section. The jutsu is written across a paper seal that is rolled up in the shaft.
Name of Weapon or Item:
Sealing scroll
Description:
A sealing scroll wrapped next to Riku's ninja pouch, as large as the pouch itself. Used for Enclosing Arrows.
Name of Weapon or Item:
Sealing paper
Description:
Seals with additional arrows inside them. They are scented to the same smell as the arrows.
[/spoiler]
Skills/Abilities
Good Senses
Good Strength
Good Sealing Jutsu
Special Traits
*For all intensive purposes, is blind. See Kekkei genkei
*Has extremely sharp hearing, how he 'sees' everything, through human echolocation. By clicking his tongue, and listening to the echo, Riku is able to tell the shape of objects. He can generally guess the objects from there by their shape. His technique has a range of 50 feet. By repeatedly clicking his tongue, he can memorize an area.
*Heightened smell- it's how he identifies materials by smell, such as people, food, animals, objects, leather, ect. It's how he tells the difference between people he recognizes.
Kekkei Genkai
:
Name of Kekkei Genkai
: Eyes of the Gorgon
Clan:
Orochi
Description:
A failed Dojutsu, crafted by, and still cursing the members of the Orochi clan. The dojutsu paralyzes those that meet its gaze with a powerful genjutsu, but consumed more chakra than any member of the clan could manage, so all members of the clan have their eyes sealed away, creating a clan full of blind shinobi. Riku currently has a limit of only 5 seconds having it disrupted before it completely drains him of chakra. The record is 1 minute. Reckless use can easily kill the bearer
Seal-
Ama-no-Iwato
[spoiler]
Name of Technique:
.
Ama-no-Iwato
Type of Jutsu:
Sealing
Rank:
A
Range:
Contact
Nature Type:
N/A
Handseals:
N/A
Description:
A seal embedded in the clan members's very eyes, sealing off all demand for chakra in what the seal is placed on. However, as long as it's in place, the chakra backlogged by this literally blinds the clan member.
Weakness:
Blinds the the clan member. Being removed causes their eyes to work, which could kill them. Inserting chakra through it the center of the technique disrupts the technique for as long as the chakra is there. This means an opponent could potentially undo the seal on the eyes as well.
[/spoiler]
Jutsu
[spoiler=Cannon Jutsu]
[url=http://'http://[URL']
naruto.wikia.com/wiki/Unsealing_Techn…
Unsealing Jutsu[/url]
Generic sealing Technique- Riku stores his extra arrows in seals with similiar smells to the arrows.
[/spoiler]
Custom Jutsu
[spoiler=Custom Jutsu]
Name of Technique:
Enclosing Arrow
Type of Jutsu:
Sealing jutsu
Rank:
C
Range:
Long
Nature Type:
N/A
Handseals:
N/A
Description:
Firing an arrow, either blunt or sharp, with a sealing jutsu infused it allows Riku to seal objects from afar into the sealing scroll to his side. The 'seal' space inside each seal is only 7x7, and won't seal objects larger than that. In addition, it won't seal non-solid objects, and if whatever is inside the seal smudges or disrupts the seal on the bottom of the space it is sealed in, the technique collapses, releasing a second later right by Riku
Weakness:
Disturbing the center space in the seal will render it useless. Can't store large objects, or non-solid objects. Any person sealed inside who breaks out will be released right next to Riku, who being an archer does NOT like people right by him.
====================
[/spoiler]
[/spoiler][/CENTER]
[spoiler]
[/spoiler]
Clan History:

[spoiler]
Clan History:


A prominent sealing clan in the Mist, the Orochi clan was never afraid of conflict, and had a penchant for choicing the winning side in a conflict, always placing themselves on whatever battlefield they believed would win.

The Orochi clan was led by 8 heads, who inturn controlled part of the clan, and the only thing they could agree on was winning glory in battle. Only in times of war was the clan peaceful towards eachother, and even then, each branch head wanted to outdo the other branches.

They have historically bragged about their abilities, and always went seeking to prove themselves as valuable to the Mizukage. During the hieght of the war with the Leaf during the 2nd kages's reign, the Orochi clan continued to brag of it's successes, until the Leaf started to beat them back. Desperate from being on the losing side, the Orochi clan meditated what to do. The Hyuga, the uchiha, the Moto, and at times the allied Nimatsu all were big hinderences who could see through their seals and their surprises, and all these clans had something in common, a dojutsu. Nobody hated the dojutsus of the Leaf more than the Orochi clan, and that hatred turned to envy. One clan especially they hated, the Uchiha.

The Orochi clan decided it was not going to let the Leaf flaunt itself in any aspect, that the Mist would crush the Leaf in every single aspect. Without consulting with the Mizukage, they took a drastic step. They would create their own dojutsu, more powerful than the Leafs'.

Researching how to do this, one of the largest Heads, led by a man named Hebi, schemed how to get it, and at the same time usurp total control over the broken clan. He proposed a way to take the chakra from every member of the clan, and condense it into their eyes, changing their chakra system, and forcing their eyes to adapt and change, to use much more chakra than normal, to creat a Dojutsu, one capable of paralyzing on sight. He promised this to each clan head if they would just have all the branches of the Orochi clan join their chakra together for one moment, he would bless the clan with this power.

Hebi, however, was a snake, and left out some very crucial details. He planned on using ALL of the chakra of the other heads of the clan, and many of it's members to have enough chakra to effect only a small few, to sacrifice them to gain great power among those that survived.. He promised them great power, and he succeeded beyond his imagination. The dojutsu created in the eyes of the survivors of his ritual all had great power, too great for them to control. Half the clan died from chakra overusage that first day, including the man who had schemed it all, Hebi. The snake of eight heads had eaten itself, not one of the eight heads was left, and all survivors, no matter what branch, were forced to assimilate.

In desperation and fear, the surviving members of the clan sealed away their eyes, hoping that future generations of the Orochi clan would make up for their folly. However, the loss of life among the clan did not stop. They soon found their children to be afflicted with their curse as well, many babies dying before they could figure out to seal their eyes as well.

The Mizukage was furious about the loss of one his strongest families, anyone alive was now completely worthless, and couldn't be counted on in the war.

The only thing that saved the surviving members of the Orochi clan from being massacred was the well timed signing of the treaty with the Leaf, which drew away attention from them. Still, the Mizukage did not forget completely, and a few years later, sent several ninja to kill all ninja close to Hebi, all the ones in his branch. The entire branch was massacred, leaving remenants of the other seven who would be looked at as worthless and traitorous for the next few decades.

The clan was a fraction of it's former size, and it took many years for it to once again to be called a clan. The clan did not die out though, and adapted. They found ways around their blindness, most members becoming adapt at Silent Killing. They learned how to compensate for their blindness, and in recent years began to rise again in the Mist as a formidable clan.


[/spoiler]