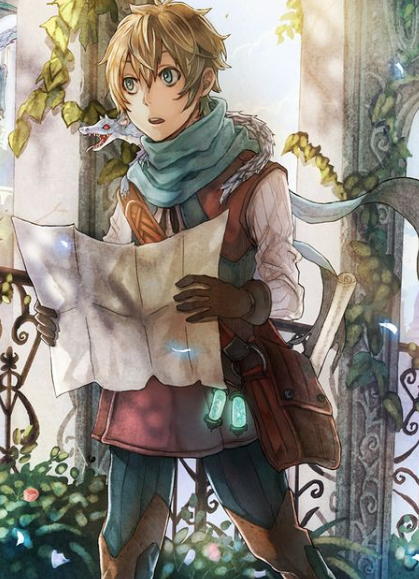 ---
Eli never really felt homesick when he had begun his journey. In fact, he was quite excited and even thrilled on the idea of an adventure. At last he could truly put his skills to the test; Anima, an ancient and powerful magic. From what he had learned in his days in the library, his family had descended from many powerful Anima users. The strongest, or so he had read in his study sessions, being his very own father. The thought of it was almost funny, considering the state in which his father was in; a near-cripple and stunted magic abilities. Even so, there was always strange feeling Eli had around his dad, as if his experience with the world was otherworldly. Looking front over at Maize through the open cloth, who was driving the wagon, Eli spoke up. "I'm tired of all of this riding. Let's just get out and walk already." Before any complaints could be brought up before the boy, he pulled his satchel up and jumped out the back, moving out of the way of the other cart so that it wouldn't be stopped.
Eli, of course, could already hear the complaints and worries that some of the others might bring up to him, but he didn't care too much. He could protect himself quite easily and they were already close to the town. Hanging the satchel across his body and resting it at his side, Eli walked along with the wagons as he stretched his arms out and took a good look at the port ahead of them. What a beautiful sight! It had been a long time since he'd ever gone to a port before. Though, something felt...off. People were crowded around the gate, much to his confusion. Jogging slightly to catch up to the side of the wagon in front, Eli looked up at Maize and spoke. "Sir Maize, what do you think is happening? There isn't some kind of emergency, is there?" Eli had been known for worrying about others, regardless of their social standing. It was something that made the Prince quite likable in his country, albeit he didn't quite understand their plights due to his own up-bringing being entirely different from that of many in the world.
Looking forward once more, Eli stared silently at the port town ahead of his, undoing the belt on the satchel. Pulling out a small book, he held it at his side as he waited for an answer from the experienced man leading their party. Even as he waited though, he began to feel...well...rather afraid. In the back of his head, he played it off, believing that it was just his fear of the wyvern that flew in the air. For the most part, that really was his only fear. How he hated that flying beast...it was like a dragon. Those were truly terrifying to the boy.