OOC:
Character:
Charley
Music OOC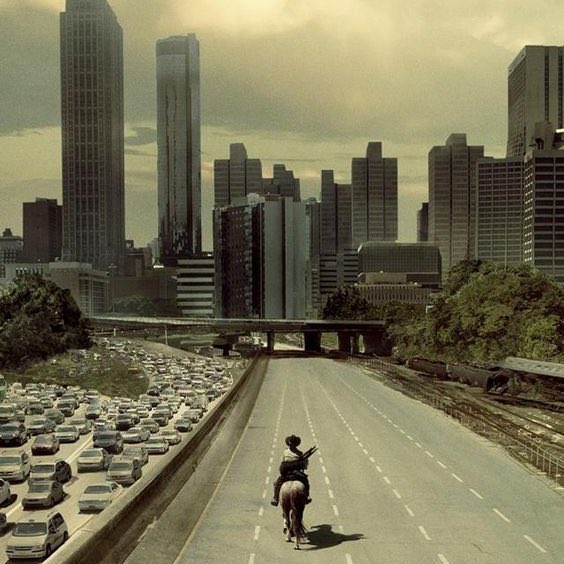 It was a surreal scene. Past the city of Atlanta's spaghetti junction, the freeway was completely free on one side of the wide street. It was empty, at least for this stretch of it, with only those white lines on the black road, as alone as an angel flying in darkness.
Poetic nonsense, maybe, but the thoughts weren't lost on the traveler. Adventurer. Wanderer. Explorer. She stopped calling herself anything, really. She just simply...was. She had a name, but for the moment she thought only of how empty these lanes were.
Charley.
She remembered.
With a cowboy hat on my head, a rifle at my side, a pistol at my hip, and the basic will to survive...
It was a one-way road for traffic venturing forward toward the city proper. On asphalt paved, between amalgamations of concrete, blood and sweat, were those jagged edges, where the highway had long since been forsaken, and so it had split and cracked, and sagged into abandonment.
Yep…
The woman sighed between her teeth.
Poetic nonsense. At best.
She hesitated, delaying in the moment, enjoying this dreamlike experience of nothingness on this road paved before her feet. And hooves, for that matter. She lowered her hand, patted the neck of her horse, who whinnied in agreement.
"Getting close." She licked her lips, and they too were split, so she wet them with a bottle of water. Finally, she looked to her left, glimpsing the other street, where the freeway ran the other way, away from the city, and what a difference.
Rows and columns of cars and cars and cars. Back in the day, she mused, those cars would be moving, but today they did not move. They were still, stagnant, lifeless, without purpose, and as empty as her side of the street.
"Dichotomy…" The woman whispered. "He'd describe this scene the same way." She looked away, focused forward.
Forward, always.
"Always forward." So her steed trotted, taking the pair of them ahead into the city of Atlanta, as abandoned as this highway, though there were rumors that settlers had since established hideouts and fortifications throughout.
We'll see.