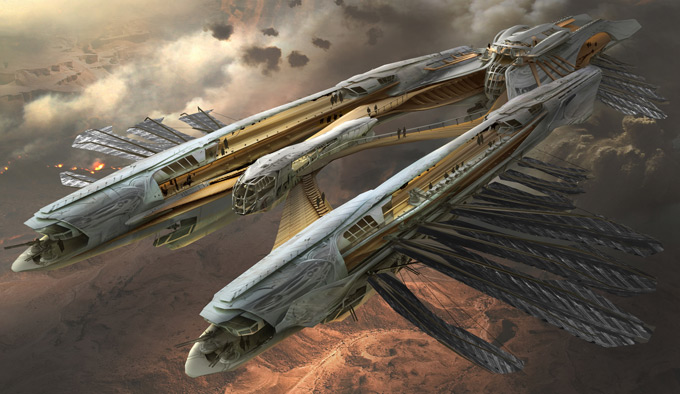 The hum of the transporter was a shrill drone aboard the Ryllain solar ship. In a way the sound was almost soothing, allowing the High Lord Cardinal of this imperial Legion of the Angar-Rylla forces to enjoy the ride. Far below the clash of armies shook the earth, the explosions caused by ordinances or powerful magic shaping the very terrain. It seemed fitting the very planet should shudder as if in fear of the coming of the Angar-Ryllan Empire. It was only unfortunate for those who lived in this universe that they should face such overwhelming odds. Still, once they had tasted the yoke of the Angar-Rylla they would learn to live as they once did. They would of course only benefit the advances the Empire had to offer, the order it brought.
First however, first they would need to be made to accept Ryllain rule. They needed to learn to bow the knee.
Few remained this late in the campaign to oppose Imperial forces. One sector however, it seemed, had proven strong enough to resist. Intelligence gathered had revealed that the success of their enemies was thanks in large part to a woman, known in these parts as Rodetta The Red. So far, rather disappointingly, none of Khazna's lieutenants had proven capable of putting this women down. It was becoming rather embarrassing really. So Khazna had opted to deal with this little annoyance himself; as he often said himself, the best way to deal with most problems was to do it yourself. Besides, it had been months since he had tested his mettle against a worthy foe, and this Rodetta sounded like a worthy opponent indeed.
Khazna admitted to not knowing much about the royal bloodline of this King Ifream the Red. Aside from the fact it had something to do with some folklore about giant lizards…. and the color red. The solar craft sailed to a stop slowly at first before stopping all together. They had arrived.
Khazna had sent a simple missive to his adversary. She had proven herself an adept commander to be sure. So they would settle this matter in a much more...intimate way. While their armies continued to break a five week long stalemate, the two generals would settle this matter in a simple duel- a test of arms really. One small contest of arms to decide the fate of a world.There would be no aid from the outside, not until a clear winner emerged. By this days end, one of the opposing armies would lose one of their greatest assets. Khazna was fairly sure it was not going to be the Imperial forces.
The large sleek white craft hovered several dozen feet off the ground. Right above the designated local their duel would take place. A simple field which itself held little strategic value. Still, what happened here could well decide this entire war. Khazna turned as his second, a man named Muriarion Elsinaine, walked onto the bridge. He saluted, though his golden features betrayed his nervousness.
"Lord Cardinal, all is ready," He then cleared his throat and asked in a quiet voice, "Sir, are you sure about this?"
The man known as Tablurath, and one of the Empire's greatest tactical minds, only smiled under his black mask, matching the smiling visage adorning it. He laid a hand on his Lieutenant commander's shoulder, as if to reassure him.
"Ah, Muriarion, but where is your sense of adventure? Hmmm?" He chuckled, "with one simple victory here we win this war, coming one step closer to achieving our goals in conquering and uniting the multiverse."
"Still, sir the risk-" But a raised hand from Tablurath silenced his protest. In the end Muriarion only sighed, his commander, while brilliant, was also quite stubborn when on a chosen path or course of action. "In that case sir, good luck to you."
"Ha, when have I needed luck?"
----------------------------------------------------------------------------------------------------------------------------------------------------------------------------------
Minutes later Tablurath stood at the hatchway door that exited out into open air. He adjusted his armored bracer as he locked it into place. His athletic frame covered head to toe, his trademark skull mask obfuscating his features. Allowing only his dark eyes to be seen. Without hesitation he leapt, his cape bellowing in the wind as he dived out of his transports bay door.As he neared the ground her tucked in his legs and arms falling natrually into a roll which ended with him coming up from his landing roughly on ony knee, his right hand on the ground. The transporter hummed suddenly as it lifted away.
Tablurath's cloak swirling to his up and to his right side, keenly revealing his two most trusted weapons. Both swords were sheathed at their sides, hidden away again as the man rose to his feet by the cloth of his cloak. As his ride pulled away Tablurath observed his surroundings, making sure to take note of every detail of what would soon be a small battlefield. The ground here was soft, the grass coming just short of knee level. In some places it was trampled down, most likely from riders. The fallen banners of one allied kingdom or another dancing in the breeze.
Some places were wet with the blood of the fallen, creating muddy pools here and there. In all the place gave the impression that a war was raged here, which if course was quite true. There were two hills near by, one a little north west of where Tablurath stood. Another at least twenty five feet to his far right. So it was here roughly between two hillocks he waited the arrival of the champion of King Ifream.