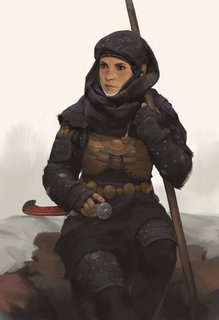 Nora
---
Nora felt a flash of confusion as Solange questioned her. She could hear the mockery in the other woman's voice. There was a cruelty to her humor and no kindness in her banter. Nora had dealt with worse. She had heard worse words thrown and spat at her. Criminals were as a rule far from well-mannered and the bandits of the Yhemerian Desert were not known for their kindness. Insults did not move her, but she had learned that she could not back down when challenged. Reputation and what might pass for honor among thieves were blades she kept carefully sharpened. She would not permit some common whore to chip and shatter her weapons. She could not let such a slight on her person go unmarked and she would not. A hand moved in a warding gesture and Nora considered the what price Vargas would demand if she cut the woman laughing at her down.
"I think you have mistaken me for someone else,
harlot
," Nora warned, staring down at Solange. The dessert bandit felt a growing disappointment. She had not asked to be saddled with a childish mad woman. She had expected some degree of professionalism in her new companions. She had hoped too much. She would not make the mistake again. She would not lower her guard. She would watch the courtesan carefully. Skarsat could drag Solange in chains onto the ship for all that she cared. Rags shoved into her mouth would shut her up well enough.
"I think perhaps you have misunderstood. Allow me to clarify," Nora said. Her right hand rested on the pommel of one of her swords and her lips were pursed in a grim smile. She looked politely displeased and violence danced behind her eyes.
"Vargas wants you on the ship," she said jabbing a finger roughly into Solange's shoulder in a sudden burst of movement.
"Vargas wants all of you on the ship. Vargas wants all of you brought back. Vargas wants his fair share of the profits," Nora added gesturing broadly with her arms as she loomed over Solange. "And he shall have all of these things."
"Dear
lady
," the bandit said with sarcasm dripping venomously from her voice. "You may be his business partner, but such titles will not protect you if you mock me again. Vargas prefers his property to be in pristine condition. I understand this. It is the way of men with wealth and power. Drunk as they are on wealth and water. But there are limits to my patience and I do not owe you mercy."
"I am sure Vargas will still find you to his tastes even if I return you missing an ear or perhaps some fingers," Nora began, mirroring a cutting motion with her left hand. She laughed, forging her anger into cruelty. "You will still be another pretty thing for him to keep here, for some time at least."