It took forever, years of saving but you finally did it. Your very own airship.
The solar sails are made of Essence Silk and sparkle when it catches the light. How you know it works, said the salesman. The cabin is a sealed environmentally controlled home, allowing for off the current travel through the stars. He threw in near a months worth of rations, just to seal the deal.
You can go anywhere with this thing.
Now for the biggest question of all?
Where will you go?

The Glass City and make a fortune chiseling enchanted jewels among the Quartz Weavers.

Or the Celestial Grove where the spirits are said to frolic with those who visit their forests.

Or join the Lunar Confederation Fleet as they fight back against the Tiger Dominion. They could always use another hero.

Maybe you can start over on Riza Secundous. The Terraforming Spires have just been raised and they will be looking for new colonists.

Anywhere.
Can you imagine?
---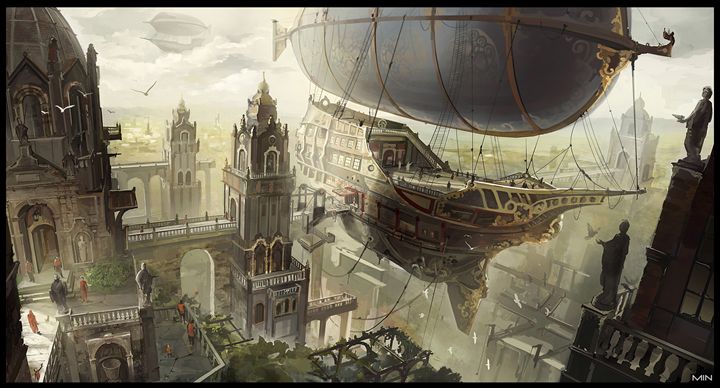 ---
This is an interest check for a player to have a story in this universe. The universe is designed to have any kind of setting, any kind of genre and theme, but enough of a fantastical element that things like boundaries or limitations need not apply. Consider this universe a sci-fantasy. Where elements of super science mix with elements of magic, that world in parallel and in tandem with each other. The universe however is not safe and a million million little dramas can happen across its expanse. I'm offering a personal character driven story in a vast, epic scale, shared setting, but different themes, plots, and genres within that setting. Im letting players build their own stories with Elysia as the backdrop. If you have a background, Elysia can easily incorporate it. I'm even open to having multiple 1X1 stories collide, all of it acting within the same universe.
What I'm looking for.


Casual/advanced players.
No one liners. I will get super bored very easily.
Those that ask questions, offer suggestion, and try to grow the universe in their own way.
Mature audiences, but its okay if you aren't 18, just let me know.
Friendly players willing to talk out their issues.
Patient players, I can't dedicate everyday to the site.
For a 1X1
PM me
your interest so we can tailor a story together and talk about developing the character. Romance and other interpersonal dramas are encouraged but not necessary. Again, I don't believe in limitations to writing. If you need help, ideas, pairings, or discuss further just let me know. If you desire a specific pair, I've most experience playing a male... but I'm pretty much going to the narrator for the majority so I'm playing a bunch of characters. A story world needs to feel alive. I can even RP a small group if you like. Doubling I think its called.
---
General Scenarios
With More to Come Later
Specific Potentially Non-Romance Plots
Specific Potentially Romance Plots
Other Quick Ideas for Potentially Romance Plots
Just a bunch of quick little ideas that can be adjusted extensively. Meant to just be a quick reference.
More to come, and some artwork when I find them