Name: Katsu Ota
Age: 39
Nationality/Ethnicity: Japan/Japanese
Description: Katsu Ota is 5' 10" tall and weighs 170 Lbs. He has very short black hair and brown eyes. If he were to allow his hair to grow out, you might see a few grays hairs at his temples. Since he shaves daily, you also couldn't see the small gray hairs that might grow out in his beard. Katsu has a scar on the left side of his face that extends from just below his eye to the jawline. He is physically fit and possesses exceptional agility.
He can be found wearing either a business casual attire or the uniform of the Nakamura PMC (Private Military Coporation), his employer. The uniform is a throwback to an earlier time in Japanese history. The uniform consists of a set of updated samurai armor and katana. Often times the soldier wears a traditional kimono underneath the O-yori but it is not required. Each suit of Armor (Yori), Helmet (Kabuto) and Sword (Katana) has a soul or chi and personality all of its own due to the special craftsmanship that went into each piece. There are armor artisans found at NHC.
The Kabuto is only worn for ceremonies. The soldier wears a piece of cloth wrapped around his head and tied at the rear. The armor worn by the Nakamura PMC soldiers is constructed from many small iron (tetsu) and plates (ita-mono), connected to each other by rivets and mail (kusari). These armor plates attach to a cloth or leather backing. The armor is designed to be as lightweight as possible as the soldier has many tasks including riding a mount and archery in addition to swordsmanship. The armor is brightly lacquered to protect against a harsh climate. Due to the necessity for camouflage, the Nakamura armor is not ornately decorated as the ancient armor was. This armor is painted in a mixed splashed pattern of olive drabs, loam greens and sand colors to match the foliage of the planet they work on.
Occupation: Private Military Contractor (PMC) or Soldier employed by the Nakamura Private Military Corporation (PMC).
Side: Katsu Ota is contracted by the Hosokawa family, one of three Japanese families who control the Japanese Faction in New Hybernia City. The patriarch of the Hosokawa family is Shō Hosakawa. The Hosokawa family is one of three principal families who control the Japanese Faction. The three families are for the most part in agreement on most issues. Occasionally there are minor disagreements. The patriarchs of each family meet regularly to discuss business and security issues as well as whatever other special requests that may arise. Often times the patriarch is referred to as the daimyo of the family.
Starting Equipment: Katsu wears business attire; tan, navy or black cotton trousers, light colored shirt with or without a necktie, black leather and canvas combat boots (highly polished), Leatherman tool, bic lighter, M14 Nambu 8mm pistol with 50 rounds of ammo and belt holster, small nylon pack to include a camel back hydration system, taps for 8mm reloads (small tool used with a reloading kit to making bullets), leather wallet with identification and some money, and wakizashi (small sword).
Katsu Ota receives his Yori, Katana and Kabuto upon arrival at NHC as well as a bunk as the Nakamura headquarters. Nakamura also issues other weapons and equipment for soldiers of their company as needed. The Hosokawa family in conjunction with the other two families frequently charters their own freighters to retrieve special order items from earth as needed.
Transportation: The Nakamura soldiers either walk or ride on Dewbacks; a hardy domesticated beast used to pull carts or as mounts. They have a very thick (dense) hide and a powerful tail. The beast is an herbivore and can attain speeds of 35 - 45 MPH for short distances. They typically walk just faster than a man's walking pace. They can trot at around 10 or 12 MPH for a few miles. The beast weighs just under a ton and can carry heavy loads or a person with personal gear. This is a docile creature that will not harm anyone intentionally, but might act up if it feels threatened.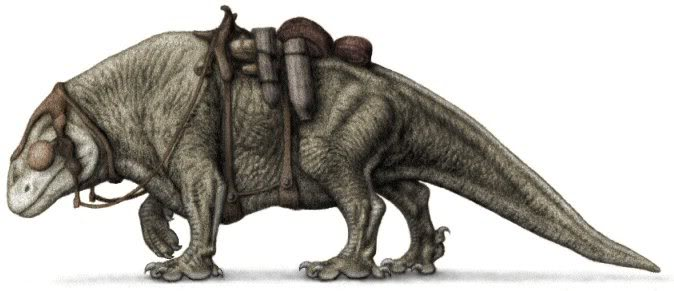 Personality and Background: Katsu Ota is a professional soldier. He is quiet and reticent. He is irritated by weakness and is prone to violent acts during the conduct of his duties as a soldier. He knows when to act and when to remain still.
Misc: Katsu Ota was born in Uruma, Japan overlooking Kinbu Bay and at the foot of Mt. Onna. He was raised with a traditional Japanese upbringing. He was taught that the good of the many, outweigh the good of the few; personal sacrifice is often if not frequently necessary for the community.
Katsu served as a member of the Special Boarding Unit (SBU), a Special operations unit of the Japanese Maritime Self-Defense Forces. While with the SBU, he attained the rank of Ittō Kaisō (Petty Officer 1st class - E-7). He is familiar with several different weapon systems used by teh Japanese military on earth, but none of those are apparently available to him at the moment. As a teenager, Katsu began training as a Kensei (Sword) and has studied Shōrin-ryū, an Okinawan martial artform since the age of four. He currently holds the rank of 3rd dan or Yudensha which is equivalent to a 3rd degree black belt.
---