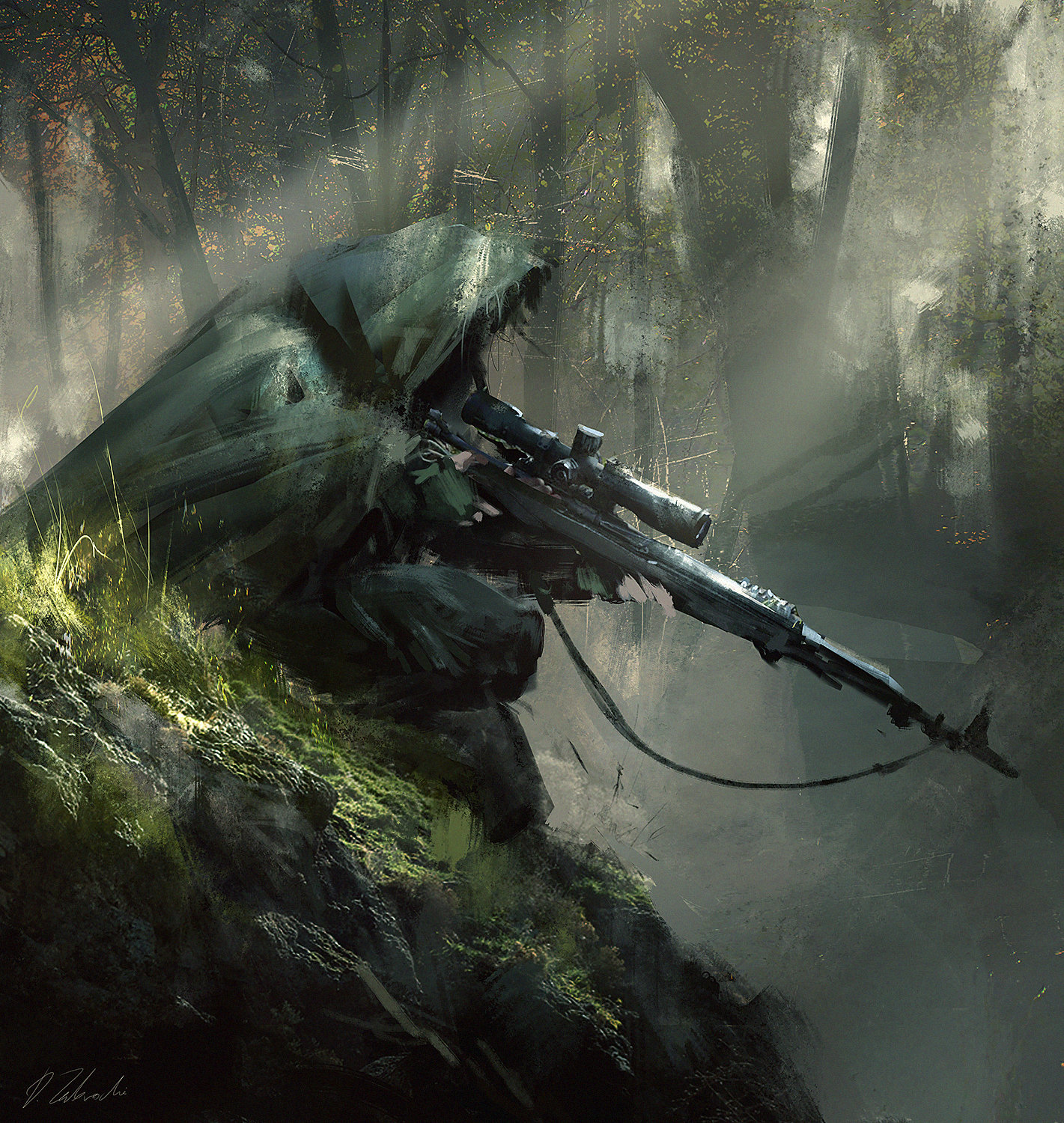 artstation.com/zabrocki
_________________________________________________________________________________________________________________________
With a start he awoke, cold sweat on his forehead and an odd feeling of nostalgia. That dream was... It had only been...
It didn't matter. With a great breath and a wipe with the back of his hand, he looked around to make sure his exhaustion hadn't been noticed - it hadn't. Underneath where his head had been, the documents he had been running over. Another contract, as any other, but with a peculiar addition. For the first time in his hiring he would be accompanied by a partner. The details weren't included in this basic coded outline but one thing was for sure.
Two
people were going on this mission... To be honest, he didn't know how to feel about that.
His room was dark, seeing as how the curtains were closed and the lights were off. A brief check of the time revealed it to be seven at night. To be fair, that was a perfect time for his "work" to begin, and he couldn't have asked his body to perform any better in this sleep cycle. Performing some waking stretches, joints and sore muscles popped and set themselves into place. With a start he suddenly lifted himself from his chair and moved to the bathroom. After running a hand through his hair and brushing his teeth he looked his face over. Dark, sullen eyes stared back - the colour of charcoal. It was hard to tell where the iris and pupil separated, however that lack of color matched his hair. A dark ebony black that was rather flat and dry looking. He hadn't cut it in years, so wild patches and spikes flew off in every direction haphazardly. Some fell off the side and front of his head as one would expect; others stuck directly upwards. Stubble covered his entire face, spotty and with some patches of greater length than the other to add to his disheveled appearance. His face was jagged, for lack of a better word. Angular jawline with scarring at random intervals. A bent-straight nose that was obviously victim of a bad setting job, cheekbones visible from malnourishment and pallid skin.
With a grunt he turned from the mirror and left his room, wandering down to the meeting area thirty-five minutes early to sit in silence and run over the mission briefing again. The briefing room was spacious enough. A large sixteen person table of smooth metal with an integrated display of some sort. Windowless walls and a large projecting screen opposite the entrance doorway. Chairs sat in varying states of use - some pulled out slightly, others rolled out considerably and some still in their ordered place. The assassin took a seat closer to the back corner, stopping only once to read a name on card stock. "Tarx Vim-" was as far as he got before it was torn into a hundred confetti sized pieces. His name was confidential, throwing it around like that was unprofessional, idiotic and downright
rude
.
Settling into a chair, he kicked his feet up on the table - which were clad in steel toed black boots - and opened up a folder he brought down with him from his room so he could wait for the other members of this meeting with at least something to do.