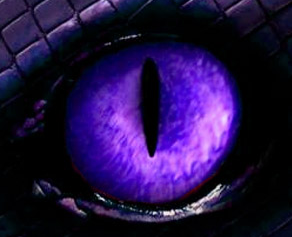 THE DRACODILE had continued to watch everyone with a predatory glare, remaining motionless as the intense sunlight made his scales gleam. His reed cat, Licks, had made her way up to her cohort's new vantage point and perched beside him--she clearly approved of the spot as her tail had gone all fritzy with excitement. Gossk was examining a weird cloud when the cloaked one yelled at him to board the boat. He barely had time to register what had happened but he could clearly see Lynn being carried away swiftly to the boat.
'What is going on now?'
Gossk wondered, looking down and picking his path downwards off of the large boulder.
He jumped down, his feet scuffing and slicing the rock as he descended. His giant form permitted him to shrug off the rough descent, but it was wearing off, he could somehow tell--and sure enough, as he and Licks arrived at their transport, Gossk's gigantic form unceremoniously shrunk. This was quite a good thing since he was about to get on the boat whilst in giant form, but then caught himself before he might have damaged it. The dracodile reminded himself to ask the cloaked one how he might learn that spell.
'That was fun,'
he croaked with a mental chuckle.
Crouching on the deck, so as to not appear threatening to anyone around him, Gossk noted Tyrael's disappearing in tow with Lynn and her staff into the cabin. A pang of worry gnawed at his mind as he realized now that Lynn had fallen asleep. They weren't under enemy attack like he had assumed, but rather she had clearly overexerted herself while healing Tyrael.
'Oh, Lynn, I am sorry for you,'
Gossk sighed.
The dracodile glanced away, taking in the former chattel into his purple eyes. They must have been watching him warily, obvious fear in their eyes. He looked at Sonia, having read the traits hinting at her dominant attitude over the other girls; In other words, she was in charge and would do the commandeering. He took a single step towards her, closing the gap between them quickly.
'Why does this one smell so good to me?'
Gossk wondered about Sonia, trying to control his urges.
After a moment of sheer concentration, he growled slightly, albeit he was merely clearing his throat.
"Let us go."
Gossk rasped, with a nod, and gestured towards Kalla--or the direction he assumed would lead them there.
"Do not stot thor any reason."
'I'm going to eat her if she messes up,'
Gossk decided, having found it very hard to put his trust not only in a
flying
boat, but a mere human thing to control it.
Satisfied that their servants would do their job, Gossk turned to the entrance of the cabin and sighed mentally at its small door frame. He gestured and grunted at Licks, telling her to stay where she was--or at least the general area. The reed cat sought out Sonia as she began to power up the skiff and steered it towards Kalla. Her tail flicked teasingly against the lady's leg.
---
Down below, Gossk observed Tyrael's work in the dimmed light--clearly he was taking care of Lynn. The worry in his mind was then replaced with curiosity as he drew closer and examined Lynn for himself. Gossk said nothing, his eyes scanning every detail of Lynn's body, noting her gills as well. It reminded him of his own, which left a bitter feeling but it didn't linger. Connecting his analysis of Lynn with what Tyrael was doing, Gossk experienced an epiphany. The dracodile remembered then, that Lynn hadn't been holding up well in the desert before he had placed his Far Stride power over her. He could tell that it was still on-going, but he surmised that Lynn's very nature contained an inherent weakness to these types of environment. In other words, despite his buff, she was doomed to fall from the start.
'Wait a minute...'
Gossk mused, a bright idea hitting him in the noggin.
If the desert was her enemy biome, then clearly the ocean was her closest ally, Gossk surmised, scratching the chin of his snout with a claw. He glanced around--the cabin was a little small, but it would still work, especially if he didn't pour all of his mana into the spell. He left Tyrael's side then, and observed the details of the cabin's interior--he touched things here and there, on the wall, and such. He nodded, with a grunt.
'This place seems well built. It should contain everything,'
Gossk decided, inhaling deeply as he turned to Tyrael.
"I think you should go adothe, uh, outside, at least thor now,"
Gossk suggested to Tyrael,
"I an going to change this roon thor Lynn. It night de, err... un-confortadle thor you."
With his warning uttered, the Dracodile turned towards Lynn and cradled her gently in his arms. She was so small compared to him, that he worried his scales would cut her without him knowing it. Regardless, a chant began to emanate from Gossk, its tone dark and harsh with rasping, guttural syllables. With each repetition, it seemed to become louder, as though Gossk was trying to be precise with how powerful he wanted this spell to be. With the last necessary syllable on the tip of his tongue, the Dracodile ended the upkeep on his Far Stride spell and then unleashed his nefarious Swamp Pit spell.
In the cabin.
The atmosphere in the cabin changed instantly, taking on a cool, moist temperature. Murky and salty water came into existence all around Gossk and Lynn, and Tyrael if he didn't leave, and filled up the cabin. Plants magically appeared and attached to the wood, as though it was ground. Mud and muck lined the outer edges, plastering the walls and ceiling. In short, the swamp pit tried to fill the cabin as much as it could, in the way its area-of-effect could form, but without damaging the cabin outright. The murky water would reach up to the top steps, right below the door that had led Gossk down into the cabin.
In the middle of the 'cabin pit,' Gossk cradled Lynn's body in his lap, much like an adult would hold a sick child. Her body would float a little bit, but he held her down, keeping her close. Despite the eerie murkiness that would make it hard to see, the dracodile's purple eyes glowed with a bright enough light to let Lynn see around her, should she wake and look around. Not that the light would help him see, rather it glowed due to the power of mana being controlled for this 'minor' Swamp Pit. Gossk just hoped that the cool temperature of his swamp pit would revive her quickly, as he felt the swamp was the cousin of the ocean--and for Lynn, he hoped it would suffice.
'This won't count for my life debt,'
Gossk decided, puffing his chest with pride and integrity.