Name:
Sadatake Kanna
Age:
25
Gender:
Female
Sexual Orientation:
Heterosexual
Position:
Noble, Daughter of the Shogun Sadatake Ayeka, Samurai
Personality:
Kanna is a confident young woman and takes after her father in some ways. She is cunning on both the battle field and when dealing with others, often catching her opponents off-guard due to their misogynist views of the capabilities of a woman in a position of power. She has the capacity to be ruthless and will be so when it comes to her twin brother and upholding her father's wishes. Kanna desperately seeks her father's approval to avoid the fate that her mother finds herself trapped in.
However, underneath it all is a compassionate woman who cares for her people and will try to find a fair middle ground when possible, but only if it doesn't interfere with her father's orders. If one is fair with her, she will respond in kind. Offer anything less, and she will respond with malice. She is not generally swayed by emotions and handles most situations with a calm perspective. After a long demanding days, she enjoys taking a nice hot bath followed by some quiet time with a canvas and some brushes.
Weaknesses: Kanna is closest with her twin brother and will do anything for him to a fault. Her biggest fear is to lose her other half on the battlefield and not being able to do anything to stop it. Her next fear is sharing the same fate as her mother, married to a lord who will keep her locked away from the world and all it's wonders. After those two things, there isn't much else she has come to dread on this earth. While Kanna is mostly a calm woman, once she is set off she can have the most terrible temper and act without regard for her own safety or to her limits.
Appearance: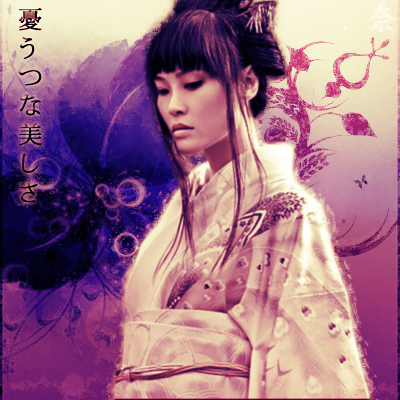 Kanna stands taller than most women of Seikatsu with a height of 5'6" (167.3cm) with skin so pale that she doesn't bother with whitening it with makeup like most other women and thick hair as black as raven's feathers that reaches her lower back. She has a slender, but muscular build, as she trains daily in various combat styles. She has a decently sized chest, about the size of grapefruits, but she keeps her breasts tightly bound so that they don't interfere with her swordplay or serve as a distraction for men.
As cultural standard demands, Kanna is often stoic, showing little emotion other than what is acceptable when in public. In more private settings or when provoked, she'll show more raw feelings. When in the field, she'll wear men's clothing over women's, taking comfort and ease of movement over beauty and societal standards. Because of this, she will also have her hair up in a high ponytail, so that is stays out of her face, rather than spend time on some elaborate up-do. She wears a katana and a wakizashi strapped to her hip for most occasions, showing her status to others as a samurai. The only time she is without either of those blades are when she has to be in a formal setting dressed in a kimono, but she will always have a tanto, a knife about 6" (15cm) long, on her person for protection.
Skills:
Kanna is a talented artist, capable of recreating any scene or object from memory with great detail. As a daughter of a Shogun, she is trained in the proper etiquette and customs of her people. In terms of combat, she has the following skills:
Average Swordswoman - Kanna had to modify her sword style to accommodate for the fact that most of her opponents would be able to easily strike her down if she relied on strength alone. Thus, she focuses her training on speed and her ability to parry strikes.
Poor Archer - while she can string a bow and nock an arrow, she has poor aim and will often miss the target.
Average Martial artist - Kanna is a capable martial artist who focuses more on using her opponent's movements against them, rather than trying to use the strength of her blows to win a match.
Adept Strategist while on the field - Kanna is able to analyze the battle in front of her and make decisions accordingly. She shows promise and will flourish under guidance.
Master Rune Lord (Madoushi) specializing in restoration and blood magic - Kanna is a highly skilled rune lord with in depth knowledge of the human anatomy and physiology. This knowledge is also what allows her to be a formidable blood mage as she can cause any wound to become more severe. She often pairs blood magic with her swordsmanship to secure victory in a fight.
Adept equestrian - Kanna has a love for horses.
Background:
Kanna and her twin brother were born in the spring at the height of the cherry blossom blooming period to Sadatake Ayeka, the Shogun of Akaiba. A fitting birth date for the children of a nation who's culture embodies beauty and mortality. Their early years were spent with their mother until they were old enough to hold a bokken, a wooden sword, and it was then that their lives took a different turn. Kanna showed promise as a Madoushi and was trained in the restorative arts until she became a master at the age of 20. During her training and research into her mastery, Kanna also developed skills as a blood mage, becoming useful to her father not only as a healer, but as a weapon of death as well.
Among the less traditional schooling that is not often provided to women, Kanna was taught the way of the sword as well as hand to hand combat, which gave her the status of samurai on top of being the shogun's only daughter. Both skills were modified so that she could fight on equal terms of most men. More traditionally of women of her status, she was taught to read, write, how to behave as a noblewoman, and what is expected of her in society. Her younger days were busy and packed to the brim with studying, but she always found the time to paint and draw as it was her only outlet from the stressors of status.
Determined to be more than just something to marry off for political gain, Kanna has spent her entire life trying to live up to and exceed her father's expectations. The past five years were the most impactful for her as she has shown that she wasn't a burden to the other samurai and was more than capable of holding her own on the field. She has been under the wings of an elite samurai unit, the Okuri-Okami, who answer directly to the shogun. The Okuri are distinguishable from the other samurai by their masks. It's a half mask that covers the lower portion of their faces, from the nose to the chin, with the design of a wolf's snarling muzzle. The Madoushi of the unit wear more
full faced wolf masks
with only their mouths unobstructed so that they can channel spells more freely. Kanna wears her own mask that depicts a
white faced fox
with red markings and blackened extremities.