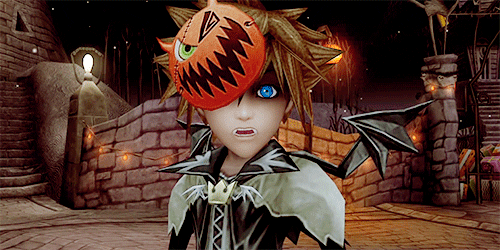 Hello, So ever since the new Kingdom Hearts game came out last month, I've been having the itch to roleplay it! I'd love to do anything from CanonXCanon to OcXOc. After a bit of spotty activity, I'm finally back to normal activity and would love to have some more roleplays especially based off of Kingdom Hearts. I am more than comfortable roleplaying in either PM or in a thread, i enjoy both very much. I am a literate roleplayer, usually I can give anywhere from 5-10+ paragraph replies. I always reply in third person and these are just a few things that I ask you do as well, I don't want you to feel you need to give out a novel but at least three paragraphs help to avoid lack of motivation or lack of content to work with. I love MxM pairings as well as MxF pairings, I like FxF Pairings as well and will happily roleplay them i just don't do them as often so i may be a bit rusty in that area. I LOVE doubling up so if you like to do that i'm your gal lol! Mature themes are allowed and welcomed but characters must be of age, this will include any canon characters.​ (There will be no spoilers in this, just a simple plot based on a different outcome so those who might still be playing the new game or haven't gotten it yet no need to worry.)
This plot is based for an OcXOc pairing, basically it's about 10-15 years after all has calmed and darkness no longer threatened the lands, keyblade wielders eventually lost their ability to fight and the memories of the keyblade, that is until a small corporation had begun to rise. Threats upon threats were surging through the world bringing chaos and darkness once again. Those who have the souls of pure hearts retain some form of memories linked to the previous Keyblade masters, making them capable of wielding a keyblade themselves. Links coming to the future from the past, woken when darkness began to purge the worlds once again, coming to choose the next Keyblade Masters. Muse A and Muse B having been the next two to overcome this new threat, and the new organization 13 that has begun to rise. Muse A, Yin, one who accepts darkness in a healthy light without losing themselves, and Muse B, Yang, the one who has a heart of pure light, who can affect anyone and the one who keeps Muse A from losing themselves. Together these two prodigies must go through each and every world together to purge darkness from every corner. Kingdom Hearts is returning to the lands, and this new organization is plotting to take over that power, but can the two heros save the worlds from history repeating itself? Can they do what was done so long ago? (Many things to consider, also the creation of the new Organization 13 can be done by both, including what worlds go in what order, however Destiny Islands will be the starting world.
Thank you for taking the time to read my very awkward and choppy thread, I hope this has caught your interest, weather you'd like to get some good CanonXCanon/CanonXOc going or embark on a whole new experience with the OcXOc plot! Please feel free to PM me, if you comment here i will try my very best to get back to you but It would be much easier to get back to you faster if I am PM'd. Have a wonderful day!
​