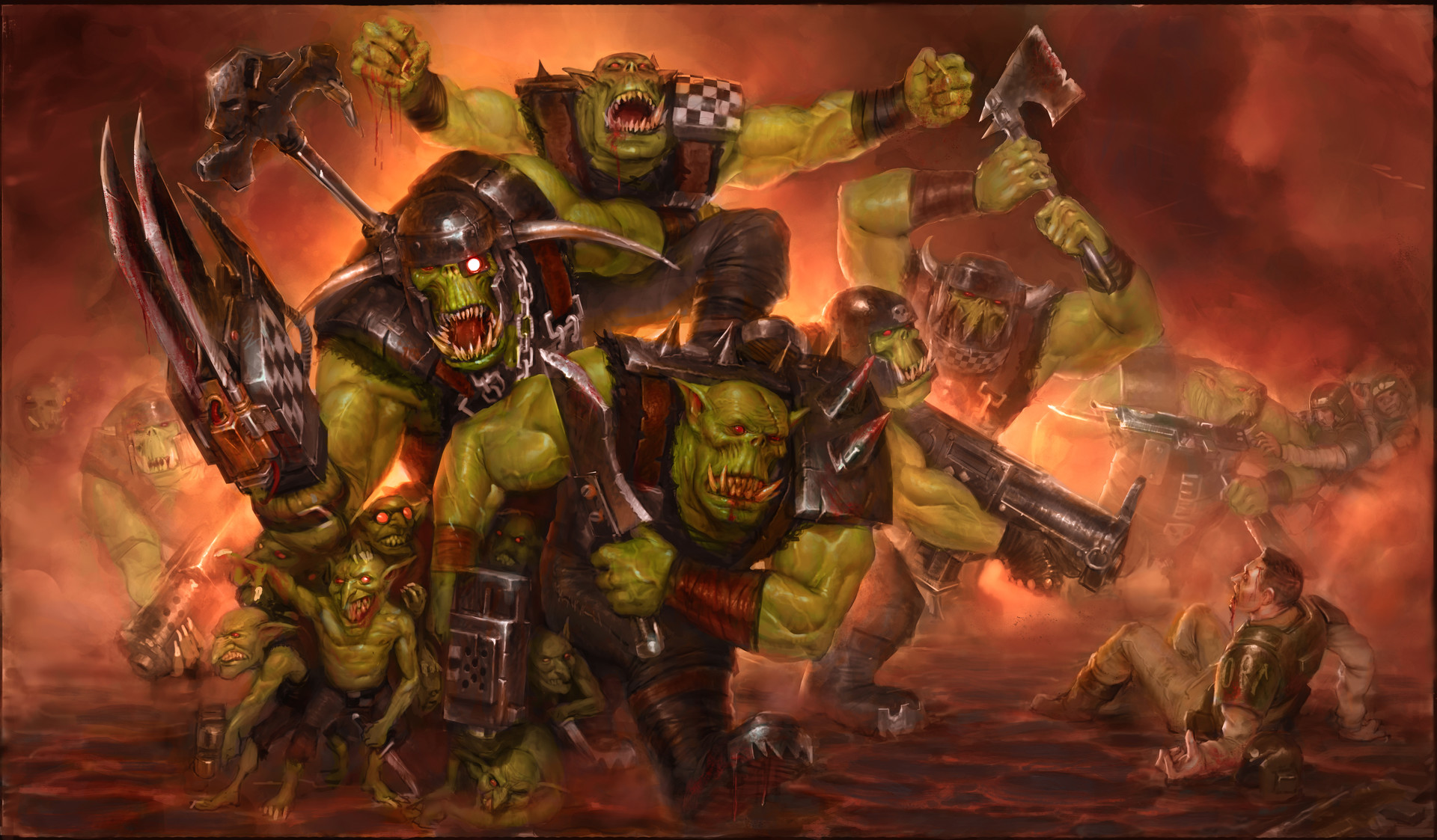 Space, da final frontier. Dese are da voyages of the warboss Grimmsmasha. 'iz mission, to fly frew space fasta den any ovva git. Ta find new worlds an civilizashuns, an kick da zog outta dem. To boldly go where no ork 'as gone before!
"Warboss grimmsmasha was a dead gud boy, 'an at iz back was a fleet uv kroozaz 'dat kould get stuck 'n wit' any ship da otha git races kould drow at us. Every planet we kame across we looted, an put da boot ta loads uv humies, chaos boyz an otha gits. Dat was until da warboss went an got himself kilt 'n a propa gud fight wit' some beakiez. Da beakiez was driven off right propa' but da damage was done.
Wit' da warboss dead 'der were a lot uv orks 'oo kould step up an' take his place. Problem was, all uv em wanted ta be da boss, an' none uv im wanted ta see any uv 'da othaz 'n charge. A great fight broke out, all across da fleet, wit' every ork choos'n a boss dey wanted ta see as da new warboss an' join'n his mob. It was a gud fight, an lasted for a long time.
By 'da time 'da dust settled not many orks was left, an da fleet wasn't 'n 'da best shape eitha. 'der were only four ork kaptins left, each kall'n himself warboss; shazz snaznabba, gakk blakteef, gorgutz redskull an kork sixfingas.
Lucky for us, 'da boyz floated into a new system ripe for plunder'n. Although da boyz were still keen for a fight, da four kaptains agreed ta a ceasefire; 'der were otha fings out 'der worth fight'n'. Loot kould be used ta rebuild da grimmsmasha, an' it would take a while for more boyz ta stumble outta da mushroom groves ta repopulate da krew.
Each kaptain also knew dat 'da kaptain 'oo got 'da most loot would become 'da grand kaptain an' rule 'da fleet. Da race was on