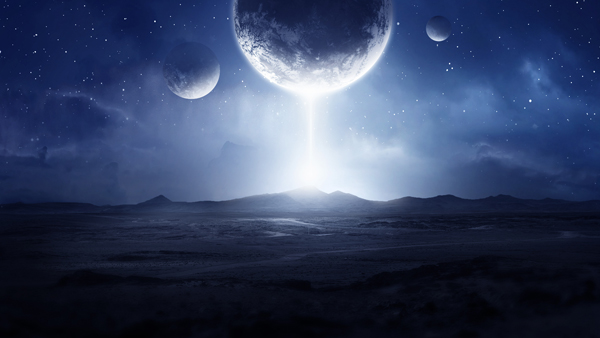 The Last Days
Where would you go if there was nowhere left to run?
Two things must be understood about the galaxy - it is very big, and it is very, very old. Centuries have passed since leaders from nations across the galaxy met at the Council of Terra to sign the Accord of Free Peoples, a series of documents which asserted the fundamental rights of all sapient beings and established the Grand Alliance of Terra, a federation of star-governments dedicated to upholding the security and prosperity of the Milky Way Galaxy. What followed was a golden age of interstellar exploration, trade and diplomacy; incredible technology was invented, the stars were mapped, threats to galactic stability were overcome, and heroes by the dozens rose and fell. But this is not the story of those days.
There are as many names for the creatures that threaten to destroy it all as there are cultures in the Galaxy – the Devourers, the Ik-krai, the Saket, and countless others. However, it would be difficult to find any term more widely accepted than the Entities. The monstrous race of insectoid horrors first arrived on the galactic scene ten years ago when a handful of research outposts and border colonies on the outskirts of Alliance space were overrun, their populations slaughtered and devoured to a man. Political turmoil in Terra slowed military response, and before long the problem had grown out of control. The monsters bred rapidly, consuming biomass and evolving into increasingly more dangerous forms at a rate that put even the most advanced genetic engineering to shame. What was more, they were guided by an unmistakable intelligence, a great hive-mind that could disperse tactical information and battle strategies across an entire army immediately. They sailed from world to world in great ships that were equal part living organism and salvaged technology, a tide of evil and death that showed no signs of stopping.
At last, the politicians on Terra agreed that desperate action was necessary. Admiral Zhang Clausewitz, a human military leader and hero from the last great war against the Kordek, raised a mighty fleet in the sky above Terra. Armies were marshaled, allies were called, and together combined military might of the Grand Alliance flew to the defense of the galaxy. At first, they saw great success – under the careful leadership of Admiral Zhang, the mighty force broke the back of several of the largest Entity fleets, and their ground forces halted assaults on several planets. It seemed like this crisis might be resolved like any other, and the people of the Alliance prepared to receive their heroes and mourn their dead.
It was not to be. The alien intelligence that guided the monsters had laid a trap for the peoples of the galaxy – the creatures were more numerous and deadly than even the most pessimistic analysts had suggested, and the fleet had been drawn into the heart of their territory. They were surrounded and cut to pieces, whole ships ripped apart by great space-faring beasts or blasted to bits with stolen weaponry. Relief turned to horror overnight, and as the Entities continue to ravage their way across space at a faster and faster rate, a bitter realization has settled across the galaxy – those who still lived did so only to await their own destruction. Crime rates surged, whole planets rose up in panicked rebellion, and anarchy reigned across the galaxy. In the midst of it all, the galaxy's best and brightest have marshaled on Terra, preparing for the final stand of galactic civilization. But this is not that story either.
Nioneides V – once a forested world, notable only for its valuable mineral deposits and the private mining industries that had sprung up around it. In the days since the crisis started, however, it has become a haven for refugees of all kinds, desperate huddled masses fleeing the destruction of their homes. The Entities landed one week ago, and already the planet has nearly been overrun. The Solomon Corp spaceport, once used exclusively for shuttling mineral shipments offworld, is one of the few areas that remain secure, as local authorities struggle to hold the perimeter against the oncoming hordes long enough for the remaining refugees to be evacuated in a timely manner. In the midst of it all, six strangers are about to embark upon the journey of their lives, in the last days of a dying galaxy. This is that story.
***
So, yes, essentially this is going to be a small group, character-focused adventure RP set in the midst of this terrible galactic crisis. I'd like the plot and the world to be largely player-driven – I very much encourage world-building and will be partaking in some of it myself (I'll probably include a template for creating species and cultures, and make a few myself just to pad things out – PCs can be human, one of the alien species I make, one that you make, or one that someone else made! It's all fair game.) Space, as they say, is big, and this is intentionally one of the most generic sci-fi settings possible, which means it has room in it for just about anything you want. Want to play a former giant mech pilot? Sure. Want to play as a warrior from a race of genetically engineered honey-badger people? I don't see why not. Want to play a twelve year old girl with latent psychic powers? Dashing space rogue? Sentient washing machine? Cyborg mercenary lady? Write it up and pitch it to me, and we can work it out.
Again, this story is going to be very character-driven, with a lot of focus given to personality and development, so however out there your character is, they should still be a real person with some amount of depth to them. Writing level is strictly advanced – I don't expect more than a few paragraphs a post, but they should be good paragraphs with a command of English grammar.
This is not an RP about the guys that save the day, or the heroic last stand of the great heroes of civilization. This is an RP about a few strangers on a trip through the end of the world, small people in a galaxy that's big, but not big enough, deciding where they'll go, who they are, and what's important to them in the Last Days.
Questions? Comments? Concerns? Interest? Dare I ask, praise?