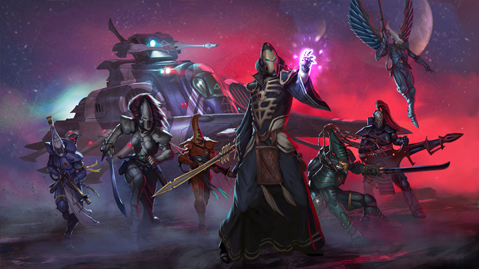 I have an idea to make a RP where a Warhost of Eldar have to band together to help save a world filled with Soulstones. While other races are allowed, (minus humans as this is more of a story where Eldar actually get the job done.) I would like for us to make a party of Eldar, perhaps of the various Craftworlds friendly to Ulthwe. Chaos, the Tau, or the Dark Eldar maybe our antagonists.I'm looking for very few Imperial characters, unless they're willing to actually help the Eldar which is usually zilch. However, you can pick your Eldar class and pretty much everything below a Far Seer or a Matriarch/Patriarch is fine. Howling Banshees, Warlocks, Striking Scorpions, Dire Avengers, Guardians, you name it! (I personally would be a Warlock, but we maybe able to have multiple warlocks if it works out.)
Genre:
Adventure, Science fiction, science fantasy, grimdark.
Allowed Races: Eldar (protagonists), Dark Eldar (antagonists), Tau, Chaos, mayybe some Necrons.
Players Wanted: 3-6 (for the party), others races are negotiable.
Requirements:
.This shall have at least one paragraph minium per post.
.You need to know Warhammer 40,000 lore. That, or at least be willing to follow along.
.Jaredthefox92 is the GM, don't try to pick a neckbeard fight with me.
.This story maybe slightly unorthodox as it could potentially have the Eldar succeeding.
.Other racial characters must be agreed upon, if you want to play someone from a list above, you must clear it with me.
.This will be mature for violence and warfare, you know. Like in Warhammer 40,000.
.You can choose any class or Craftworld, but make sure your character makes sense.
.We're looking for antagonists as well, we need Dark Eldar and Chaos. Tau are rare and Necrons would be only if the story needs to be spiced up some more.
.There will be a turn order, to start once we have at least two other people onboard. Any newcomwers must merge into the story and await their turns.
While the plot won't take part on a Craftoworld, there's going to be Webway gates involved.