After Savaris released his pressure, he didn't expect the hollows below to take notice. They did, however, forcing Savaris to either have to change up his strategy or take on all the hollows head on.
"Back against the wall as always."
He thought to himself as he expanded his body to slow his fall. They were all aiming for the wrong person. Savaris was brash and sometimes flashy but he was also very wise for his age, and very skilled for his class. Generally, he wanted to join Squad 2 to continue his family legacy, on the contrary, his skills were more suited for the Kido Corps. His reiatsu suddenly began to focus. Savaris starred down his foes now turning his body to dart down towards them.
He places his right index and middle finger in front of his face. "Ye lord! Mask of blood and flesh, all creation, flutter of wings, ye who bears the name of Man!" He uttered the first verse as he extended both his hands towards the creatures below. By the end of the verse, a red orb would appear small in size at first but, growing substantially. "Inferno and pandemonium, the sea barrier surges, march on to the south!" Savaris roared the final verse as the orb grew to its maximum size. Just in time too because the hollows had closed in on him. "Hadō #31. Shakkahō!"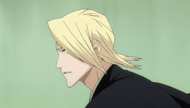 Suddenly a red blast of pure flaming energy erupted from the ball. This was a signature technique taught at the academy and also one that Savaris mastered early in his years at the academy. Savaris packed the Hado with the intent to completely annihilate everything in his path.