---
The General expected no less from the Raikage. The ability to easily ward off clones while under the pressure of a nefarious field hazard that was especially toxic to his arsenal could only be done by someone of Bakuto's caliber. Nonetheless, Gozubura was going to capitalize on this accumulation of advantages. Though it wouldn't be before the dark skinned veteran delivered a high magnitude quake prompted by the control of vibration he had via the sound Kekkei Genkai.
Starru was surprisingly calm and stiff when the earth beneath him shattered and rumbled. The man had a similar jutsu in his arsenal, and wasn't going to flinch so easily. It allowed him to finalize his jutsu he prepared with his glowing, extended hand. The shift in landmass and surface would conceal what was actually created from Bakuto's immediate awareness. Yes, he could hear things, but with the chaos he created, it'd be at the very least fuzzy when he'd try to determine what Gozubura had just birthed. But there was something. Something difference from clones.
Speaking of, they would serve their goal as distractions against Bakuto. They would not be able to handle the earthquake as efficiently, and would find themselves in the air, with difficulty to control their landing due to the gusts of wind ruling over the area. Nonetheless, they'd go for one final attack, only to be a diversion for the real fun.
"If you think you can switch the field advantage against a war veteran such as myself, you may as well present your Kage crown right now."
Something was speeding toward Bakuto. No, two things to be exact. They were slightly slower than clones, but moved almost unnaturally. The Quake would have since lost some of its power, and would allow for fluid access by these odd interlopers. They would be none other than replicas of Gozubura, albeit with a completely absent stare, and movements far from human. They both wielded rapers, but none were enhanced, as would their entire bodies seemed to be lacking any form of basic enhancement to improve mobility. They charged toward Bakuto, one with the sword sheathed but would attempt to grab the Kage, while the other stayed behind with a sword drawn.
The General stayed put, waiting to see how Bakuto would react to all of this. He had to be ready for a surprise, however, as these copies would not seek to dodge or go for special maneuvers. But they would not fall, even from a fatal hit on the body. Neck and up? Well, he was to see what it'd do, but who ever bothered to hit a clone in that area? The gusts of wind continued, plaguing any possible lightning ability, and limiting Bakuto's movements.
---
Rumia Shinrikyo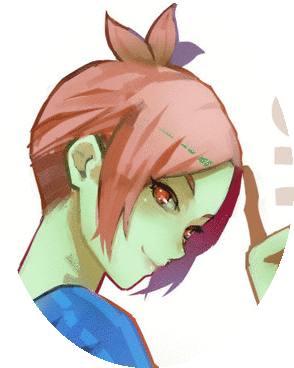 @Pirouette
@ZeroXposure
@Seraphicide
@yoshua171
---
Rumia had her blood lust, Kyoka had her ... Downright lust. Not exactly the most compatible of degeneracy factors, but an odd symbiosis that allowed this vile duo to co-exist and consistently improve themselves. The revolting display of unrestricted sexual urges from Kyoka's part, and the almost callous attitude of Rumia toward these acts would prove it all. With the beast's hand dragged down to the blonde's crotch, she'd but squint at the acid lass' direction for a brief moment before glancing back at the Tsuchikage's show. Her arm rendered into a toy for Kyoka to use in the meantime.
The ginger did not wish to have her face melted by various fluids from questionable areas, but she was also too dumb to really care about consequences that would occur beyond an hour from the current moment. Her blood was burning in desire to destroy the shark, and possibly all these Yomigaeri types out there.
"Ehhhh? Ya' speakin' o' dat funny sword? Kyoka 'ere tells me it cans suckle on them chakras. Ain't dat a nifty thingie mcgig."
Her orange eyes peered toward the old blacksmith as the term 'shark' was evoked. The uncertain nature of the relation between Sebun and Sano prompted the numbskull to perform a slight mental exercise. Maybe if she terminated the shark, she could be the one worthy, and get ever more tools to rip people she didn't like apart? The more reasons she had to terminate that arrogant sharkman, the more she just felt compelled to dive in and deliver the coup the grace.
With that in mind, her hand that had been set on Kyoka's crotch would suddenly raise, and almost brutally shove the corresponding index and major fingers into the cousin's mouth. The acid in the saliva would commence frying the tips of Rumia's fingers, before she'd slide them out. Bubbling in noxious chemical transformation, the fluids excreted from the horrid effects of the acid would be red with blood and other tissue. As for Kyoka, she wouldn't be hurt, mostly startled by the sudden, very suggestive, action. The lass would tap the bloodied fingers onto her marked forearm.
Poof.
"Dun mind if I feed m'Roid 'ere some shark steak, 'ight? Ain't reasonable fer a shark to hold 'nother shark, gonna do ya' a favor 'n fix dat fer you.""
A smirk, as the explosion of smoke prompted by the summoning technique would clear, revealing a monstrous, almost deformed horned beast. It seemed to be a form of dinosaur-like bipedal with no arms, but a gargantuan head and jaw. With a glowing one eye fitting its long, shining horn, it was not a beast anyone would want to be confronted with. The Shinrikyo would snap her fingers, and the beast with immense obedience, would face the direction of the ongoing battle Sano took part in as Rumia had pointed toward them upon giving the order cue. Its horn started to shine brightly, sparks forming around its body as it prepared an attack on Sano in particular. Nothing would be fired yet, but the light would become ever more obvious to the two titan duking it out.