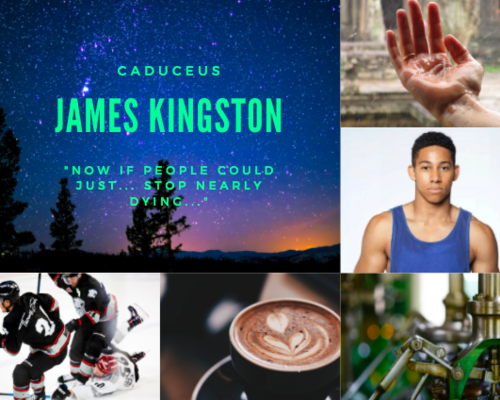 ---
Location
: Outside of Clinic -> Mutant Underground
Skills
: Healing Factor
---
---
Casper was screaming. Why was Casper screaming? James was tired and worn out and frankly, the words coming out of his boyfriends mouth went so far over his head this time that he didn't even bother trying to piece it together. James turned to comfort him, anything to calm him down, when he heard the
thump
. He half turned and froze when he saw Magik's body crumpled on the ground. Images of Luna flooded his mind: on the floor of the lab, blood seeping through her clothes, her final request ringing in his head, the frigid, emptiness of
inevitability
clawing at his chest. It was a familiar terror, something he'd never shake off, something he'd come to own in another life. Something about it here and now grounded him. It was a catharsis of all the worrying and panicking from the past week as the disease spread through the Underground and he could
finally
do something. Maybe bringing someone back from the brink would actually fix it.
So James lept into action, ignoring the sting of parking lot concrete on his knees as he pressed his hands to Magik and seeping his power into her body. He waited for the sync, waited for the usual pounding in his ears, and everything else that came with the satisfaction of bringing someone from broken to whole.
It wasn't like that at all.
His blood felt sluggish, slow, still. His heart all but stopped. The all consuming emptiness that he'd pried Luna from came back viciously and it hooked him, sinking razor claws into his own chest and dragged him further and further and further, his breath caught in his throat, his lungs screaming for air, every fiber of his being revolting against it, but he couldn't escape, he couldn't breath, he couldn't see, he couldn't find Magik anywhere. She was gone and her was going to disappear with―
James snapped out of it as Sunshine shoved him aside. He gulped down air as fast he could as he backpedaled away from Magik, twisting so he was on his hands and knees as he vomited. He'd never felt someone go so fast, with so much certainty, and almost take him with it. He thought he had been afraid before. He had no idea how easy it would be to just… disappear. He'd almost lost himself in someone else's death and he would have been powerless to stop it. Something inside him curled up tighter as James pushed himself unsteadily to his feet, picking up the medicine where he'd dropped it. That was enough thinking for one day.
"Come on babes, let's get you up." He said quietly to Casper as he went to him, coaxing him up off the ground and into his arms. The various bodily fluids covering Casper really left a foul stench wafting off him and James definitely knew the first thing that was happening was a shower. "Yeah, Max's right. We gotta go. Let Sunshine bring Magik home guys. We can bury her once we get everyone checked out." James said as he looked at the scene. Something in the back of his mind took a snapshot of the moment: Sunshine screaming at anyone who would listen hunched over Magik's corpse. An involuntary uptick of his lips and the thought was gone, leaving James leading Casper through the portal as he whispered reassurances in his boyfriend's ear.