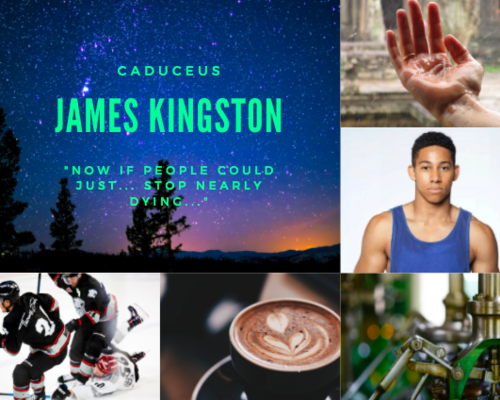 ---
Location
: Hellfire Manor
Skills
: N/A
"The Vault?" James repeated, trying to think if he'd heard of anything called the Vault. It was a wasted effort with really nothing else to go on because he didn't know anything about any vaults besides banks and Disney and somehow he doubted it was connected to either of those. He stewed on that as he continued to look around, trying to find anything that would help at this point.
Unfortunately, he was met with only a solid door made of dense plastic. Locked, of course. He gauged his chances of breaking it open and decided he was probably just going to waste precious time. He'd already wasted plenty trying to make this plan happen but he concede that ultimately, shocking Serafina was probably out of the question. They could always have Ben shove her hand in a socket but he wasn't sure how that would affect Ben. Poor guy was already dead; they didn't really need to make him suffer on top of that.
He needed a new plan. What did they have? Nothing really, other than a ghost controlling a telepath who was controlling an entire room of mutants. When Ben and Casper lost control, Casper and him would either join the zombies or end up like the person thrown at them through the door. James didn't really like either of those endings. So they hand nothing and knew nothing other than if they don't figure something out, they're toast. Oh goody.
"Babes, that's a really good point. We don't know anything about Serafina except her name and where she's from. We don't know why her and her friends are slaughtering people who, before now, probably didn't even know they existed. I'd certainly like to know why killing other mutants is necessary." James said, coming up next to Casper. Whenever Ben did anything, Casper was always the one to pay the toll and pressed a kiss to his boyfriend. "Thanks for getting us all this time, babes. I know it takes a lot. Just let us know if it's too tiring okay?" James said before turning his attention back to Ben.
"Ben, I need you to try two things. One, try to get her to release everyone. I need them gone and out of the way to tell people to avoid this place. Two, can you see if she's willing to talk with us rather than fight us?." James asked Ben. "I don't want to fight her if we don't have to. I just want to know why they're killing us and if there is a better way to solve whatever problem they have with us."