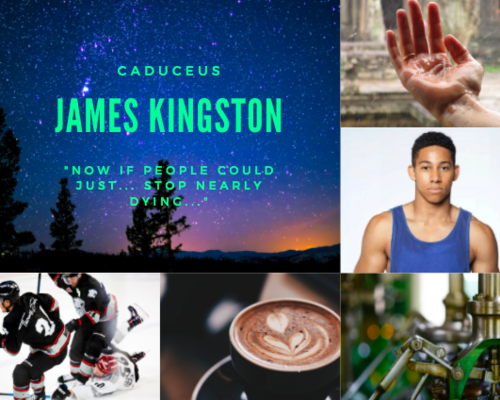 ---
Location
: The Apartment
Skills
: N/A
James traced a simple pattern over where his hand rested on Casper's. He gladly sank into the couch once they were shut away from all the commotion and he smiled contently as Casper joined him. He took in the sight of everyone in the apartment and he felt himself choke up a little bit, tightening his hold on Casper. It was one thing to see everyone up and about, talking and moving and breathing, but it hit differently seeing them in the space he called home. It was the final confirmation and it took a lot to keep himself from weeping in relief that at least one nightmare hadn't crept into reality.
The relief twisted into resignation as Veil brought the conversation around to something he wasn't ready to discuss. He understood, he really did. They just woke up from a five month coma, stepping from their last day at the Underground right into this strange situation. It wasn't unreasonable that all of the survival instincts they'd developed at the Mutant Underground and beyond were screaming. They hadn't had time to process or explore their issues and new environment. It was to be expected.
And at the end of the day, James agreed. A terrorist group ran the island and he wasn't naive enough to believe this would satisfy the Quiet Council. Magneto alone aspired to global power, considering Princess Wanda's reality. It'd take very little to whip the mutants of the island into a frenzy if he decided to actualize that reality and with all the frantic motivation of a homeland and new, experimental power combinations behind them, Magneto would turn the world on its head. And that was just what he knew; with the ethical limitations of their brand of freedom fighting non-existent, any number of dark, underhanded plots could be boiling in the Council.
As the inevitable and endless bickering started up, James couldn't help but chuckle at Max's outburst. "Don't worry, Max. One in four dudes suffer the same problem. Stress has that effect sometimes." James offered before turning to more serious matters. "Guys, it's been all of two hours since you've woken up. Yes, the Hellfire club runs this place and yes, they have a nasty habit of violently ruining everything for us eventually. But can't this discussion wait until you've had a few days to process and relax? I know it's not a luxury we've had but Sunshine, Jack, and I have been up for three or four months already and we're not being manipulated into anything, we're not being forced to do anything we don't want to, so I think a few days of just downtime isn't unreasonable. Anything you decide on is going to be based on what you woke up from because for you guys, that was yesterday but the situation has changed, where we are and what's going on is entirely different from the terrorist act we tried to prevent." James sighed.
"And we went for a long time honestly believing you guys would never be able to wake up. I bothered them a lot about the process, about the cryostasis, about the challenges of maintaining you guys and waking you guys up. I'm grateful they were as honest about it as they were but until a month ago, maybe a little bit less, I honestly believed you guys were never waking up. It was just dumb luck that you guys did." James stared around the room, his fingers tapping anxiously. "I just think everyone needs a moment to get their feet under them. Do whatever you want, check out the island or hide away and sulk or just chill and talk, but everyone should have a chance to take some time before any decisions are made."