Freebootin' Across the Universe!
This RP is now
accepting new characters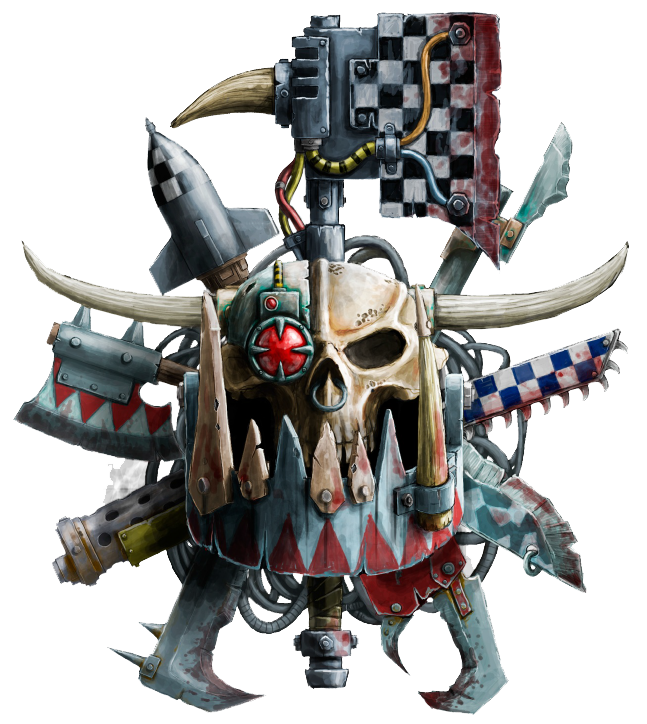 Summary:
- Inspired by
this earlier RP
, though not the same.
- A jaunt of daring and do within the Warhammer 40,000 universe and setting; expect swashbuckling, lootin', and space shanties.
- Characters can come in most shapes and sizes, their age, experience and so forth pretty much up to the participant; that being said, I will immediately reject any God-like beings or over the top characters.
- Violence and so forth are expected and accepted (we're Orks), let's just keep it to a 'adult' level without it getting X-rated!
- Our tale takes place in the most up-to-date period of 40K timeline, the 42nd Millennium and splitting of the galaxy.
- This is for
Greenskins only
- that said, all 'levels' of the Orkoid food chain are open for application.
- No-one is to begin any higher than a Nob in rank, there's a point to this.
- Character sheets will be accepted based on merit alone, not 'first come first serve'; the more odd/powerful your character, the more exceptional your character sheet will need to be.
- I fully expect, and intend, for characters to evolve over time during this RP. An example might be that someone loses a limb and seeks a bionic replacement, whether they get one will be both up to me as GM and the participants as a whole; character sheets will then be edited to show any changes, as with a TT role-playing game, and just remember that every action will likely have some form of reaction.
- Please read these threads on
Freebooterz
/
also Freebooterz
, and
Orks
if you're not sure where to start or need a refresher on Ork-kind.
In Character Info:
The Orks, also called Greenskins, are a savage, warlike, green-skinned race of humanoids who are spread all across the Milky Way Galaxy. They share many features with Warhammer Fantasy Orcs (and were initially called "Space Orcs" to distinguish them). They are seen by their enemies (pretty much everyone else in the universe) as savage, warlike, and crude, but they are the most successful species in the whole galaxy, outnumbering possibly every other intelligent race, even Mankind (with the very plausible exception of the Tyranids).

A Freebooter (pl. Freebooterz) is a piratical Ork who exists on the fringe of Ork Kultur. Freebooterz are bandits and sell-swords belonging to no specific tribe or klan but who will work with any tribe as well as stand against any other if the price is right. Freebooterz are Ork warbands that are composed of an amalgam of Ork mobs from several different warbands or Orks who have separated themselves from their former klan by choice or through exile. These roving bands are composed of renegades, bandits, pirates and other outcasts.

Some of these Orks are fugitives, eccentrics and the remnants of shattered Greenskin tribes and klanz, so it is hardly surprising that many Freebooterz have very treacherous and unpleasant characters indeed -- even by Ork standards. Following the ravages of war or some other disastrous disruption of their lives, some Orks abandon what is left of their tribe and join one of these roving bands. Most Freebooter Mobz hire themselves out as mercenaries, or else they can be persuaded to join in a battle with promises of loot. Among the Freebooterz are a handful of unstable individuals who are particularly dangerous and aggressive (again, even by Ork standards). These Orks wander off and tend to form their own small, roving band of pirates and corsairs. Naturally, they are eager for adventure, combat and booty and are quite happy to tag along with other Ork tribes and WAAAGH!s as mercenaries.

This is where you come in.

As part of a Freebooterz crew you are more than simply another Ork threat, because what is worse than normal Greenskins?

Pirate

Greenskins! Whether it's raiding convoys of other races, of other Orks, selling their services to another race, or simply freebootin' across the universe in search of war and teef.
Out of character info:
Welcome, one and all, to the grim darkness of the future, where their is only war!
You have the honour of being accepted, or press-ganged into, the crew of Kaptin Gubbitz Da Skolar - a most refined Ork of much learning and knowledge - aboard his Kill Kroozer, the FSV (Freebooter Space Vessel)
Bluddy Bukkaneer
. Whatever life you knew before this, whatever position you may have held within your own klan or tribe, it no longer matters! The pirate life has chosen you, and you have answered! So drink up that fungus-grog, put on your best killin' clothes, and prepare for swashbuckling and adventure upon the high space-lanes of the Milky Way.
To begin with, as stated above, we will have a short 'gathering of the krew' - basically getting everyone together - from there we shall go ahead with a narrative I have prepared and see where it takes us. Let it be noted, however, that this is more like a sandbox RP - if anyone has a flash of inspiration, or an idea, then please PM it to be for discussion. I am the GM, but I am
not
the only player or mind here.
I expect everyone will have some knowledge of Warhammer 40K, but for those that might lack a little, I have always found
warhammer40k.wikia.com/wiki/Warhammer…
to be one of the best places to look. Just make certain that the information has a source, otherwise it is very likely fan made and therefore not canon.
If in any doubt, just think of 18th century pirates...but Orks. Feel free to create positions aboard the Kroozer that refer to more nautical leanings - Kookie, Ship's Runtherder, Kwartermaster and so forth.
Rules
- Sort your squabbles out in private. If you persistently disagree with another player or they're grieving you, involve me. If necessary, I will get the moderators involved.
- No godmodding (controlling someone else's character).
- Try to post
at least
once a week,
let me know
if you can't post soon, and please try for at least three paragraphs.
- One character per player.
- My decisions are final.
Character Sheet
Please submit your character sheets by posting them to me in a PM (also recommend listening to sea shanties as you write it).
Name:
Wot's iz name, ye stupid Grot!
Species:
Ork, Grot, Snotling?
'Rank'/Type:
Where do they fit in on the Ork hierarchy? Nob, Boyz, Shoota or Slugga? Kook, Furst Mate, etc? (Taking a look
HERE
is strongly advised.)
Age:
Ow long as 'e been fightin' for?
Klan:
What klan or tribe are they from? Note this for the personality.
Appearance:
A
written
description of your character's appearance. No pictures. Tell uz about is shooty and choppy parts as well, an any spikey bitz 'e might have for 'protection'. (Remember, these are pirates, and therefore I expect suitably flamboyant modes of dress! Patches, bandannas, squig-parrots, that sort of shenanigans.)
Personality:
All orkz is different, under that green skin, init?
History:
Whatz 'e been doin' an killin' before 'e joined the crew?
Skills:
Kunnin' and brutal? Brutal and kunnin'? Good wiv' da bombz an stuff, is he a little bit weirdy? You know the drill.
Equipment:
What do they bring with them/carry on their person? Be sensible when deciding, as weight and wealth are both an issue.
Miscellaneous:
Anything you want to mention but haven't been able to cover yet.
If you have any questions, please feel free to ask.