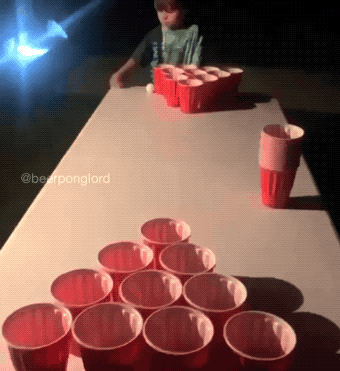 A @Venus & @Melissa Collaboration
Featuring Fiamma Giannulli & Aiden Howard
▃▃▃▃▃▃▃▃▃▃▃▃▃▃▃▃▃▃▃▃▃▃▃▃▃▃▃▃▃▃▃▃▃▃▃▃▃▃▃▃▃▃▃▃▃▃▃▃▃▃▃▃
It was thirty minutes since her arrival to the party with Aiden, and so far things hadn't been as terrible as Fiamma had imagined. Sure: the music was much too loud, and being constantly pushed, elbowed, stumbled on or stepped on had gotten old
fast
. But there was something liberating about knowing that she and her boyfriend were able to hide in plain sight, and that everyone was too busy focusing on their own fun rather than on anyone else. The feeling, combined with her cherry red lipstick and the double-takes her revealing outfit was causing, had served to embolden the naturally inconspicuous Fi. She'd come into this experience with no expectations of doing anything other than having a good, discreet,
sober
time with her boyfriend (and maybe even cleaning up after any messes he might have made). But now? She wanted to go all out, and see just how far she could take things. With Aiden by her side ready to help her if anything happened, she felt safe enough to want to do so.
After their first few rounds around the party (that had mainly consisted of talking to people her boyfriend knew, Fiamma was ready for a break. "Babe, I'm getting thirsty!" the redhead shouted in Aiden's ear, hoping that he'd be able to understand her even in the middle of all the chaos surrounding them. "Wanna go get a drink? I think I saw some stuff in the kitchen!"
Aiden was enjoying himself so far, their evening only just beginning but he was already deeming this a good party. The booze was flowing, the music was good, and he had his girl on his arm. What could be better?
In fact, what he was enjoying most of all was having Fiamma by his side. It was a feeling he hadn't yet experienced in the time they had dated- being out in public together and not having to hide. It was pretty genius, especially since everyone was too drunk and delusional to care or even notice, and he wondered why he hadn't thought of it before. As the two meandered through the throngs of people, the blonde boy grinned widely as he looked down at his redheaded girlfriend (who, may he add, looking hot as hell tonight). He may have been a little buzzed already, but he was also just happy to be there with her.
"Sure, babe! Let's go."
Beaming, Fiamma took Aiden's hand and guided him along the path she remembered the kitchen might have been at. Her intention had been for them to grab a drink and disappear into the middle of the crowd once more so they would provocatively dance in peace again. However, the sight of an abandoned, familiar red cup and ping pong ball set up atop the dining room table stopped the redhead in her tracks.
A mischievous grin spread across her features. Here was something about herself that she had yet to share with her date-- something that might take him by surprise in the best of ways.
"Oh my God!
Beer pong
!" she exclaimed happily, turning to her boyfriend with eyes full of excitement. "Can we
please
play a round of this? It's so much fun!"
The blonde boy's face contorted into one of confusion. Fiamma wanted to play beer pong? He didn't even think she'd be interested in it in the first place, let alone ask him to play. But it was a welcome addition to their evening activities, and Aiden happily obliged. "Totally, I'm down." He walked with her over to the table, which was shockingly empty, so they were immediately able to get started. "You
do
know how to play right?" He double checked, spinning one of the pong balls in between his thumb and index finger.
The mischievous grin she'd been wearing simmered down to a little smirk. The truth of the matter was that she knew exactly how to play. Her time during string camp and in Vienna with cousin that summer had taught her to be decent enough at the drinking game (even if, during these practice rounds, no alcohol had been involved). But she didn't want Aiden to know that just yet, so instead of answering his question outright, Fi decided to dodge it with a shrug of her shoulders.
"I mean, how hard can it be?" she answered, taking her place on the side of the table opposite her boyfriend.
"Okay…" Aiden nodded slowly, "But just know, I'm not going to go easy on you." The blonde boy was quite the Beer Pong enthusiast, having spent many evenings with Marcos playing the game just for kicks. With a smirk, he tossed the pong ball and it soared into one of the cups on Fiamma's end of the table.
"That's okay. I've never liked easy things anyway…" she responded with a sassy little shrug, tossing one of her own pong balls and watching it land straight into the cup right in front of Aiden. Grinning, she looked up at her boyfriend with a defiant expression, silently daring him to make his next move.
Aiden's eyebrows raised and his mouth popped into an 'o' shape. Did she just really do that? Shaking his head and realizing Fiamma's previous comments were all a front, the blonde boy reached into the cup to grab the pong ball to prepare for his turn. "You're such a little liar, Fi." He exhaled with a small laugh before taking a shot, the pong ball sailing into one of the cups on the left side.
The young woman only smiled and laughed. "I learned from the best," Fiamma teased with a small wink. "Though, how can you be so sure I'm lying, babe? For all you know, that first shot could've just been beginner's luck," she fibbed, tossing and purposely missing her next turn in an attempt to throw her boyfriend off. "See what I mean?
Totally
beginner's luck."
"Yeah,
sure
." Aiden sarcastically replied, retrieving the ball from the ground before turning back to his girlfriend. "What else have you lied about? Hmm?" He probed, before taking his turn.
"
Well
..." the redhead began, pausing for a moment to calculate her chances before aiming and scoring in the last cup to the right of Aiden. She punched the air jubilant before continuing. "This isn't a lie more so than it is a confession. Even though I always thought you were a rude, arrogant, condescending asshole, I still used to check you out a lot during pool parties," Fi admitted, her cheeks immediately blazing scarlet. "But now you have to tell me some stuff too! Two of your most embarrassing confessions! Go."
"Oh really? Did you now?" Aiden smirked at his girlfriend as she blushed across the table, shaking his head as she sank another one of his cups. He placed it off to the side before aiming at one of her remaining cups but missed, the ball careening off to the right. "Dammit." He cursed, but then proceeded to oblige with her request. "Fine. Well, for starters, since we're on the subject of alcohol- remember right before we started dating we went out for breakfast at that cute little diner across town? Yeah, I was violently hungover from the night before and threw up right before I met up with you." He laughed, letting his hand reach up to squeeze the back of his neck.
"Oh, that is
disgusting
!" Fiamma cried out as she roared with laughter, shaking her head in disapproval as she remembered that day. "I almost stepped on that puddle of vomit, too! I was walking to the diner across the parking lot, and I looked down just in time to stop my feel from stomping right into it! I can't believe that was you!" she said, taking her turn and cursing under her breath as she missed the shot.
"Another is you know how you wanted me to write you a letter when you were away at camp? And you never got one and I told you the letter must have gotten lost in the mail? I said that because I didn't write you a letter, I was too lazy to pick up a pen. Wow that felt great to get off my chest!" Aiden exclaimed jokingly.
"Why am I not surprised?" the girl muttered while rolling her eyes. "Honestly? I would've wondered who you were and what had you done with my Aiden if that letter had actually made it to camp," She laughed as she waited for her boyfriend to take his next turn. "Although you've been my first everything on most things, my first kiss actually happened two weeks after I did the purity ring pledge, with one of my childhood friends…" she admitted, her face getting red again. "Not Marcos, though!
Definitely
not Marcos. It was with a boy named Colin Gallagher. Pretty sure you don't know him, though. He moved away before high school and I've never seen him since."
"First kisses aren't important. Other firsts are important though, and I've got those in the bag." The boy winked, taking his turn and leaving just one last cup on the table. "Do you think you'll be able to catch me?" He asked, motioning to how he was almost going to win the game.
The girl let out a sad sigh. "No… But I'm not going down without a fight," she told him with a small grin, picking up the pong ball again and gracefully tossing it inside one out of the three cups remaining on his side. All of a sudden, Fiamma's blue eyes widened, and she pointed in the direction over Aiden's shoulder. "Oh my God! What's going on over there?!" she cried out in panic, frantically waving to a spot behind her boyfriend.
Dumbly, Aiden craned his head over his shoulder when his girlfriend pointed. He was as gullible as they came, and especially around Fiamma he sometimes let his wits slip away.
Beaming, Fiamma quickly grabbed the three pong balls closest to her and began to toss them in the direction of her two remaining cups.
First toss: successful
Second toss: epic fail.
Third toss…
Score.
"YES!" the girl cried out, raising her hands in the air to celebrate her victory. Sure, it hadn't exactly been a
clean
win, but it was a win nonetheless.
By the time the blonde boy had turned around, it was already too late. All he could see were pong balls in the two remaining cups and he pieced together what she had done. "You little…" Aiden started to say but then dissolved into a hearty laugh. He couldn't be mad at her when she was that cute and excited about winning (even though it was 100% not a legal win), so he'd entertain her and count it. "Fine, you win. But I want a rematch."
"Sure thing,handsome… But only
after
I get to claim my big prize," she suggested mischievously, wiggling her eyebrows at him.
The blonde boy meandered over to her side of the table, stepping incredibly close so that only she could hear him. "And what would your big prize be, love?" Aiden asked quietly against the loud and raging party background noise.
The young woman smiled and shrugged, looking around to see if anyone was paying attention to them before wrapping her arms around Aiden and leaning to speak into his ear. " How about… You surprise me..." she muttered under her breath, being bold enough to softly nibble his earlobe.
And with a mischievous grin, Aiden took Fiamma's hand and led her out of the main room to somewhere a little….
quieter
.