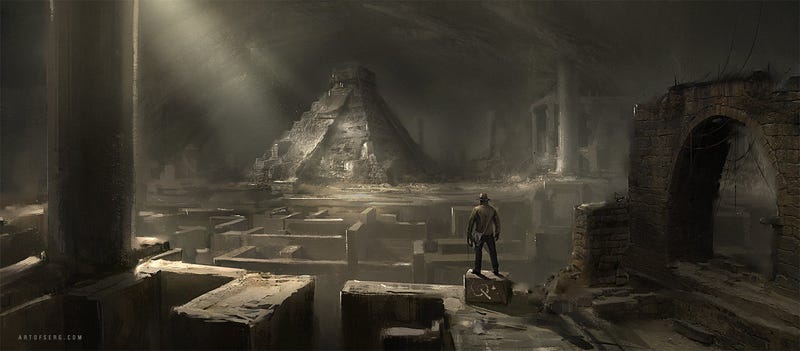 "You may find your heart's desire but you will be faced with an endless fire"
The maze is located deep underground with entrances that only open briefly during the first full moon of January. The walls are made out of soil, dirt, rocks and some unidentified metals.
The maze has moving walls that may only move during certain times (that are listed above in a schedule)
It is huge and no one really knows how far and deep it stretches or where it possibly ends.
Maze History and Lore
It has been here for as long as anyone has remembered. If you ask Old Nana Farrey she would say that she was born with the very knowledge of it. The people of this town knew that it was out there somewhere but has never really discovered it until 7 years ago, where till this day, it is still relatively new. Of the many curios that have entered, none have ever returned.
There has been a myth about the maze where they say, you may achieve whatever dream you have wished for if you complete it but may be faced with endless monsters and the shocking truth that you might die there and of course, there has not been a live soul to prove it wrong.
The maze was built by the world's ruler many eons ago. This maze was built to test his most elite troops. If they passed, they had the honor to serve as the king's personal guards. However, if they failed...
The maze opened periodically once every year for the cleaners to get the corpses, equipment and erase the notes left by the previous contestants. The cleaners then made it ready for the next batch of soldiers who wanted to prove themselves. It was all done so that everyone started on the same foot and that the game was proved as more or less fair.
This went on for decades until The Uprising. The people, being unhappy with their ruler who neglected them and only strengthened his army, rebelled and overthrew him. Every one of the families had multiple children in the army taken by the emperor on forced servitude to join the military ranks. Even with all the training they had done, it was very hard for them to raise a hand against their parents and siblings. The crowd had a smooth march until they reached the palace..where the Elite King's Guards remained unshaken. Or so it seemed...
The crowd halted before the doors where the 2 guards had their weapons raised. They waited until the doors open and a couple more guards had the king tied up and thrown before the crowd. The King became fully mad with disbelief and feelings of betrayal but he didn't know what his "Elite Guards" had gone through in the Maze. Seeing their comrades dies, their brothers in arms perish in the man-made slaughter structure. The King was publicly executed and the people finally won their freedom.
With the King gone and there still being a lack of government, many went away, to other worlds, to different parts of the galaxy. Leaving the poor and sick behind. The economy collapsed. No trading company dared even to stop and look at that planet and it was invisible in the eyes of the foreign investors. The King was preparing for war and so he had invested heavily on the mining and harvesting of the planet's limited sources. But before he could launch his campaign the revolution happened, the mining facilities were destroyed, the war machines he had developed burned in a strong chemical solution. The planet had nothing to give and the people abandoned it.
Several years later when new civilians were exploring their homeland some found the maze. And so started the circulation of the myth. People say that in there, hidden by the old king before his death lies a prize inconceivable of measure. Some explorers have dared to go in but have never come out. Are you ready?
1. GM and Co-GM's words are law, please try not to kick up a fuss
2. If there are any conflicts resolve them peacefully
3. Please use fade to black romance if things get steamy or simply continue it elsewhere
4. Respect each other and each other's schedules.
5. Don't be afraid to ask questions. We don't bite!
hard.
- A minimum 2 paragraphs (it is an advanced roleplay after all!)
- Character development
- Posts whenever you need to and do not keep the roleplay hanging for too long.
(At least one post every 9 days. If your last post reaches '10 days ago' the GM's may move on without you.)
- If you are not to be here please PM us so we can take care of everything for you!
Feel free to customize it however you like as long as you have all this basic info down)
(insert image of your character here, optional)
(insert quote here, optional)
---
General Information
---
Full name:
Age:
Gender:
Indepth Appearance: (The small details.)
---
In Depth Information
---
Personality: (What makes them tick? What is their driving force?)
Strength/Merit: (Just one, what can your character offer that most might not.)
Weakness/Flaw: (Please make it relevant. Personality/phobias/physical.)
History: (Please include past occupations and hobbies)
---
Information relating to the maze
---
What do they want from the maze?: (Why risk all and enter? What drove them here?)
What is their goal?: (What would be their ideal prize? What do they hope to find?)
Equipment: (What did they bring into the maze? List
EVERYTHING!
Discord link
Wall Schedule (times where certain walls are open and when they are closed)
---