Black Powder Arcana
Here's some inspiring music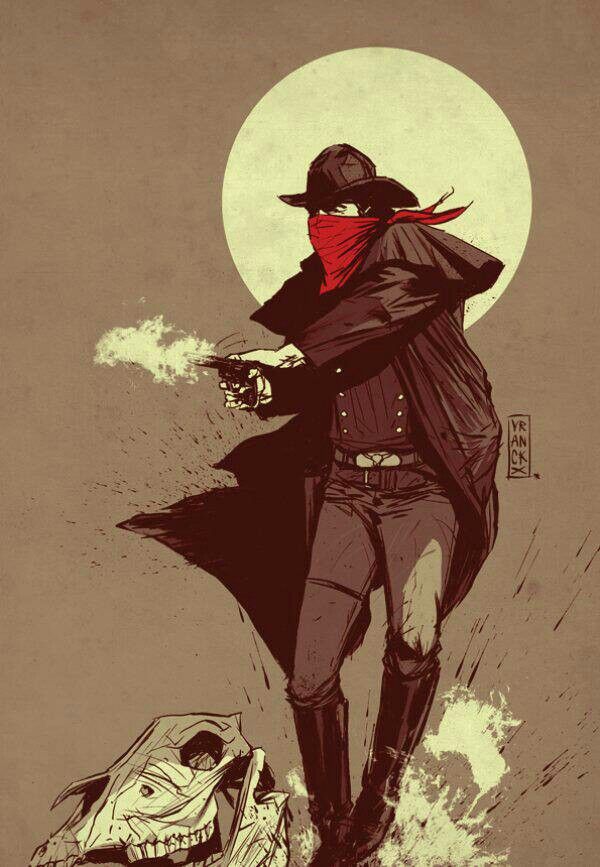 "Strange things happen around here. That much is true, though nobody says much about it. I say things though, I write down what I see. The boss didn't like my writin', called it chicken-scratch that nobody would ever give a damn about, but if you're reading this then you also know that strange things happen, and if you didn't you're about to learn about the thing I seen that scared me more than any lawman or Apache ever did."
- 'The Red Bandit', Journal Entry One
---
Welcome to Ulysses
Ulysses is a moderately sized town settled in the rough expanse of territory along the Rio Grande in southern Texas. The folks are a rough sort, used to a life in reliance to the river and scorched under the sun. Several days ride North through the Apache lands will find you in the shade of the Guadalupe mountains, while a few days in the south or westerly directions across the river will put you into Mexican territory- desert, the lot of it. East stretches the plains that turns into Comanche territory, and the active conflict between the army and the natives to secure the railroad construction heading west... Ulysses is a frontier town, to be sure.
Other noteworthy settlements in the region include
El Refugio
, a Mexican oasis town to the southwest, the
Mescalero
Apache settlement to the north, and the big city of
Quincy
to the east- a rather far journey, compared to the rest, but it's there!. Other small towns and shanties exist, but those are the most noteworthy.
Most who come through Ulysses simply stop to refill packs and stomachs before heading on west and north into New Mexico territory, but those that stay will find a rugged community who looks out for its own.
---
"Ulysses is dead center to some outright evil shit, I tell you what. The lawmen and mayor keep things quiet in the town, but once you're out in the country at sunset everyone'll zip right up and keep a gun in hand. Even the natives seem to disappear once the sun goes down. We rovin' types, outlaws and vagrants? We got nowhere to go, and nobody to tell the shit we see. So I write it down, hopin' that one day someone reads this and listens right the hell up. I seen men that shoulda been dead crawl out of their graves. I seen great beasts in the moonlight who disappear in the blink of an eye. I saw a man call the rain, then get struck by lightning and killed by his own clouds. I seen a great deal many things, but I been lucky enough to make it through the nights. Unlike my boys. Good men, the lot of them. I might've been the only one among them who deserved to be out here in the night, and here I am the only one left breathing.

I used to keep watch while they slept. I didn't want to make them suffer through the shit that I seen. I wish I'd have kept them up that night."
- 'The Red Bandit', journal entry two
---
Something just ain't right here...
"I was awake one night, as I usually was. We were over the river, in Mexican territory, hiding in the ruins of a few old Navajo Hogan that survived the years and elements. We were far enough west to avoid Apache patrols, but close enough to Ulysses to keep up our usual raids, and as far as we could ken the Navajo avoided the area like the plague. Now that I know why, I'd never have stayed one damn night in those huts, but at the time we figured 'em as the perfect base of operations for our outlaw endeavors.

But I was awake that night when the fog rolled in. Fog in the desert ain't strange during the day, but at night it's a damn strange thing to bear witness to. And this fog? Reeked of something foul, made my gut turn. I took to the whisky just to keep my stomach. It weren't until I downed a few shots that a shadow of a man slipped into the hut with us. Faster than a pistol shot I dropped my whiskey and drew my revolver- it'd carried me through a war, it'd carried me through fight after fight, and I thought it'd carry me through anything that was to come.

I was slow, the whisky dulled my senses. But I still shot first. Hell, I shot three times before that man ever got off one. And I know I hit him. I saw him stagger back. Next thing I knew, I was on the ground covered in my own blood as I clutched the stump of where my right hand used to be. I ain't no pushover, but I screamed like a whore on her first night, kicking and cursing to try to wake the boys up. But they didn't move. They didn't move one damn bit, even as I kicked them and yelled.

the shadow then lifted its duster and peered down at me, and what I saw I'll never forget;

Those burning, bright, eyes. Felt like I was staring at every sin ever committed, at something truly evil. Of all the crazy shit I seen, those eyes haunt me to this day."
- 'The Red Bandit', journal entry three
---
In Ulysses, folks try to lead simple and earnest lives. But, for some reason or another, the strange and wild seem to inhabit the world around the city, and for the most part folks are unaware that something strange is even happening. For those that see, for those that know, however... Ulysses is a strange home indeed.
The mayor, one 'Lucas Ulysses'- the founder of the settlement, in fact - maintains that all is orderly and calm in the city, and the lawmen who reside over the township keep the streets (relatively) clean. People feel safe in the city, but even within the borders of Ulysses few walk the streets at night without protection of some sort.
Dead center of the city is a large church, whose tower rises high over the people and countryside and casts its shadow far. The church as of late has presented itself as a divisive force in the city, the words of the resident preacher-man, a man called simply 'Father George', clashing against those of the mayor and his lawmen.
where Lucas Ulysses says everything is fine and that life is as easy as ever in Ulysses, Father George tells those who gather in his church to fear for their souls and that damnation walks the earth.
This schism in the pillars of the community have caused much confusion and anger amongst the people, creating an underlying tone of confusion and fear in Ulysses. Whether people attest to the mayor and sheriff's assurances of safety, the fiery proclamations of Father George, or their own silent assessments, nobody can deny that something strange is going on in Ulysses.
But so very few ever want to admit it, and so an unspoken rule of silence and taboo hangs over the things that go bump in the night.
---
"By the time I was aware of what was goin' on, I was outside in the thick of that fog. Those burning eyes standing over me, a grip like iron on the shoulder of my right arm. Suddenly I didn't feel like screamin' no more. I shut right the hell up, and the whisky made me think I didn't even whimper but I'm sure that's just the bravado speaking. I stared back at those eyes of sin, and I swear to you that I could see them smiling right back at me. Like I was some dog who did what its owner wanted.

He threw me to the ground, stared down at me, and said a single sentence to me;



'John Redmond, you've got a job to do'



Then he was gone. So was the fog. I was covered in blood, my revolver in hand, lying face down in the dirt outside the burning huts. I have my hand back, and at first I was willing to chalk it up to the whisky making me misremember a Navajo raid, or a sheriff's posse rolling through... but what I wrote down here is the truth, every damn word of it. I have proof. Those burning eyes left a gift for me, one I can't seem to shake even if I burn it or rip it up.

Whenever trouble starts,

The Jack of Diamonds

always appears in my hand. And it scares me what this gift can do. What I have to do. Because once I woke up there, covered in my own blood, I knew I had a purpose and a job to do. And I have to do it. But I'll find a way to put that bastard in the ground for what he did to the boys, even if I have to do what he wants in the process. I'll keep writing. I'll never stop writing. One day these musings of mine might just save a life."
- 'The Red Bandit', final entry of book one.
---
---
Welcome Aboard
Black Powder Arcana
is an
asymmetrical co-operative online multiplayer horror experience
experiment in player creativity and motivation. I intend to see character motivations drive the story, warped and flamed by the chaos of the old west. I will have storycraft and overarching plot threading into the narrative, but the key motivation I seek is player drive and the pursuit of a character's goals.
As the above has indicated, things aren't all sunshine and gunshots here in Ulysses. The supernatural and occult are very much so alive, even if the average folk ignore it or are outright unaware of it. Characters of all walks of life, all scopes of reality, all corners of imagination, are more than welcome here.
While intended for a small group [4-6 by my standards], I may very well welcome more than that aboard if my fancy permits or the muse strikes me... So feel free to come on in and submit a character!
The only rule?
Be excellent to one another and

Have Fun
.
---
The Cast
@ElRey814
- Samuel Gilead & Meru, The Coyote
@Clever Hans
- John Tatum (more commonly known as "Scarecrow Jack" or "Wanderin' Jack")
@may96
- Date Uzume
@Decadent - Dakota Crow
@Hour Error
- Sophia "Doc" Wallace
@Cleverbird
- Lily "Red" Oakley
@TitusCaecilius
- Gercke "Guilhartz" Reinhardt