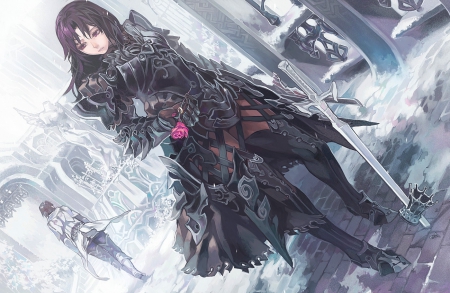 ---
Health | 4100/4100
Mana | 2900/2900
Renn | 2,028
---
"Last Genesis, please be wary while out there.
A giant roaming monster that can cause storms is out there. Do not engage.
Please meet us at the Tipsy Troodon.
I got rooms for everybody."
Kira stood motionless in the center of town simply staring into the stormy skies above after slipping away from the rest of the guild. This feeling of loss and sadness would not vanish no matter how hard she concentrated. It was clear to Akumi that no matter how much control she exerted, she could never completely shake the influence of her
other
self. The electronic chirp of an incoming message tore her away from her thoughts, her eyes reading the message silently as players and NPCs alike passed her by. A solemn half-smirk creased her lips as she remembered. She was Akumi. The most powerful demon that ever existed capable of bending the forces of darkness and death. Nothing could ever stop her unrivaled power and her quest to dominate the lives of the weak. Talrae was going to burn by her hand and it didn't matter who went down with it. The only lives that proved useful to her were those of her demon generals, all others were completely expendable in her grand conquest. Karuu...had proven that he was not worthy to serve her any longer and had served his purpose.
The demonness made her way to the inn where River had set up accommodations for them, walking with a powerful stride and a devilish glint in her eyes that hid a burning pain. With both hands on the doors, she flung them open with reckless abandon as she stepped into the center of the room
"It seems that this inn shall have the honor of serving the Great Akumi and her host! I will try my best not to harm anything, or anyone, here but I shall make no promises."
Her unmistakable voice rang out through the entirety of the Tipsy Troodon. Kira spotted the very
host
she mentioned and made her way over to them, seeing that the vast majority of Last Genesis was alive.
Her attention was drawn to Holy as she approached them, crossing her arms as a smug grin overtook her
"What were you expecting from the likes of mere mortals? Once my full power awakens, we shall not need such worthless rabble."
Words that may have been viewed as cold-hearted had it not been for her eccentric projection. Despite seeing Holy eating, Kira was far from in the mood to be eating anything at the moment. Meanwhile, the soul of Ryu was locked in her abbysal prison where only sliver of lights made its way onto the cold, stone floor. The air was far more stale and frigid with shadows consuming most of the light. Ryu didn't mind because she was not alone anymore. Karuu's avatar sat across from her making slights movement but stayed in absolute silence. This didn't bother her in the least, there was no rush. They had all the time in the world just the two of them.