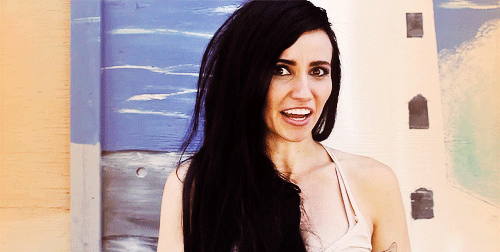 _______________________________________________________________________________________
_______________________________________________________________________________________
Ariel Grey had been having a decent enough morning. Her father had left the house early for work this morning, leaving her to have one less thing to worry about. What she did have to worry about, however, was what to wear and how everyone would take the news of her and Kavi being back together. She had already let the Misfits know of the news, but the rest of the school still didn't know unless they had spotted them together over the very last bit of the holiday break. While the people who's opinion
actually
mattered already knew, Ariel couldn't help but wonder what sort of whispers would float down the halls as she walked hand in hand with Kavi. Said thoughts did nothing to help her anxiety levels as she worked through her morning routine and drive to school.
She was sure to text Kavi to let him know that it was more than okay that she couldn't ride with him this morning. While Ariel always preferred their car rides together over going solo, she understood the importance of making sure his sister arrived at school on time too. Plus family time was nice, right?
"Just take a deep breath," she whispered to herself, stepping out of the Impala. "What matters is that your friends -mostly - support you, and that you and Kavi are happy."
Scanning the school grounds as she walked across the parking lot, Ariel was surprised to see so many emotions on everyone's face.
Some were tired, others enthusiastic. Some looked ready to die, and others just looked....
'meh'
.
Bookbag over her shoulder, keys currently being shoved into her jacket pocket, Ariel made her way over to the part of the school grounds where you could usually find Kavi before school started.
Approaching the man of the hour, Ariel couldn't help but spot that he had company. Of course his chosen company would be none other than Little Miss Relationship Destroyer Extraordinaire April Foster.
While Ariel was happy that April and Santiago had seemed to work through whatever it was that they needed to work out, that still didn't give April permission to be around Kavi after what happened, much less handing him some sort of gift. Like what the fuck, bitch? What. The actual -
fuck?
Okay. Calm down. You've not even been at Kings for five minutes. You're trying to be less of an angry person now, remember? Maybe it's a baby shower invite? No. Wait. The box is to big for an shower invite. Unless she and Santi are being extra, of course. But wait. Why would she invite him and not me? You don't get one without the other. We are a
Duo.
Dear fucking god, Ari. You're being dramatic. Shut the fuck up.
Walking up to the conversation, Ariel arrived just in time to hear April's apology. Standing beside Kavi, grabbing a hold of his hand as she laced her fingers through his, she gave April her best forced heartwarming smile.
"Oh don't worry! I'm sure we've all pretty much moved past that."
As Kavi began to act as if he was moving for the package, Ariel firmly squeezed his hand as if to say
'don't'
.
"Mind me asking what's in the box," she asked, feigning a friendly tone.
While she
had
moved past the events of the Halloween party, Ariel hadn't exactly forgotten what had happened. For the time being, she was just doing her best to not be passive aggressive and work towards building a better, more healthy relationship with Kavi. Seeing he and April talking together on their first day back at Kings Academy did nothing to help that.