---
Inside the Butter Building, Fl. 2 Transition to Fl. 1
The metal legs of the winged greaves made a loud marching
clack
noise as they turned around to have the fat penguin face the group. His flipper was still on his stomach and his beak was opening and closing with his labored breaths. His red circular eyes glowed in the blackness of the chamber as he stared at the heroes. He answered Frisk as though out of breath,
"Mario's soul?...and hat? You mean to tell me…you came all the way here…for that?"
The bird guffawed once and his laugh turned into a harsh cough and hack until spilling from his mouth was a black gunk. He vomited twice. Black ooze slapped all over the floor before his metal feet. His flipper rose from his belly to his mouth to wipe away a stray black strand of drool. "I don't have long…" he muttered, thinking aloud.
"You must have bested many of my men to get here…I suppose that's good…it means you can kill whatever's inside of me."
His stomach groaned loudly, and then billowed and sank as though something were moving within it. Dedede dropped his flipper and began to sweat, it returning to his moving gut.
"I…I made a mistake…He was…he was supposed to give me power…I traded Mario's things for power…so I could beat Kirby…"
"A man…or…maybe it was a monster…he was wearing a black cloak, so I couldn't tell. I gave those things to him."
King Dedede's body suddenly expanded into a large round sphere. His eyes grew to the size of saucers before the metal greaves tipped over, dumping the massive penguin ball onto his back. The king went rolling backwards across the floor until his back struck the wall. Flapping his flippers in a panic, King Dedede exclaimed,
"What did he do to me!? HELP! I DON'T WANT TO DIE! I DON'T-URK!"
King Dedede's head snapped back and mouth stretched wide as a black tower rose from his throat. His mouth stretched wider than normal as the black gunk rose into the air before it bent over in an arch. As the blackness started to plunge toward the floor, it sprouted two arm-like limbs. Its limbs rested on the floor and between its arms opened a large eye. The eye widened, and its body shook, as the darkness that filled the room was soon swallowed in a radiate white light that might have temporarily blinded the heroes if they stared. As the light faded in brightness, the dark energy continued to rise like purple and white flames in the chamber. The boss had revealed itself and beneath it lay Naija's lost greaves. The boss's eye darted between the five heroes before it starburst-eye shrank threateningly.
A black surge of magic began to rise beneath Dedede's hijacked body, and beneath the feet of Banjo, the floor began to crater. A great gravity pulled on the bear and bird, threatening to crush them into the very floor (Gravitonne).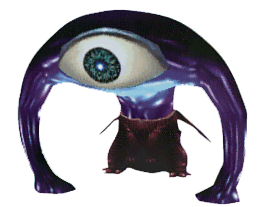 P.O.
If a player is inactive for more than 3 days without letting the GMs know of any delays, then the player can be skipped over on the 4th day. If a player does not wish to post, they can Mention the GM and let the GM know he or she "Passes" on his or her turn.
P.O.:
Frisk
, Alicia Harnick, Banjo & Kazooie, and Cloud.