HI THERE~!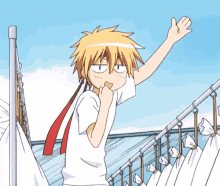 Thank you for visiting my profile!
My irl name is Becca, but I usually just go by Destiny. I am a 25-year-old bisexual woman from the USA who has been roleplaying since 2007. I got my start on a Kingdom Hearts fan-forum, and now here I am! My roleplaying interests include slice-of-life, romance, drama, fantasy, and anime fandom. Did I mention I am a HUGE otaku? :D
I write at a high-casual/advanced level as far as the amount of content I write per-post, but I'm not into flowery language most of the time. My writing is very simple, with a lot of the focus being on the characters and how their thoughts and feelings are developing. Realism is the name of my game! This stems from the fact that, when I am not roleplaying or slaving away for a large technology conglomerate at my day job, I am working on plays and films as a professional actress. With this being my passion, it's quite literally my job to pick apart each character's brain to find the motivation behind their words and actions. I'm just saying, that kind of obsession shows in my writing.
For my partners, I mostly do 1x1 RPs unless a group really catches my eye. I expect 2-3 paragraphs per post and prefer those who can respond at least once a day. Original stories catch my eye more than fandoms, but I don't rule anything out until I've tried it- trust me, if something's not working I'll let you know. I do not write smut, but if it is story-driven I will consider 18+. I'm really not picky; these are just guidelines for how to *guarantee* I will love our RP! I've been surprised before!
A fair warning in advance: I'm also a little crazy. I am diagnosed with Anxiety and Depression, so if I am feeling off I may just stop responding. My mental health does come first. Rest assured, I will pick up the pieces and clear my head enough to reply soon. I use my writing as an outlet, so I can never stay away more than a couple of days. That being said, my Guild partners are my family. Y'all have helped me through the worst times of my life and continue to remind me why I'm still alive on this Earth. So just know that I am here to do the same for any of you, even if we've just met. :)
Anywho, if this sounds like your thing then shoot me a PM! I swear I'm friendly, albeit a little strange, and I don't bite (hard)!
<3