---
---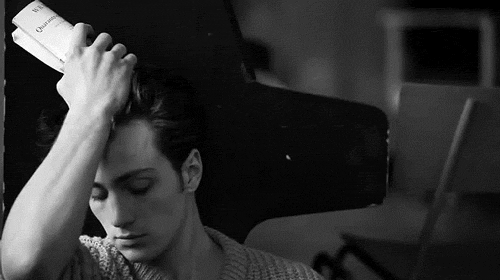 Location:
►His apartment – Horton Estate◄
Interacting With:
►Olivia
@SpicyMeatball
◄
Mentioned:
►His brothers
@Hero
◄
---
---
"Well that was a shitshow"
Elliot thought as he lay under his covers, he had woken up an hour ago but hadn't had the energy to get out of bed. Instead he had been mulling over last night's events, getting ambushed by Eva at the wrong time and then Ali yelling at the poor girl for no reason. This had resulted in the couple having an argument in the very same parking lot they had just been having a tender moment in. Elliot had been frustrated with his girlfriend and her jealous behavior, he had assured her nothing had or would happen with Eva and why did she still not trust that? In the end Elliot had said that they probably should take the night to cool off and they had gone their separate ways.
After an other half an hour or so Elliot finally threw his covers of and got out of bed. He checked his watch and groaned, he had to be at his parents house right now. His brother is going to be pissed with him... again. Elliot rushed his morning routine with a speedy shower and minimal effort to look nice even though it was a holiday. Soon he was ready and out of his apartment and in his car speeding down the road towards the Horton estate. He thought about taking a detour and get a coffee but decided against it whit what happened last time. Instead he drove straight to his parents house.
Elliot parked his car behind Jess's broke down Nissan and got out slowly checking his phone as he did so, but no messages from anyone. He pushed that to the back of his mind and braced himself for a day with his parents.
Alice Horton was sitting in the kitchen with a real frustrated look on her face. "Hey mom!" Elliot tried to sound as cheery as he could muster "What's going on?" he asked as he sat down across from her. His mother turned to look at her son with pursed lips"Well I suppose you don't have any idea why your sister is in her bathroom puking her brains out?" she said in a stern voice. Elliot gave her a quizzical look "Jess is puking? Enzo probably overdid it with the shots?" he mused. Alice huffed "Not Jessica! Olivia!" she hissed, Elliot did a double take and let out a little laugh. "Liv...drinking? Shocker! What? Why are you looking at me?" he said at the sight of his mothers anger. "You think I took her out? No, I have my own fu-.. darn problems." he lamented. Alice kept staring at him implying he should sort this out. Elliot groaned "Oh fine!" he stood up forcefully and stomped down the hall towards Olivia's room. He entered the girls room and looked around, it had changed quite a bit since he went away to school. He could hear her stirring around in her bathroom, he let out a big sigh and knocked softly
"Hey kiddo... you doing alright?"