Dare you stand against corporate titans in a Great Game?
In the year 2064, the mere thought of such a prospect is as futile as finding love in virtual reality. Everything is futile these days, really. You know that, but you're going against futility anyways aren't you? We'll see how long you last. After all, survival is hard enough as is in America these days. After global temperatures skyrocketed leaving most of the landscape arid dustlands and sea levels rising just as quickly, American citizens flocked to urban megaregions. Living outside the walls of the urbanization movement is as much of a death sentence as slighting one of the corporate conglomerates that run their roots deep through the political game. I suppose the choice is between fighting the volcanic faults and dust storms outside the walls or the corruption and gangs inside the walls.
Welcome to the Reclaim Zone, the most forgotten and downtrodden district in the South City megaregion. People don't really come to the Reclaim Zone unless they're down on their luck, but maybe today's different. With the imminent mayoral election, naive minds might think change could come. Things could be made better. They could also be made a whole lot worse. For whichever of those you prefer, you find your reason for being here. With the first bright and moral man willing to run in the election for a number of years, maybe you have hope you can help him bring about change. Maybe your motives are selfish, but either way you find yourself standing in solidarity with that man: Dexter Campbell. His fervent speeches bring about passionate calls for change not only on the mayoral level, but much higher up as well. As much as he riles up the people in the Reclaim Zone, most people have already disregarded his promises of a better future. People like Campbell don't win elections. At least not without one hell of a campaign team, but that's where you come in isn't it?
In this speculative roleplay, you will take on the role of one of the Reclaim Zone's derelicts. For whatever reason, you've found yourself in the dangerous district of America's west coast and working for Dexter Campbell. Maybe you believe he can bring about change. Maybe you're trying to use his platform for a more personal gain. Either way, the success of Campbell's campaign for change lies in your hands. Could he die in the dirt of the Reclaim Zone's streets or could he be catapulted to a platform that could bring about national change? This roleplay will be revolving around the decisions the group makes regarding the campaign platform. Thus, as you progress and develop your own character and make decisive actions revolving around Campbell's rise through political office, his platform may change. Will the group emerge as martyrs of a new age or will the Reclaim Zone give birth to another corrupt empire that crushes its enemies under heel.
While the heart of this roleplay will revolve around the advancement and goings-on of the campaign that unifies all of the characters, I encourage each player to undertake their own subplots. The world is vast and has an ever-expanding lore pool to explore. While you may assist Campbell by day, perhaps there are other motivations that drive you onto the streets at night. Because of this, I encourage characters of all backgrounds and alignments. In this sense, the roleplay will be partially open-world, as there's plenty for you to do outside of the main plot. This is another of the overarching goals of the party. As you progress through the story, certain groups will become allies and others enemies. It is up to you to decide what outcome of rising and falling factions is desirable. Just make sure to remember, whatever actions you undertake determine the future that emerges. Will you rise above the gangers and criminals in the streets and bring about change, or does everyone end up giving into Futility.
Please don't let yourself be intimidated by the massive pile of lore. It is mostly extraneous and can be read through at your leisure.
The World
---
---
The story will begin based in and around one main region: the self-proclaimed paradise of the west, South City. This is one of the most populous megaregions in America encompassing what was once Los Angeles as well as the surrounding area where the city expanded into throughout the 21st century. In reality, that much couldn't be further from the truth. As the 2064 elections grow closer and closer, chaos is ever present in the streets. Political turmoil in the city's urban sprawl is at an all time high with riots in the streets, veiled and corrupt political dealings in the shadows, and a populous with views split between all five of the major political parties. Small districts in the city are more contested than ever both in terms of elected offices and street rivalries that tear violently through South City's slum districts. South City is one of the two major megaregions that make up the 'Twin City Sprawl', a sprawl of urban cityscape that covers America's western coast along California. Its sister region is The Bay Region to the north.
There are a number of smaller 'districts' in the megaregion, but for one reason or another, you find yourself in the Reclaim Zone. The Reclaim Zone is a large district emanating out from one main street. The district gets its name from the origin of its architecture and infrastructure. Most of the buildings in the Reclaim Zone are now defunct factories of corporations that have either gone under or moved to better locations. These shells are now the basis for cheap hotels, smaller scale manufacturers, as well as innumerable clubs and bars. Believe it or not, the Reclaim Zone used to hold the greatest employment rates in South City Sprawl, but times have changed. As more and more people migrated to the district, the Reclaim Zone became a home to slumming populations and street vagabonds. As population increased, so did the tension in the streets as did the demands for better conditions.
When riots began to tear through Reclaim Zone streets in 2035, Enforcers were barely able to hold back the crowds from turning strikes and protests into a full-blown war in the streets across South City. As violence continued for a span of three weeks, large scale companies shut down production activity in the district temporarily, but when the riots ended in the Reclaim Zone, the turmoil they brought didn't leave. The Reclaim Zone became known for its most dangerous times, attracting a completely new sort of individual and corporation. With the decreased regulation due to broken infrastructure and lack of Enforcers in the area, seedy business practices began to take root in every Reclaim Zone industry. Crime began to flourish and the monolithic factories that once housed reputable corporations were bought out by gangs and criminal organizations. Clandestine business has become the trademark of the Reclaim Zone, whether its corps, gangs, or mercs in power.
Technology
---
---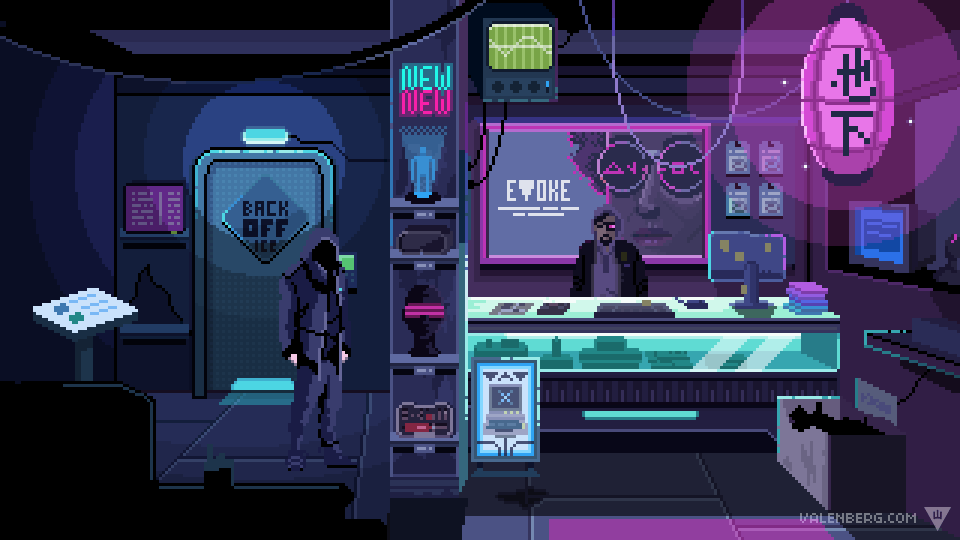 Cyberware
Virtual Reality
The Cyber Matrix & Labyrinth
Artificial Intelligence
Political Map & Faction Details
A Note on Factions & Backstories:
I encourage you to interact with the factions above in your backstory as you wish, but keep in mind how likely certain scenarios are. Obviously if a massive corporation hates you, you aren't going to last long. If you'd like, you are allowed to have been a part of one of these factions (excluding Tech Witches and Nekrolytes for plot reasons). If you would prefer, you can also write something of your own if you'd like to be a part of a local gang or something similar.
Character Information
In this RP, you will take on the role of someone related to or working for the campaign team of Dexter Campbell. Together the team will seek to further Dexter Campbell's influence as he climbs the political ladder. Perhaps Campbell's rise will benefit your character in some way. Perhaps your character is lost in the world and finds purpose in this line of business. Perhaps you want to infiltrate the political game and exert your own partisan influence on the country. The choice is yours. Of course, characters aren't restricted to political lackeys. Campbell's team is rather cobbled together and could include all sorts of roles, though keep in mind that your character will be working for someone running for mayor of a not-so-great district. Supersoldiers, corporate CEOs, and generally extremely powerful people wouldn't find themselves in this situation. I've included a list of possible roles you may play on the campaign team below. Feel free to make up your own or use one of these.
While I want each of you to take an active role in the campaign, I also want each of your characters to have personal goals. Players are encouraged to introduce their own relevant subplots. I can guide the way and facilitate the world around you, and you'll still have the main goals of the group driving you as well, but you should also be developing your own character throughout the RP. While you are ultimately in control of your character's actions, fate is a cruel mistress. Death will be possible in this RP, and while I have no plans of forcing it on anyone, if you choose to get into a crazy and unbeatable scenario, that's on you. If you do die in the course of the RP, you are free to make another character. Campbell's staff of expendables is ever changing after all.
I encourage you all to cooperate and make connections between characters. While you don't have to be best friends with every other character (in fact, I encourage you to form rivalries and other dynamic connections), try to come up with some relations with other characters. These can be cursory meetings or deep emotional bonds. The choice is yours. I don't yet have a set number of people I want to accept into the final cast, but I will end up limited accepted characters eventually.
---
---
Now I know this is a lot of information to take in, but feel free to read through the extraneous lore at your leisure. The world is vast and you have the opportunity to explore whatever select portions of it suit you. My aim for this roleplay is a collaborative worldbuilding experience while we maintain the central goal of confronting society in this cyberpunk world. With that said, I'll be adding more information as time goes on and we near the start of the RP. I hope to attract a certain type of RPer to Futility, so if you love to write expansively about the world and develop freely your character obsessively, this is the place for you.
Everything will be expanded upon in the next few days as I prepare an OOC. Feel free to make suggestions or ask questions about character concepts, the story, or the world. Now then, any interest?