C H A R A C T E R C O N C E P T P R O P O S A L
T H E F A N T A S T I C F O U R
C H A R A C T E R C O N C E P T: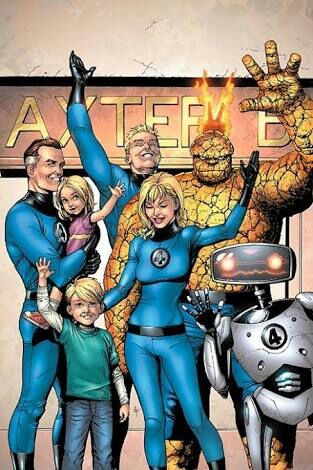 R E E D R I C H A R D S / S U E S T O R M / B E N G R I M M / J O H N N Y S T O R M
♦ S C I E N T I S T S / E X P L O R E R S / C O S M I C N A V I G A T O R S
♦ B A X T E R B U I L D I N G , F O U R F R E E D O M S P L A Z A , M A N H A T T A N
♦ F A N T A S T I C F O U R / S T O R M – R I C H A R D S S C I E N T I F I C S O C I E T Y
C H A R A C T E R C O N C E P T:
---
"You may tell your boss that we're tremendously honored by his gracious gesture-- but we're not yet done exploring. What gives this family its purpose and its joy isn't the destination... it's the journey."

– Reed Richards
" You have these doubts...Constant and unrelenting. Some large and some so very small. Am I being too strict? Am I too lenient? Do I praise too often or not enough...Being a parent, having children...it's a constant war between uncertainty and hope. So you live in fear...and there are these doubts... Science is much the same. The child of the mind. Left untempered it can do the unconscionable. But if you try to hold it and keep it safe, you deny it's true potential. Love, life… it's all a balance."

– Sue Storm
"Sure, around this family I might be like the dumb kid in science class… But maybe I'm too dumb to know when to quit as well. FLAME ON!"

– Johnny Storm
"Yer know what? Mebbe if you connect the whozzits to the whatsit over there, then run a conduit through to power the weapon… Yer know what, forgeddaboudit Stretch, I'm gonna just play to my strengths… IT'S CLOBBERIN' TIME!"

– Ben Grimm, Sensitive Yancy Street Citizen
---
C H A R A C T E R M O T I V A T I O N S & G O A L S:
Latching onto the First Family to tell some BIG universe expanding stories, organically open up some crisis/event level threats, and tell some (hopefully interesting) cosmic/global level sci-fi family stories and character work.
C H A R A C T E R N O T E S:
Some years ago the exploratory space mission crew which which gave birth to the group who would go on to be called 'The Fantastic Four' disappeared, presumed dead. The world grieved, Latverian based financial backers lost money and face (and many suspect the failed mission was to blame for the recent political turmoil in that Nation since) and humanity started to turn away from the stars...

But now they're back! A wormhole generated by lead scientist Reed Richards brought home these wandering heroes... And now they have kids!

But their return raises many more questions... what cosmic force changed these four heroes so dramatically? Reed Richards is now capable of amazing feat of strange elasticity, Susan Storm is now able to tap into some kind of power allowing her to create force fields and make herself invisible, pilot Benjamin Grimm has now become some form of rock-based monster and Johnny Storm is now fully combustable, able to generate high levels of heat and flame. And what of the children? Does some hidden power or force lie dormant within these doe-eyed kids? Reed Richards left this world as one of this world's smartest people, but since his return his intelligence has increased exponentially beyond what it was and he has become more distant from his fellow man. What has he learned in his time away? And why does it seem like his daughter Valeria has developed similar traits despite her so incredibly young age? Could this be why Sue Storm has taken on more of a leadership role since their return?

And most important of all... Are these really the same people who disappeared all those years ago?
Character and Equipment:
The booming voice of the man who would be
DOOM
.
"Ten... Nine... Eight…"
Victor's sharp eyes made another final sweep across the whole control panel. They had cleared every check and test. But what man could leave the fate of so much to another's vision? A lesser mind's decision? To do such a thing, one might as well leave such a thing to the winds of chance.
"Seven…"
Ben Grimm flexes his fingers for one last time as he prepares to white-knuckle it, and grips the controls in sure, steadfast hands. He wouldn't want the responsibility anywhere else. Ol' blue eyed Benji has their lives and his in his hands, knows exactly what it means, and the whole damn universe couldn't pry him off his duty. So just let 'er try.
"Six…"
Reed and Sue lock eyes lovingly. After these years the married couple share the mutual knowledge that whatever comes next, whatever they now face, they have the strength for what comes. Together.
"Five…"
The young lovers hands embrace. Even through the suits, Johnny Storm could swear he could feel Valeria Von Doom's warmth radiating through, as in all things.
---
Children playing in the sparse green fields of Central Park. A tour group rides by on bicycles. College students with books spread open come to grips with their course load whilst talking about the day to day frivolities.
All interrupted by rolling thunder. A space between places opened by an explosive cacophony of sound. Feet touched down on Earth's soil which hadn't known it for well over a decade, as well as three who had never known it as home. The tall bug said something in Sue Storm's ear. She looked concerned, and replied, as people raced towards them. But none could hear over the sound of the cosmic gateway. The bug confirmed, and Sue swept her hair back, deep in thought over the meaning of what she had just been told.
People were racing towards the five strange humans, their robot and one strange rock monster. The bug gave a final wave, walked between the humans and their means of arrival. Shielding itself from the sight of other people and used a small box to open a similar portal to return, presumably, from wherever they came.
The blonde haired youth looked at his craggly compatriot and noticed no change in his appearance.
"Hey? Looks like our powers are still kicking in here too."
He said, flicking a finger off of his compatriot's rocky shoulder and setting his finger aflame.
People ran to the group on the grass, but then kept their distance. Standing in stunned silence, the crowd was seemingly scared of the strange man with the stony flesh.
"So…" Ben said, breaking the awkward silence. "Whaddid we miss?"
---
P O S T C A T A L O G U E:
Post 1 -
The Return