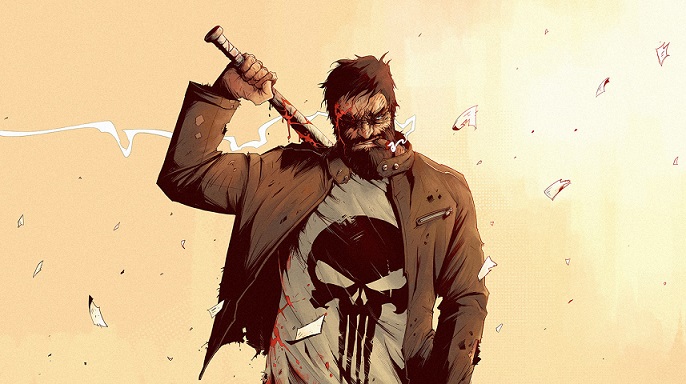 Location and Time:

New York City; Mr. Greene's Goods

-

8:56 PM
Issue #2:
Charles Forte Rides, Again?
---
I had been on shift for about twelve hours. The guy on next shift, Ron, called in sick today. I didn't have much better to do and Mr. Greene knew that, so I had to cover for him. I wasn't complaining. What else am I gonna do on a Friday night? I'm not one of those middle-aged guys that goes out to the bar to play pool and hit on girls half their age. Unlike them, I still have some modicum of self respect left; I'd just be there for the drinks.
My boss, Matthew Greene, walks out of his office. He's an older guy, late 60s, with horn-rimmed glasses resting on a friendly round face. A smile forms beneath his bushy gray mustache as he makes his way behind the counter to talk to me.
"Thanks for working double shift, Charlie,"
he says, patting me on the shoulder.
"I'm gonna be closing up now. Feel free to grab a six-pack or something for yourself before you go, on the house."
He heads back around the counter and towards the door.
Guess I wasn't hitting the bar tonight. I give him a thumbs up and b-line for the beers. While browsing the cold beverages and trying to make my selection, I hear Mr. Greene start talking to somebody.
"Hey, sorry, but we're closing up. You can't come in."
Must be a customer trying to come into the shop too late.
"Sorry old man,"
the person outside the shop says,
"But we're not here to buy."
I hear a shout from Mr. Greene followed by a dull thud. Turning around, I see about half a dozen thugs walking into the store. Mr. Greene is on the floor with a bloody nose, clutching his face. The leader of the thugs, a well-built man with slicked back black hair and a leather jacket, grabs Mr. Greene by the collar and lifts him up.
"Look at you. Who did that to you? Your poor face. We think you might need some protection."
He drops Mr. Greene back to the floor and moves over to a magazine rack, spinning it slowly and examining the books on display.
"Lucky for you, we're just the guys you're looking for. You're gonna start paying us five hundred a week. If we don't get our money?"
He nods at one of his boys. The thug he nodded to stalks over to Mr. Greene, then stomps on his knee. I hear a sick crack and a howl of pain from the old man.
"You'll start having 'accidents'."
I had been hiding behind one of the shelves, watching the whole ordeal go on. I know it would be stupid to intervene. I should just head out back and go home, get drunk, try to forget about this. But that phantom calling out to me tells me otherwise. I need to do something about this. Leaving would be the smart thing to do. Unfortunately, I'm not too smart.
I step out from behind the shelf.
"Hey,"
I call out. The thugs all turn to look at me. Mr. Greene is breathing heavily on the ground, his eyes clenched shut.
"You leave him alone."
The leader of the thugs looks at me with a bemused expression. He and his boys turn and walk towards me slowly, trying to be intimidating. I stand my ground.
"And who the fuck are you?"
he asks. I can see the pistol stirring in his coat. He's looking for an excuse to pull it out. I need to give him one so I can get a hold of it.
"I'm someone punks like you used to fear."
I take a step forward.
He turns to his boys and laughs. They join in, like a pack of rabid hyenas.
"Oh, this is fuckin' precious! Looks like we got a wannabe hero in our midst fellas! Who do you think you are? Spider-Man? Moon Knight? Oh no, wait, I know. You're some Punisher fanboy, aren't you? Think you can shoot up all the big bad guys don't you?"
Like I expected, he pulls a Beretta out of his coat and levels it at my head. He's leaving himself wide open. He's even holding the gun sideways. Bad move.
"Tell me, shit for brains. You think you're Frank Castle?"
The irony almost makes me laugh. I merely shake my head and smile at him.
"Yeah. I think I am."
I grab his wrist with my left hand and jam my right palm into his nose as hard as I can, a wet cracking sound telling me that I broke it. Blood streams from his nostrils and he starts to fall to the ground. I grab the pistol from his hand just a second before he hits the ground. I plug two rounds into his chest before he even has time to process what happened.
The thugs stand there and watch me for a second, processing what just happened.
"Oh. Shit,"
one of them whispers. Then they scatter, taking cover throughout the store as they shout and curse up a storm. I duck behind the shelf I was hiding behind and check the magazine of the gun. Thirteen shots. Should be more than enough.
A few bullets hit the shelf. Still in a crouch, I turn and start walking the opposite way around the shelf to flank them. As I round the corner, I see one of the thugs had the same idea. He looks into my eyes for a moment and starts raising his gun. I've already shot him in the throat. Unfortunately, now the others know just where I am.
Before they get a chance to act on their newly found knowledge, I throw myself through the doorway of Mr. Greene's office and lay on my back with gun trained on the doorway. Thug #3 walks in, I fire once into his thigh and he drops to the ground while screaming bloody murder. His pistol falls out of his hand and scatters towards me. I sit up, grab his gun with my off-hand, and shoot him in the head. Three left.
I stand and flatten myself against the doorway. I hear the footsteps of the fourth man heading towards the office. Right as he's about to walk in, I step forward and start blasting him. One, two, three, four, five rounds to the chest. I step through the doorway of the office with pistols at the ready.
It almost feels like time has slowed exponentially. I haven't felt like this in years. "The Zone", I used to call it. That place you go when you're stacking bodies. You don't think. You act. Focus. Guy a few feet ahead. I could just shoot him now but where's the fun in that? Let's see if I still got it.
With a grunt, I throw myself forward in a dolphin dive, firing all the while at the thug in front of me. His body shakes violently as each bullet pierces his flesh, rocking him to the core. I hit the floor and he falls to the ground. Still got it.
I push myself up and start scanning the room for the last thug. I don't see him anywhere. As if on cue, I hear the distinctive jingle of the front door opening. I peer over the shelves at the front door and see the last man running away. I fire at him once, twice. I hear him shout in pain, but he doesn't slow down. Shit. Probably just grazed him. I'm gonna have to find him so he can't warn any other friends he may have.
I stick the two pistols I have into my waistband and pick up two of the guns the other thugs dropped. Tucking one pistol under my arm, I reach into my pocket and pull out my phone while heading to the front door. Mr. Greene is there, injured but still breathing. I dial 911 and hand him the phone.
"Call for help. I won't be back again. Thank you for everything you did for me while I worked here."
He nods shakily, then hits the call button. I'm out the door before he even starts talking.
Dumb move. I should've just left while I had the chance. Would've still had a job at least. But then, wasn't this what I wanted? To go back to the old days? This is my chance. I might as well take it while I still can. If I didn't, what kind of man would I be? A fool trying to outrun his past instead of embracing that part of himself. You can try all you want, but in the end, all it does is hold you back.
I look down and see drops of blood on the sidewalk, trailing after him. From the looks of it, he's already covered quite the distance. Guess the fear of getting shot in the head will let you outrun any sports car on the road. Enough chit-chat. I've got a two-bit thug to track down. I set off into the night, intent on finishing this.