C H A R A C T E R C O N C E P T P R O P O S A L
---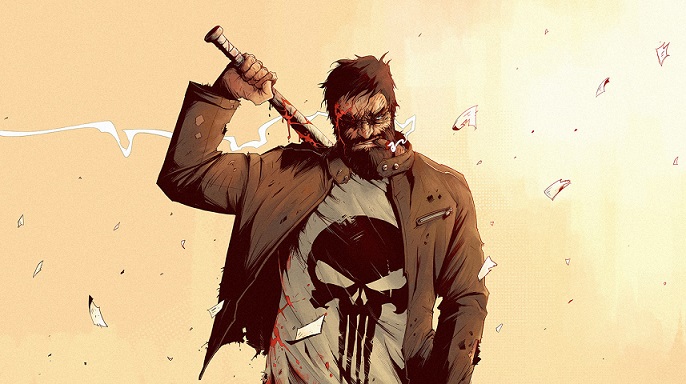 F R A N K C A S T L E ♦ C A S H I E R / R E T I R E D V I G I L A N T E ♦ N E W Y O R K C I T Y ♦ I N D E P E N D E N T
C H A R A C T E R C O N C E P T:
---
"I'm just an old killer looking for an excuse. But I guess it's better than not needing one."
You know the basics already. Ten years ago, Frank Castle's family was murdered. He gave up his career as a detective to become the Punisher and take his revenge on the people who murdered his family. After killing those responsible, Frank continued his crusade on crime, waging a one-man war on the criminal underworld of New York City.

Except that's not what happened.

After killing the men responsible for his family's deaths and taking down an entire crime syndicate in the process, Frank called it quits. He got what he wanted. His short-lived career as the Punisher was over before it truly began. For the past decade, he's been Charles Forte, a middle-aged divorcee working as a convenience store cashier and living in a rundown apartment in the Bronx. Keeping a low profile and holding back that part of himself that wants to go back to vigilantism. But with a new gang moving in on his neighborhood, the Punisher might need to come out of retirement.
C H A R A C T E R M O T I V A T I O N S & G O A L S:
---
Ah shit, here we go again.

To start off, I'll discuss my reasons for playing the character. It seems like every character I've tried since Punisher has flopped horrifically in some way or another. My attempt at Blade was half-baked and every time I tried to play the Question, I realized I had no idea how to write solo adventures with him. With that in mind, I decided to look back to my first character in one of these Hype style comic games: Frank Castle. Writing him was fun because I had an idea of where I wanted the story to go and I could write some cool ass action scenes along the way. It's pretty hard to mess up "angry man shoots bad guys". Since then, I've always wanted to return to the character. So, I figured "what the hell? I'll shoot my shot." And so once again I am asking to play the Punisher.

My story's gonna be simple and straightforward. Frank's retired, a new gang moves in on his neighborhood and starts trying to extort his employer, he decides to return as the Punisher to take them down. Pretty basic. Once that initial arc is finished, I'll probably focus on doing crossovers and maybe take a page from past me and have Frank go on a cross-country road trip like he did in Ultimate One Universe. The sky's the limit.

In terms of inspirations (because I always have those), first and foremost I'm trying to recapture the spirit of my original Punisher run. So as it was there, John Woo's heroic bloodshed films are the primary inspiration. Beyond that, there's also Max Payne 3, Logan, and The Dark Knight Returns, all of which feature that archetypal "old man returns to being a badass" storyline that I'm doing with this run. As usual, you can expect some recommended listening tracks with my posts every once in a while.

So yeah, that's that. I'll try not to flake out again, folks.
C H A R A C T E R N O T E S:
---
Supporting characters list TBA.
---
---