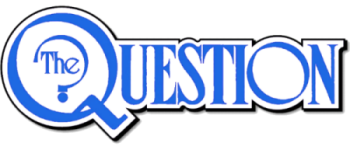 Washington, D.C. | Justice League Unlimited HQ | The Question's Room | ♫
"Hrm. No... That's not right,"
the Question mumbled to himself before reaching up to the cork board and tearing off the strings and photos he had just pinned up. That didn't make sense, after all it was well known that the music industry was too focused on controlling the population with prepackaged corporate pop and lab made pop stars to care about helping to fund Autism Speaks and its pursuits to eliminate the autistic, who were in turn not at all affiliated with the White Martians and their looming invasion.
Q scattered the photos, newspaper clippings, thumbtacks and strings across his desk. He rolled up his mask and took a drink from his energy drink (homemade to avoid the mind numbing nanites found in normal energy drinks) and lit up a cigarette, plucking it between his lips. Back to square one.
"The White Martians

must

have some connection to the nefarious workings already on Earth... I just have to find it."
Now let's see. Crop circles were commonly misinterpreted as messages from an alien people, but in reality they were manufactured by the Girl Scouts of America in order to make people want cookies filled with capitalist nanites; note that some crop circles bare a striking resemblance to popular Girl Scout cookies such as Do-si-dos and Lemonades. But who's to say that the
Girl Scouts
don't have alien origins? It's entirely possible that they were founded by the White Martians in their pursuit to control and eventually wipe out humanity.
"Now I'm onto something..."
Q grabbed his composite sketch of a White Martian and a picture of the Girl Scouts of America logo alongside some string and thumbtacks. He was in the process of pinning them up when his radio cut off the music to play a message that was just received by the Monitor Room; he had rigged up a connection to the Monitor Room's comm channels so he could be warned of incoming threats or allies before anyone else did. It was useful to have and helped to ease his paranoia, if only a little.
"Captain Atom to monitor room, I'm coming back early." It was Colonel Cameron Scott, AKA Captain Atom, a fellow member of the Justice League, a slave to the military, and Q's top candidate for a potential mole in the League. He didn't trust Captain Atom and made no secret of it, constantly hounding the man with questions about his origins, the extent of his powers, and just how many details about the League he was feeding to his higher ups.
"Hurm. The government dog is back from 'shore leave'... Perhaps he'll finally be willing to shed some light on the nefarious workings of his commanders."
Q finished pinning up the scraps to his conspiracy board before turning his back to it. Finishing off his cigarette and extinguishing it in his ashtray, Q rolled his mask back down, threw on his baseball cap and hit the button on his belt buckle, releasing the bonding gas. His mask tightened against his face as his hair turned from ginger red to pitch black and his leather jacket turned from a light brown to a deep navy blue.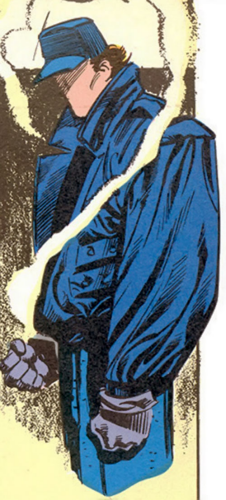 "Now let's go see if our Captain would like a chat,"
he said to himself, before exiting his room and heading straight for the HQ's hangars, where flying heroes would often enter the HQ, alongside Batman in his jet whenever the Caped Crusader saw fit to check in on the League.