---
"There are those who blindly follow. And then there are those who forge their own path. Which one are you?"
[ ♫ ]
---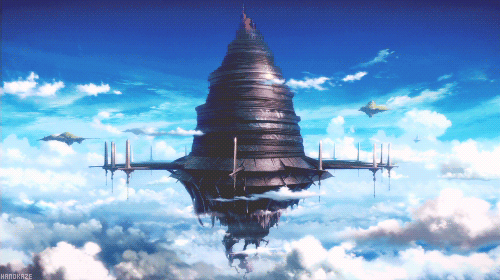 On that fateful day, the skies were blotted by the behemoth of another world. The great monolith defied law and contradiction, floating high above the citizens of Miso City. Yet only a select few could see the massive structure that cast a shadow over their beloved city. Those who could see it had been blessed, visited in their dreams by unknown and invisible beings, each one offering up the chosen individual a choice. A choice that would determine their days to come.

And now those select few would be drawn to what could only be described as the Tower. The Tower beckoned like a melodic hum, one that whispered promises of glory and power to the idle and abled. Yet there were other promises, offers of wishes fulfilled and dreams to come true if one bested the Tower's challenges. And so they go forward, those small few, to conquer the Tower and seek what truly lies at the top where all things converge.

Rumors abound. Some have bore witness to a girl at the Tower's peak, one who has summoned the monolith to the mortal planes. Some mutter utterances of an artifact waiting to be coveted at the Tower's conclusion; the King's Crown. Still, some seek the Tower for merely the thrill of adventure, the excitement of seclusion that they've brought upon their peers driving them forward.



Regardless of any ambition, the Tower draws them all closer with each step.
• Appearance:
Self-explanatory. It would be preferable to have an anime-ish image because we are Weebs. Text descriptions are also fine.
• Name:
Self-explanatory.
• Title:
Your title if you so choose.
• Age:
Self-explanatory.
• Class:
Your time in the Tower will change how you see the world and the threats you face will determine the skill set you consider. What path of life will you follow? And where will it take you...
• Aspect of Soul:
All beings possess a Soul, some in greater aspects than others. As one who's journeyed into the Tower, the power of your Soul allows you to call forth your personal weapon or tool to fight back the threats from beyond. What then, reflects your soul?
• Abilities:
Any special abilities or skills granted by your choices of Class and Aspect of Soul.
• Background:
A quick summary of your character thus far.
• Inventory:
Any noteworthy possession that your character may have should be placed here. Commonplace mundane items, like a smartphone, a car, etc., don't need to be listed. If you don't have any, you don't need to add this.
• Other:
Optional. Anything else not mentioned above that you may wish to add goes here.
---