Okay, here she is. Lemme know what you think!
C H A R A C T E R C O N C E P T P R O P O S A L
---
H A R L E E N Q U I N Z E L ♦ C L O W N ♦ G O T H A M ♦ I N D E P E N D A N T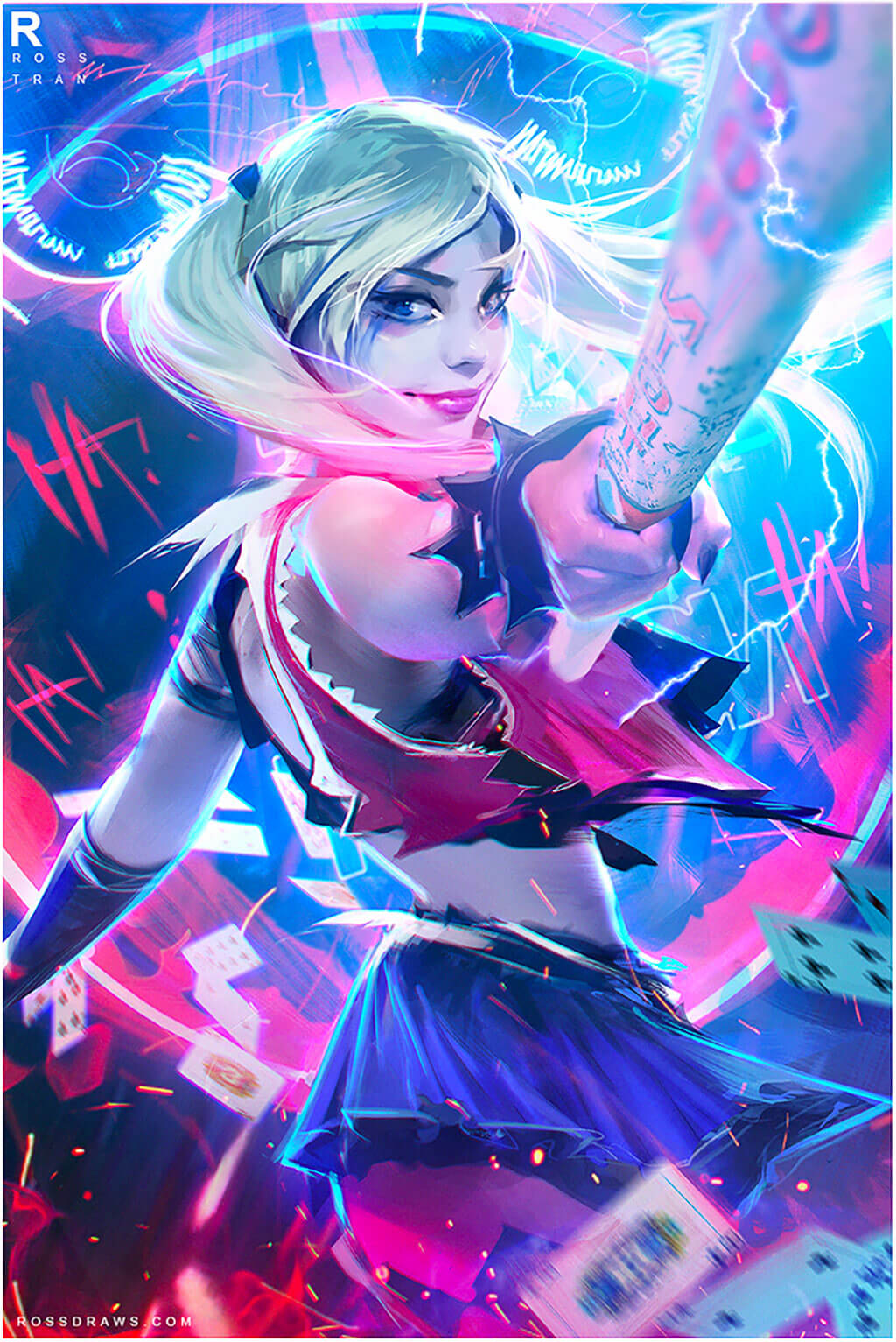 C H A R A C T E R C O N C E P T:
---
"Ha!"
Harley Quinn was the Joker's gilfriend, sidekick, villanous cohort and victim. But within the last year, she finally realised that the Joker was no good for her, he didn't treat her well enough to deserve her loyalty. At first, it was just a ploy to get his attention back, and to set clear boundaries in their relationship. For example: no more pushing her out windows. Soon enough, though she realised she liked the freedom. Free from his evil influence, the dominoes fell and Harley shifted gears into an anti-heroic figure of Gotham. Carving her way through the darkest and cruelest parts of the underworld to bring a some laughter to those who need it most. Joker forgot one of the most important parts of comedy: Punching up is way funnier than punching down. Now Harley is applying her own unorthodox kind of vigilantism to the street of Gotham, chased by the police and supervillains alike and building her own personal little gang to make a mess of things with.
C H A R A C T E R M O T I V A T I O N S & G O A L S:
---
Harley Quinn wants to prove she's better than the Joker and the rest of Gotham's supervillains. Anyone can be evil, anyone can be selfish. If she wanted to feel powerful she could overdose herself on drugs and fling herself into a vat of chemicals. No, Harley wants to be more. She wants people to like her- really like her. She wants to prove that she's funnier, smarter, and more beautiful than anyone else in Gotham.

Secretly- and don't tell anyone- she cares about the little guy more than she's let on. She knows what it's like to be discarded, trod on, and abandoned by those you thought were supposed to protect you. While her motivations are certainly not entirely unselfish, Harleen has genuine compassion for those around her and a desire to do good, like any hero. Harley also has a strong desire to put jerks, tyrants, and pricks in their place. Freedom and liberty for herself and everyone are important to her. She also wants to feel good about herself and do something never before seen.

And last but certainly not least, she's always looking for a laugh. Nobody in Gotham has a real sense of humor these days, and she intends to show them what good comedy actually looks like. The bad guys are going to get what's coming to them! Harley Quinn is going to be a killer vigilante and she's going to enjoy the killing, so this may put her at odds with many superheroes. However she may end up experimenting with a no-kill rule, and this would give her a chance at actual redemption both in the eyes of the world and in her own eyes.



C H A R A C T E R N O T E S:
---


Harley is a free agent, and she can't be committing and leading crimes all day long, simply because there aren't enough crimes to do. So when she isn't leading her gang or tearing up the streets of Gotham, I intend for her to travel, explore, and meet up with other player characters. That, or plan with people to have their character visit Gotham and have them run into the Clown Princess. Or seek her out, or...whatever, really. I'm giving her side characters so I could write her by myself for a while but I'm always looking for a collab of any kind with any one.

















---
---
You ain't seen nothin' yet!