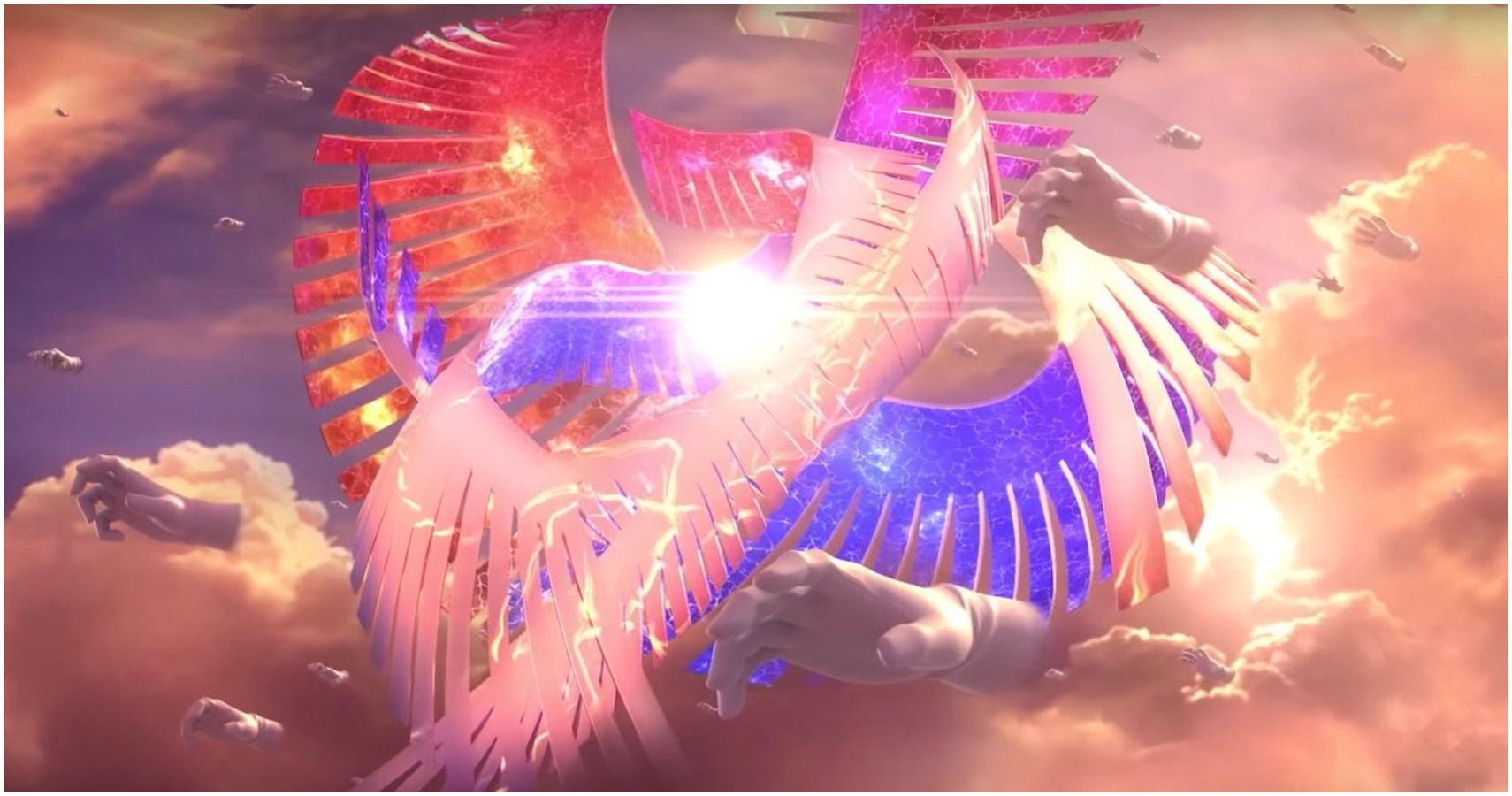 With an army of Master Hands under its control, Galeem sought to create a new world.

The fighters and their countless stories came to an end as light consumed them.

Thus, the universe was crushed in the hands of Galeem.

Those who fought the light were devoured.

The others lost their bodies and became spirits.

Only one survived.

A star of hope twinkles faintly as the dust settles on a new world.
---
Welcome to the World of Light. An otherwordly entity known as the Lord of Light, Galeem, has annihilated the universe, sending streams of all-consuming light into every game world to wipe the slate clean so that he might build something anew. Only Kirby, borne on a Warp Star while Galeem's attack still picked up speed, escaped.
But the weight of the world is a heavy burden indeed, and his constant fight has left him exhausted. He managed, however, to free a small group of spirits, and split his remaining power into Friend Hearts to revive them. They're a motley crew, hailing from a variety of world and origins, but with Kirby unable to fight any longer, the task of finding and defeating Galeem falls to them.
You're one of these revived spirits. You can be any game character from any game franchise, hero or villain, side-characters of all stripes. You face impossible odds, an adventure across landscapes that span the imagination, an endless series of battles, puzzles, and obstacles, meeting friends and foes familiar and new on the chance that you might reach the Lord of Light and undo all he has wrought.
In essence, this is a massive crossover adventure, with the players deciding where to go and what to do, encountering all sorts game worlds, characters, and items. There will be some RPG elements, with EXP for word count and as rewards, and each level earning you a new ability. Since most characters bring with them a narrative, who you pick and what you do will directly impact the RP's events, so the possibilities are endless.
Important Notes
All standard roleplaying rules apply. Be excellent to one another.
Your characters will start off somewhat weak, no matter how strong they were originally, but as you play you'll become stronger and more capable.
Your character will have to be from a game, but it can be any officially-licensed game, no matter the console or company. This does not include game characters from other media about games, like some Isekai.
While you start with one character, you will be able to get more (potentially up to 3) if you want. In order to qualify for another character, you must reach level 3 with an existing one, manifest a Friend Heart to free the new one, and then have the original character bond with the newly-freed one.
While not 18+, there will be some more mature themes going around, and I expect some violence.
You can make some slight changes to your character, or expound on one that would otherwise be too shallow (following fan interpretations if necessary) but otherwise you should aim to be true to your chosen character. I would suggest against making your character a create-a-character with no canonical traits or characteristics, since while they can be very custom-tailored they tend to be uninteresting and unengaging to play as in an RP. If you choose to anyway, do your best to give it a solid personality and background based on its world
As you adventure you may come across a Smash Ball or a similar source of power. Instead of having a single, locked-in Final Smash, however, your character will gain a burst of reality-bending power in such a situation, allowing the use of any super-strong attack as the situation demands.
I plan to make regular posts as the GM, potentially weekly. Since players are making a promise of a commitment by applying to the RP, I'd expect you to post at least weekly, but it's not an absolute. The price for not posting is simply falling behind, which will earn you less EXP.
You can follow the custom of making your character's speech in color if you want, but it's not at all necessary, and if you do please make sure it's a color that's easy to read. Please do not give your posts elaborate headers; just your character's name and mentions of any players you're interacting with is enough.
You can change your sheet's Kindred Spirits even after acceptance up until any Spirit on the list is sighted, at which point the list is set in stone.
Lastly, your decisions matter in this story. Ingenuity and creativity will be rewarded, especially in regards to teamwork, but bad decisions may have disastrous consequences. In fact, it's possible for characters to die if things go poorly enough.
EXP
EXP earned for posting is as follows: <750 words is 1 point, 750-1250 is 2 points, and 1250+ is 3 points.
If it appears that you're over-inflating your word count, either by making too many posts per cycle or by adding unnecessary excess to your posts, to try and gain exp, your rewards will be decreased. Since you're being rewarded for word count both in and out of combat,
and
after successful encounters according to your contribution, you're going to level pretty quickly anyway, so inflation is really unnecessary.
It would be helpful to me, and therefore you, if you kept track of your word count per post. Here is a site that makes it easy:
https://wordcounter.net/
. Just paste your text in and it'll rack up your total for you. It would be especially great if you kept track of and managed your own EXP yourself, but I can do it for you at intervals otherwise.
What exactly can you gain from a level-up?
1. A new Power pertaining to your character, something that your character can do in his or her home game but didn't start with here, or something that your character could learn or develop in the home game. Exceptional 'stats' can count as Powers.
1.5. A new Power pertaining to a Spirit. Once a Spirit is bonded with -so long as it doesn't become static equipment- its potential is added to your character's, allowing you to gain abilities belonging to its progression rather than your character's if you choose.
2. A new Strength. Sometimes, a skill is more important than a Power, or is necessary to make proper use of equipment or Powers. One cannot just pick up a brand-new weapon or dynamic ability and be an expert, after all.
EXP Share
A phenomenon that you'll find helpful in a post involving multiple player characters, whether owned by the same player or otherwise. The word count (and thus EXP cashout) from any post involving those characters is attributed to every character involved; if you do a collab with another person and the count is 1300, you both get 3 EXP, and if you have two characters that both star in your 600-word post, both get 2 EXP.
Master Dreams
In the heroes most vulnerable moments, in the depths of sleep and senselessness, he reaches for them--Master Hand. Into the distant realm of fancy seep images delightful or disturbing, for one purpose only: to break down their resolve and make them stop trying, whichever form that takes. Yet perhaps there is meaning to be found in the madness; Master Hand will find no sleeping slaves.
The Deal:
A limited time opt-in event involving writing short stories that take place in dreams, canonically to occur when next your selected character sleeps or is otherwise out of it.
The Details:
Before the end of the day on the provided deadline, submit a short story of your character's dream that follows the related event prompt. The dream can be of anything, and does not need to be isolated to your own character and/or his or her past experiences. Using elements from multiple games is encouraged, given the nature of this RP. Other players' characters can appear in yours's dream, but while you can consult other players, you'll need to play those characters; they can be distorted by your character's perspectives or by the dream.
The Rewards:
For the dream, EXP is rewarded via the following scale, where n is the level of the character that's dreaming:
<1000 words = 3 * n ; 1000-2000 words = 5 * n ; 3000+ words = 9 * n
In addition, certain elements of the dream may bleed over to the real world somehow. These might take the form of items, additional kindred spirits, or other forms yet more mysterious.
Current Event:
Halloween
Deadline:
October 31st
Prompt:
A tale of terror truly befitting the word 'nightmare'
Spirits
In the World of Light, spirits are characters devoured by the light of Galeem. In his new world, they drift about as in a dream in a desperate search for some anchor to cling to in the hopes of restoring their being. While some attached themselves to specific places, many found refuge in puppets created for them by Galeem—'perfected' version of their old forms, husks with skin scorched black by the light and inlaid with brilliant prismatic lines, and bearing eyes that glow red like the setting sun. These puppets inhabit Galeem's world, often broiled in endless conflict, the spirits locked in a violent trance.
If these puppets are defeated, however, the spirits can be freed. Most will disappear to wait for the end in peace, but if a bond can be struck up between one and your character, that spirit's power can be channeled into your character. This will grant your character a new boon, whether a power, a strength, a 'striker', or strong equipment, without having to level, but it will come at a price. Your character will be changed in some way, taking part of the spirit in and being altered physically, mentally, or both. This may include a new weakness, but in the World of Light, you need whatever power you can get, right?
As mentioned above, there are four ways you can choose to incorporate a spirit, each with its own plus and minus of varying severity. In descending order, they are: Power, Strength, Striker, and Equipment. If you have your character bond with a spirit, you can choose which category you want and request something specific, but I'll decide the boon, change, and bane. Rest assured they'll be appropriate and expected to the spirit, though. These changes are permanent, unless you find someone capable of exorcism to undo the bond. The number of spirits you can have is limitless, but the number of strikers you can have is equal to your level, since they demand spiritual power.
Example:
Pikachu
1. Power: Pikachu's Electricity - grants potent electrical power. As a result, the host acquires Pikachu's red cheek pouches, ears, and tail, the last of which might manifest as a lightning bolt-shaped ponytail. However, the host is more vulnerable to earth, including mud, tremors, dust, sand, and stone.
2. Strength: Pikachu's Mastery - grants great understanding of electricity, friendship and animals. As a result, the host acquire's Pikachu's black eyes and ears. However, the host is a touch more scatterbrained and carefree.
3. Striker: Pikachu - grants the host the ability to summon Pikachu corporeally. It can interact with or provide support to the host, increasing the host's speed while decreasing defense, or attack until it's exhausted and returns to spirit form.
4. Item: Electric Mouse Flamberge - a golden sword with a bolt-shaped blade and rubbery red orbs in the handle. It boasts innate electrical attack.
Free Spirits
If your character has reached level three, it gains the ability to manifest a Friend Heart (by touching its own heart and then lifting up its arms, at which point a bright pink Friend Heart appears. It can then be tossed or given, and as long as the recipient is weakened somewhat (rather like catching a Pokemon) it will be freed from Galeem's influence. However, making a Friend Heart costs EXP; the cost follows the formula (level - 2). If your character bonds with the freed one, you can choose to play as that character too, increasing your character count up to a maximum of 3. If you wish, you can release characters in your roster to make room for new ones.
Galeem's Influence
The story's progressed to a point where it's important for players to know how Galeem's influence works. It's not control, as one might expect, but instead a sort of brainwashing that mandates certain stipulations. Spirits under Galeem's influence experiences weaker self-control and restrictions, must fully engage anyone who attacks them in combat, and must follow absolutely any commands/programming given to them by a Higher Being, like Master Hand. Otherwise, they act and behave very much like themselves, including speech and nonviolent activities. No amount of persuasion will convince them to switch sides, however; only a Friend Heart or Keyblade can do that. Nobody under the influence has any knowledge to share about Galeem or its workings, either. They're not even self-aware
Fading Spirits
Most things in the World of Light possess a spirit, and that includes even the lowliest beings that one might not expect to have one at all. The spirits of weak monsters and animals will probably give materials (or weak equipment, if any) if broken, but their very weakness makes fusion with them interesting. These weak spirits can be absorbed like any other, but rather than a real fusion they're mostly overwritten by the much stronger spirit, leaving small fundamental changes with few drawbacks. At least 10 would have to be absorbed to achieve an Essence Conversion, a new state of being with comparatively slight changes to one's mental state, and more boons than banes.
Sparking Spirits - the spirits of machines without wills. Essence Conversion: inorganic machine body, somewhat less emotional mind.
Rotting Spirits - the spirits of undead. Essence Conversion: 'immortal' unliving body, somewhat less restrained mind.
See-through Spirits - the spirits of ghosts. Essence Conversion: incorporeal body, somewhat less willful mind.
Hungry Spirits - the spirits of animals. Essence Conversion: variable high-vitality body, somewhat more wild mind.
Horned Spirits - the spirits of weak unholy or dark monsters. Essence Conversion: tough demonic body, somewhat more chaotic mind.
Haloed Spirits - the spirits of weak holy or light monsters. Essence Conversion: protected pure body, somewhat more ordered mind.
Deep Spirits - the spirits of weak eldritch or water monsters. Essence Conversion: extraordinary aquatic body, somewhat crazed mind.
Items
You'll be running across lots of different items in the World of Light, be it by finding them, making them out of crushed spirits, crafting, opening loot boxes, whatever. There are some distinctions to be made among the types.
Equipment - whether unique or not, equipment is something that can be worn or weaponized by your character. They provide new avenues of attack, defense, and utility. A primary way to get more power other than risking spirit absorption
Consumable - non-unique supplies with a variety of uses, with the caveat that they can only be used once or have a set amount of uses before they're depleted. Having the right ones can make a massive difference to how situations turn out.
Ammunition - whether in a container or by itself, ammunition takes many forms: bullets, entire magazines, energy cells, etc. Weapons that use it tend to be strong or have some sort of edge (usually range) but require ammo to function. Fortunately, ammunition in the world of light offers some perks. No matter how much one has, carrying it is never difficult or cumbersome, and most types display some adaptation to fit weapons of similar types that use them (for instance, sniper ammo being useful for almost all snipers regardless of caliber)
Loot box - a kind of chest that can be found or earned, but never crafted or made from a spirit. They contain randomized loot, mostly trash like sprays but occasionally good stuff. They are indestructible and require real world money to open (good thing many games take place in the real world!)
Skin - a special kind of item, neither equipment nor consumable. They are pieces of actual skin, albeit not from anything, with an image tattooed on them. This image is of a character on the roster with a slightly different appearance, usually recolored but occasionally with more drastic changes. Skins can be applied simply by touching it to the skin (or equivalent) or the character it depicts, and will

poof

the applicant into the depicted appearance. The character can revert back to normal any time by 'peeling' the skin off. Mostly found in loot boxes.
Alternate Costume - a special kind of equipment recognizable with by its golden sparkling. Putting one on will trigger it, causing it to envelop and adapt to the wearer to make a full costume customized perfectly to fit the wearer. It can be taken off, at which point it will shrink back to its former state, and put on by anyone. Foes can also pull it off, though it takes more force. Only found in loot boxes or from spirits.
Sheet
Coding is included, which you can take if you 'view raw' this post and copy from there.