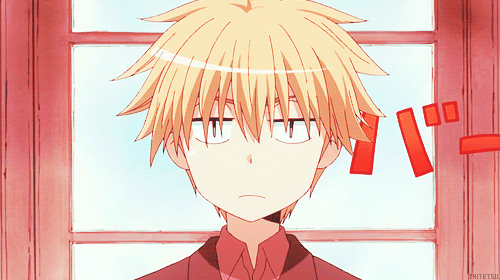 Roy Kusayanagi
It would be a lie to say Roy wasn't a little bit nervous as he turned the corner into the lounge of the dorm, it was almost as if a huge stone wall dropped behind him effectively trapping the boy inside the lions den. Quickly scanned the room taking notice of the ladies that were present, Kaida seemed to be the first to notice his arrival as she quickly dove into her cloak and turned towards Mina. Welp if she wasn't willing to face him now, just wait until she hears what he has to say. As he turned to see who else was in the room, his face went dead pan once their eyes met.
Oh boy
The irony truly set in and the blonde boy wasn't really feeling it all too much, Mia being here along with her two sisters visiting shortly after he had gotten into a fight with Jett was a really funny joke that the universe was playing on the kid. Not only that but she seemed to have all of their attention aside from Dulga who was glued to the TV. Roy rolled his eyes as he knew that this girl wasn't going to make anything easy, especially since the situation pertained around her family.
But to be honest he knew it wouldn't be a simple task from the jump. Roy knocked on the wall alerting his presence to the girls in the room, preparing himself for whatever would happen next.
Amane Kishimoto
Amane smirked as he took notice of the boys temper, he was actually beginning to have a bit of fun with the guy as he waited patiently. "You make it seem like something bad will happen if I don't do so", it was true that Kenichi was gone during the time but it made Amane wonder if things might've been different if he was present during that exercise, so much so that he even got a bit disappointed that they didn't have a go at each other. The boy then turned to the pinkett, his smile fading away, "What a shame, your class fought rather valiantly, perhaps if you two were present perhaps things would have taken a different course of action." Amane then faced the blue haired boy with an excited expression, he could sense the boys tension. It was easy to see that Kenichi carried the will of a fighter. "I can see your itching to go toe to toe with me but that'll have to wait" the boy said pulling up his sleeves revealing his heavily bandaged arms. "We'll dance at the Komei Olympics, until then remember the name Kishimoto Amane." he then turned back towards the little girl,
"But of course."
@Ryonara
@Heartfillia
@Melpaws
@Norschtalen
@Aerandir
@Zeroth
@liferusher
@Silver Carrot