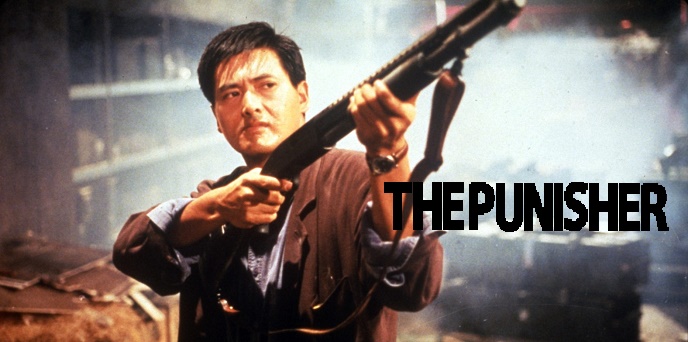 Midnight
A mostly destroyed autoshop; Lynwood, California
---
ISSUE #16
WAR PIGS
FINALE
---
"It's funny," he said as he reached into his jacket pocket. "You don't look like any of those nutters who wear capes. But I want to thank you for your help."
I gave a chuckle at his comment about the caped crusaders that've been popping up these last few months.
"Doubt you'd see many of those costumed guys toting guns, either. I'm not exactly Captain America material,"
I replied.
"And no need for thanks. I'm just doing what I usually do on Wednesday nights: sending crooked bastards like these to the grave."
"That's the man who made me come here today. He did so by threatening my friends and family. You'll find he's an even bigger fish than Garcia, the undisputed kingpin of Los Angeles."

John made eye contact with Castle before smirking.

"Long live the king, right?"
The man passed me the card, and as I held it in between my fingers I looked it over. The name didn't ring a bell, but what reason this guy have to lie to me? We'd only just met, and he probably did something to help get that demon or whatever out of me. Least I could do was humor him. I shoved the card into my pocket, then shook the Brit's hand.
"Well 'Sam', it was a pleasure meeting you. I'll go handle this the only way I know how."
I picked up my twin pistols and stuck them in my holsters. I walked out of the garage, giving a thumbs up to the mysterious Brit, before heading into my van and starting up. As I drove away from the autoshop with a destination in mind, I mulled over all I had been through these last couple of months. I'd gone from a boy scout cop with a wife and kids to a cold-hearted killing machine that thrives off of making crooks sweat.
Was I already a bomb waiting to go off back then, looking for an excuse to cut loose and deliver my own brand of justice? Maybe I'm just a psychopath letting out his violent tendencies and masking it as a crusade for justice? Perhaps I really am as good as I like to think I am, and I'm just doing what the others won't? I don't even know anymore. To be honest, I don't even care.
I've been a good man when I can be. I've spared lives when I could. That cook in Fredericksburg, the white supremacists in Hobcaw Point, that assassin in Roscoe Street Station. Maybe I haven't kept in control too well, maybe there were times when I could've picked a better path. But I've done my best. And that's what counts.
By the time I was done reflecting on everything I had done, I had already reached Hidalgo's home in Malibu. It was a glimmering mansion, post modern style. All sharp corners and white paint and glass walls. It had a view of the ocean, and a few guards were posted around the perimeter, looking for people like me who meant their boss harm. They wouldn't stand a chance.
I slipped the suppressor on my Glock and pulled out my knife. I cased the place for alternative entrances while taking out guards as I went, while also being sure to cut the power. There was a wall that wasn't made of glass leading up to a third story window, with a pipe running up to the roof and some other foot and handholds I could use to make my way up there. I began to climb, slowly but surely, and found myself in a dark hallway.
I went down the stairs, heading through every room in the house and taking out the remaining guards. Once I was done, I climbed back up to the top floor, back into the hallway I came in from. There was only one place to go after this. I headed to the end of the hall, towards the master bedroom, and opened the door.
Hidalgo was there, sleeping. I pulled out my pistol and walked up to the foot of his bed, before letting out a whistle. He woke up groggily, blinking his eyes a few times, before they finally adjusted to the darkness and set on me. He reached over to his nightstand, presumably to grab a gun.
"Don't even think about it."
"Who are you?"
"I'm the criminal underworld's own bogey-man. You can call me the Punisher."
I walked around to the nightstand, taking the little .32 revolver from it and sticking it into one of my vest's pockets.
"You're Martin Hidalgo. Biggest, baddest guy in LA. Lucky for you, lots of guys are smart enough to know that trying to go after you is a death sentence."
I leveled the pistol at his head.
"Unlucky for you, I'm not too smart."
"You don't scare me. I have men all around this house, and I have them check up on my room every five minu-"
"Don't worry about them,"
I cut him off,
"They're already dead."
I pressed the gun against his temple.
"Do you know the difference between justice and punishment?"
"What the hell are you on about?"
"Good question. Even I don't know."
I tensed my finger on the trigger.
"The Brit in the trenchcoat sends his regards."
*BANG!*