Lauren Ridgeway
&
Vera Munn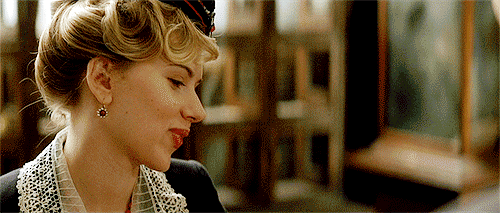 Location: Qasr El Nil Barracks
---
---
Lauren watched from the window for a couple more seconds, she was glad that everyone else as far as she knew from the meeting back at the museum made it back safely. She gave Vera a friendly smile then she heard a knock on the door, as she started to make her way over towards the door she had a feeling that it was going to be Peter since he just came back from Grand Continental. When she opened the door it was the same steward from earlier that had given them water, and some food while Vera was drunk. "Sure, feel free to look at my stuff." Lauren said softly giving the steward a friendly smile.
Vera looked over as the steward came in and nodded, smiling back at Lauren. Vera was glad she had left the majority of her things back at the museum. It was easier that way, granted she had already signed a non-disclosure agreement a while ago so she didn't need to sign another and since the only thing she had on her were a few sheets of blank paper and a piece of charcoal wrapped in wax paper the Steward didn't need to pay a lot of attention to her. Granted it did help that he had been around Vera before when she visited her
uncle
from time to time. She was more than used to knowing what to and what not to bring within the barracks. Not that she really ever had anything that she needed to worry about.
She was fairly used to having her things inspected back home when prohibition started back home, their family bar was checked constantly for any booze or weapons. Still Lauren felt slightly uncomfortable whenever her things were inspected. Lauren handed her purse over with no issue, the book itself was something she just randomly bought before leaving the States and didn't really have a chance to read it since coming to Cairo.
"Is there anything else you need?" She asked just in case he needed anything else from her, Lauren turned to look at Vera, seeing her friend didn't have anything on her person since coming to the barracks.
"No, that will be all, is there anything I can get you two?" he asked as he stepped over towards the door. "Something more to eat? Or drink perhaps?"
"Chamomile tea would be splendid if it wouldn't be too much trouble," Vera said as she pressed her hand against her stomach.
"No trouble at all Lady Munn, and for you Miss Ridgeway?"
Lauren gave the steward a friendly smile and shook her head. "No thank you I'm good." Lauren said declining the offer for anything else to eat or drink, she was pretty full at this point. The steward nodded and headed out to grab some tea for Lady Munn and to drop off the papers with the clerk.She turned around and made her way back towards Vera when she requested for some tea, noticing the woman was laying her hand on her stomach. "Are you feeling alright Vera?" Lauren asked, she wasn't sure if it was the nausea kicking in from the drinking from earlier, or if it was just something else.
"I saw Peter when I looked through the window," she said as she paced the room, still pressing on her stomach. "It's nothing," she added after a moment. "Just nerves is all." It was obvious that Vera cared for Peter but there didn't seem to be anything romantic there when Vera spoke about Peter or was around him, granted he had just come back from the dead. Maybe that was just throwing her off.
From the pacing around the room and pressing onto her stomach Lauren got the feeling that Vera was nervous, though she knew that the two cared for one another as close friends. "Just relax, you've known him for awhile. I'm pretty sure he isn't going to just propose to you right then and there." She said giving Vera a gentle pat on her shoulder and gave her a friendly smile. "If you do need any more company tonight I can if you need it."
Vera nodded slightly as she looked over towards Lauren. "I know,
just the thought alone makes me shaky," she said before nearly tripping over her own two feet when she heard a knock at the door and Peters voice on the other side announcing himself. "Oh god."
"I'm sure it will be fine." Lauren said towards Vera when she heard the knock on the door, she watched as Vera nearly tripped on her two feet which made her let out a soft chuckle. She turned around when she heard Peter's voice on the other end Lauren started to make her way towards the door she opened the door and gave Peter a smile. "Welcome back, is everyone doing alright?" Lauren finally asked, she wanted to make sure that her friend Aziza made it safely as well.
Peter stepped in and smiled towards Lauren as Vera sat down in a chair next to the table. "Evening Miss Ridgeway, Vera. Yes, everyone is quite alright. We have brought them back here for safety but I do not think it is needed. The prisoner who escaped was apprehended. All is well," he said, letting them know the jist of what was going on before stepping over to Vera and resting his hand over hers. "I just wanted to see that you were alright, it has been a long evening."
Vera looked down at his hand over hers before glancing up at Peter and nodding. "Oh, yes. We both are fine, I am just tired." Peter smiled and brushed back a few curls from her face.
"Then you should get some rest. Tomorrow looks to be turning into an eventful day," Peter said before kissing the top of her head. "Goodnight Miss Ridgeway and thank you for looking after Vera," he added before stepping back out of the room.
Lauren let out a slight sigh of relief when she heard that the others were alright and that the murderer was apprehended. She watched as Peter moved over towards Vera laying a hand on top of hers. Lauren gave the two of them a soft smile, though probably to Vera it may have been awkward. But that was mainly her own opinion on the situation, and from what Vera and her have been talking about. "That's good to hear, everyone is safe and sound." She said softly.
Then Peter got up and was about to head out of the room, she gave the man a friendly smile and nod. "It was my pleasure to. Sleep well Peter." Lauren said giving Vera a slight nod, it was getting fairly late as well and today was very long. "I think I shall call it a night, i'll be in the room next door if you need me." She started to turn and head out of the room, and headed into the room that was next door to Vera's as they had given her that room when she came in.