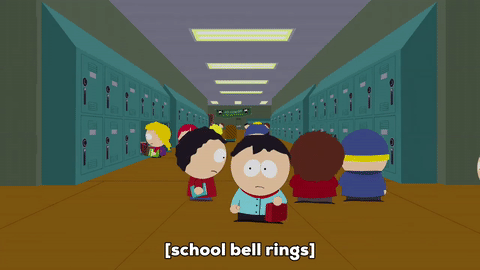 ____________________________________________________________
____________________________________________________________
Mr. James P. Jameson
had woken up at five thirty this morning so that he could make sure that everything was right for the first day back at school. His suit was ironed, his tie straight, and his hair had been combed in only the special way that Mr. Jameson could do himself. Everything for today had to be
perfect
, and James P. Jameson was the man for the job.
At exactly seven thirty Mr. Jameson would be in his office chair, sitting behind his desk. His legs were crossed, his hands in his lap, as
his assistant
,
Vice Principal Leanna Berkley
went over her checklist to make sure that everything was good to go for the day.
"So… the emails all went out explaining the tour guide situation?"
"Yup. I made sure we have enough
'Hello! My name is:'
tags. All they have to do is write their names on them and like… pair up. It's genius, right?"
Mrs. Berkeley laughed nervously and she checked the first box on the list. Mr. Jameson was a lot of things, but a genius was not one of those things. "Okay and the cafeteria staff know that we're doing burgers today?"
The look on Mrs. Berkeley's face was clearly one of obvious confusion and concern about this. Burgers on the first day? The first day was always pizza day.
Mr. Jameson nodded his head. "And not the cheap shit either. These Liberty kids aren't used to this soybean stuff so I added some of my personal money to the food budget and we got something that… well, it looks more like actual beef, okay? I don't really know what it is. I don't think anyone does."
"Riiiiggghhhttttt….. So busses are arriving, breakfast is in the lunchroom if they want it. I
hope
we have enough desks in all of the classrooms. Some of them are really crowded, but…""
"Don't even sweat it, man," Mr. Jameson said, waving his right hand in the hair dismissively. "I try not to worry about things until I actually have to. It's how I keep such a cheery attitude."
With a sigh, Mrs. Berkeley tried to hide the 'what the fuck' expression that was painted on her face. The big boss was an idiot and her list was practically pointless.
"So I guess we're just gonna wing it and hope that everything's going to be okay? No bloody noses or people getting pissed off because everything's going to shit?"
"Right on baby! We're gonna wing the fuck outta this thing."
____________________________________________________________
____________________________________________________________
Meanwhile, the busses were arriving at the school. Students were gathering in small packs as they met up with friends. Car horns beeped in the student parking lot as insults were shouted from one person to another.
A strange feeling hung over the student body this morning. Tension was high, and so was excitement; However, general despair and disgust were also in the air. Bets were being placed on who would start the first fight, who would be the first to get pregnant this year, and who would get the first detention.
Life at Rosefell high was overall very simple. That didn't mean it was going to stay that way.